Chantilly, VA is a bustling suburb in the Washington, DC metropolitan area in the western region of Fairfax County. But, before it became the haven for families and retirees that it is today, the land Chantilly is on was entirely farmland. During the Civil War, Chantilly even served as a Federal cavalry headquarters for a time.
You won't find much farmland in Chantilly these days, but you will find an abundance of restaurants, beautiful neighborhoods, excellent schools, and fun things to do. Another appealing aspect of Chantilly is its proximity to many other Northern Virginia towns, and DC. 
Considering moving to Chantilly? Check out the latest homes for sale.
Entertainment
Author's note: At the time of this writing (Winter 2021), COVID-19 is impacting communities throughout Chantilly and beyond. As such, we can't guarantee the ongoing accessibility or safety of some entertainment, shopping, and dining options. And we, of course, recommend that you use your own discretion in deciding whether or not to partake in any of the activities outlined below.
As part of the DC metropolitan area, Chantilly is close to tons of entertainment and attractions. These are a few of the things you can see and do within Chantilly's borders.
Steven F. Udvar-Hazy Center – National Air and Space Museum
For anyone who is fascinated by mans history in the sky, the Udvar-Hazy Center is the place to be. This awe-inspiring museum is home to dozens of planes, including older planes from our first forays into flight, and modern military aircraft. It is also home to the space shuttle Discovery and other relics from our trips into space. Be sure to stop by their IMAX theater for some interesting and educational features.
Plan your trip on their website, and visit them here:
14390 Air and Space Museum Pkwy
Chantilly, VA 20151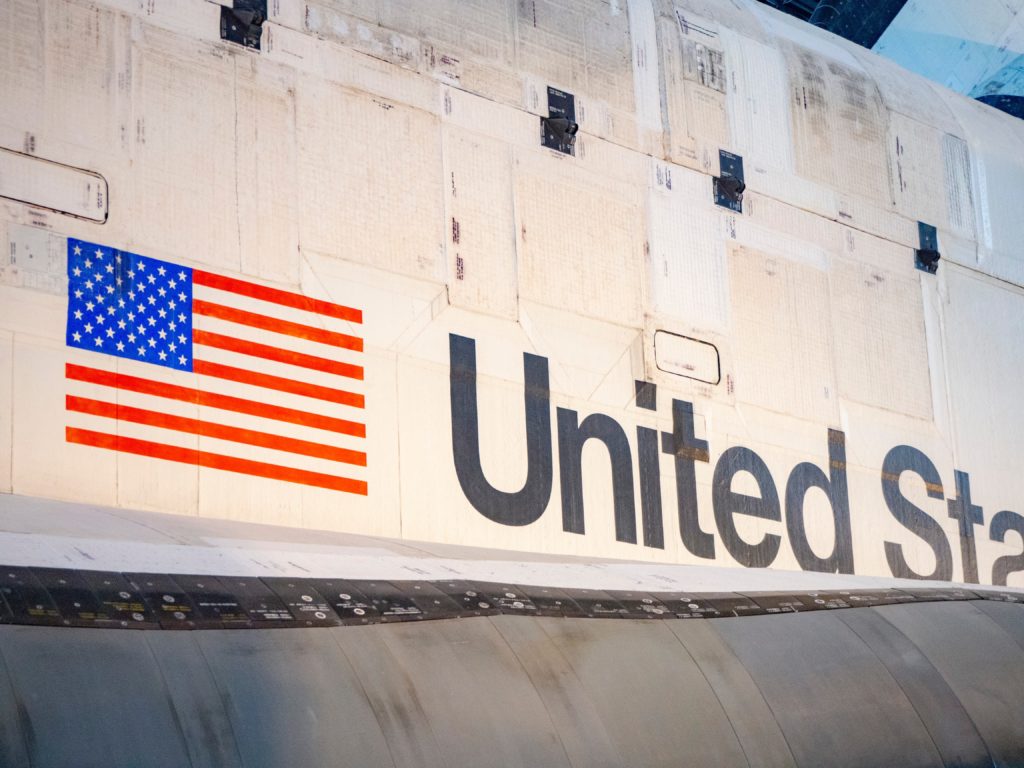 Meadowlark Botanical Gardens
In need of some peace and quiet? Stop by Meadowlark Botanical Gardens and take a relaxing stroll amongst several themed gardens. For the little ones, there's Camp Grow, a nature-themed day camp that teaches children about nature through crafts, nature walks, and gardening. There are spaces available to rent for activities such as parties or weddings.
Visit their website for more info, and find them here:
9750 Meadowlark Gardens Ct
Wolf Trap, VA 22182
Cox Farms
Throughout the year, Cox Farms comes alive with seasonal festivals and activities that are fun for the whole family. In the spring and summer you can visit the Corner Market, where you can find delicious locally grown produce, a petting zoo, and other activities. In autumn, indulge your spooky spirit in the Fields of Fear. Or, visit during the day time for their fall market. Winter naturally features a Christmas market. Available all year round is Foamhenge, a model of the famous Stonehenge made entirely out of styrofoam.
Find out more about the farms, and make your way to this location:
15621 Braddock Rd
Centreville, VA 20120
Claycafe Chantilly
Get your hands dirty and make some art to take home at Claycafe. Here you can craft and paint your own pottery, with the helpful guidance of an instructor. Claycafe is great for birthday parties, dates, and group bonding activities. They also offer summer and winter camps for the budding artists in your family.
Plan your trip, then pay them a visit:
14511 #G Lee Jackson Memorial Highway
Chantilly VA 20151
Sully Historic Site
To learn more about the history of Chantilly and have fun at the same time, take a trip to the Sully Historic Site. You can see some historical structures, sign the kids up for one of their summer camps, or download a scavenger hunt to your phone and explore the grounds in a new and exciting way.
Discover more about the park here, and visit them at this location:
3650 Historic Sully Way
Chantilly, VA 20151
Dining
Like most other Northern Virginia towns, Chantilly is host to many of your favorite fast food and casual dining chain restaurants. Below you'll find some of the unique restaurants this area has to offer.
Breakfast
Eggspectation
Barry Schwartz said 'the secret of happiness is low expectations', but Mr. Schwartz has obviously had his 'eggspectations' let down at other brunch spots. If you couldn't tell from the name, Eggspectation features tons of egg-based dishes that will sate a hungry belly any time of day. Not into eggs? No problem, they have plenty of other dishes to indulge in, like pastas, sandwiches, and salads.
For reservations and the menu, visit their website. Their Chantilly location is here: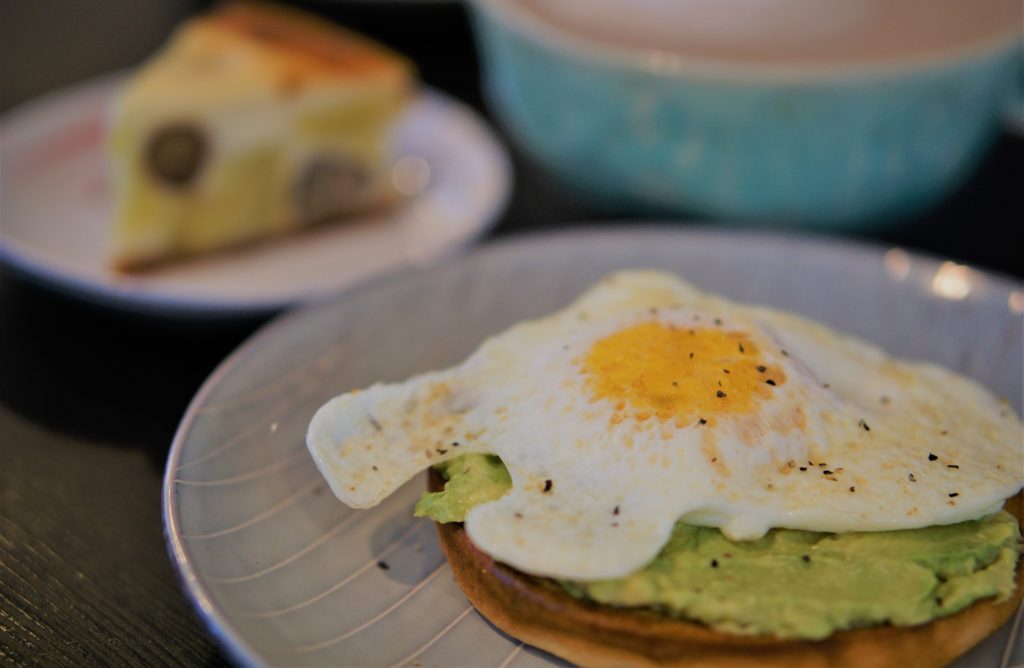 5009 Westone Plaza
Suite 126
Chantilly, VA 20151
Cafein
Cafein is a chic, modern cafe that has locations in both Chantilly, and neighboring town Centreville. They offer artisan coffees and breakfast sandwiches that are guaranteed to delight the sophisticate in you. Or, you can keep it simple with a more traditional breakfast sandwich, and customize your sandwich experience with seven types of bread.
Check out their website, and visit here:
14106 Lee Hwy
Centreville, VA 20120
Anita's New Mexico Style Mexican Food
This is just one of several Anita's in the Northern Virginia area, conveniently located off of Rt. 50. Anita's is renowned for their breakfast burritos, which come in many varieties. Depending on your mood, you can have either a Mexican style breakfast, with items like huevos rancheros and carne asada, or you can stick with more American menu options, like pancakes or waffles.
Here's their website and Chantilly address:
13921 Lee Jackson Memorial Hwy
Chantilly, VA 20151
Backyard Grill
On weekends, swing by Backyard Grill for brunch. When the weather is good, you can enjoy breakfast on their patio. They offer omelets, eggs benedict variations, and many other breakfast entrees. If you're feeling decadent, try their bacon bloody mary.
Have a look here and find them at this location:
13999 Metrotech Drive
Chantilly, VA 20151
Bob O's Restaurant & Bar
Bob O's is open all day long, so if you miss breakfast, you can still swing by for lunch or dinner. As for breakfast fare, you can have staples like an omelet, waffles, pancakes, or breakfast sandwiches. For the less hungry, they also have smaller dishes, such as yogurt, fruit, and cereal.
Visit their website and find Bob O's here:
4335 Chantilly Shopping Center
Chantilly, VA 20151
Lunch
The Burger Shack
This little place is perfect for burger lovers. They serve up a variety of specialty burgers, and you have the option to make your own. Vegan or vegetarian? You can also munch on plenty of other meat-free burger options.
See their menu, and visit the shack:
13661 Lee Jackson Memorial Hwy
Chantilly, VA 20151
Willard's Real Pit BBQ
Willard's is a no frills place where you can get excellent barbeque, sandwiches, and desserts. They can also provide bull platters of ribs, chicken, and other meats for the larger events in your life. Pair your meat with your favorite classic side dishes, and make it a party.
Find the bbq here, and learn more:
4300 Chantilly Shopping Center # 1a
Chantilly, VA 20151
Farmtruck Pizza & Greens
Farmtruck specializes in tasty flatbread pizzas, and colorful salads. You can choose from menu options, or if you're feeling creative, you can create your own. Want the best of both worlds? Choose the half and half to get both pizza and salad. Top off your lunch with a cookie before you head back to the office, refreshed and energized.
Visit their website and location:
14385 Newbrook Dr #500
Chantilly, VA 20151
Megabytes Eatery
Are you a tech geek feeling nostalgic? Take a trip to Megabytes, an Asian-fusion restaurant decked out in arcade game gear and retro technology. Try one of their banh mi sandwiches, or get some loaded tater-tots. They also serve rice bowls, tacos, burgers, and hotdogs. There's something for everyone at Megabytes Eatery.
Check out their menu and address:
14100 Sullyfield Cir
Chantilly, VA 20151
Calletana's Peruvian Fast Food
Tasty and authentic Peruvian dishes are the name of the game here at Calletana's. They serve chicken, beef, fish, and vegetarian entrees. For the little ones in your family, there's also a kid's menu. Try their ceviche or the lomo saltado for a burst of flavor.
Discover more about the flavor, and find it here:
4300 Chantilly Shopping Center Unit 2J
Chantilly, VA 20151
Dinner
Bourbon Boulevard
Bourbon Boulevard is a steakhouse at heart, but they also serve seafood dishes, charcuterie, and other small plates. With your steak or other entree, some nights you can also listen to live jazz performances.
Bourbon Boulevard can be found here:
4301 Chantilly Shopping Center
Chantilly, VA 20151
Crossroads
A night out with friends will be made even better at Crossroads. Modern American dishes make up most of the menu, along with pizzas and street tacos. There are plenty of pool tables to play at, so bring some friends or make a few new ones.
Visit their website, and find them here:
13891 Metrotech Dr
Chantilly, VA 20151
Cheng's Asian House
Cheng's serves the community delicious dishes from the far east right in the heart of Chantilly. You can find many of your favorite dishes, like drunken noodles or Mongolian beef, but there might also be some dishes that are new for you like the wrinkled string beans lunch, or the Chinese eggplants. Bring a friend and step outside the box!
More info here, and their location is at this address:
4090 Airline Pkwy Ste G
Chantilly, VA 20151
Lazy Dog Restaurant & Bar
There's a little bit of everything over at Lazy Dog. Whether you're looking for a sandwich, chicken, fish, or some pizza sticks, you're sure to come away satisfied. They also offer a unique option – TV dinners. But there aren't your normal frozen meals you can snag at the supermarket. These dinners are made fresh, for you to take home and have while catching up on your favorite Netflix shows.
Lazy dogs check out their site, then saunter over here:
14333 Newbrook Dr
Chantilly, VA 20151
Sedona Taphouse
Sedona Taphouse has expanded to Chantilly! They specialize in artisan dishes, offering up seafood, sandwiches, tacos, flatbreads, and much more. Sedona Taphouse's menu and ambiance provide the perfect atmosphere for business lunches, or celebrations with close friends and family. Being a taphouse, they have many wines and cocktails to enjoy as well.
Sedona Taphouse's location is here:
4970 Westcroft Blvd
Chantilly, VA 20151
Breweries
Wineries are more of a Loudoun County feature (want to see a few? Check out my favorite wineries in Loudoun County), so you'll mostly find breweries in this neck of the woods. Here are a few of my favorites.
Ono Brewing Company
Craving the feeling of a tropical paradise? Ono Brewing Company is the place to be. This is a self-serve bar with a Hawaiian feel. They have twelve taps, with drinks ranging from hard ciders to milk stouts. Ono is also home to Odd BBQ, and what goes better with beer than some fresh, smokey barbeque?
Hawaiian island vibes and info found here:
4520 Daly Dr #102
Chantilly, VA 20151
Mustang Sally Brewing Company
Lagers, dark beers, and hoppy beers are what you'll find at Mustang Sally's. They have a massive, 4,000 sq.ft tasting room, making it a great spot for celebrations of all sizes. Need something a little more private? You can rent the space and have it all to yourselves. Eugene's Express also makes their home here, and they offer tasty sausages and chips.
Check them out at this address:
14140 Parke Long Ct A-C
Chantilly, VA 20151
Ocelot Brewing Company
Ocelot's ever-changing menu will keep you coming back over and over again. On the last Friday and Saturday of the month, you can groove to some live music. Free tours of the brewery are available upon request, and you can find some food trucks outside on most days. You can never be sure what you're going to find at Ocelot, so have a look for yourself, and then have another look next week for a different vibe.
No ocelots on the premises, just good beer:
23600 Overland Dr Ste 180
Dulles, VA 20166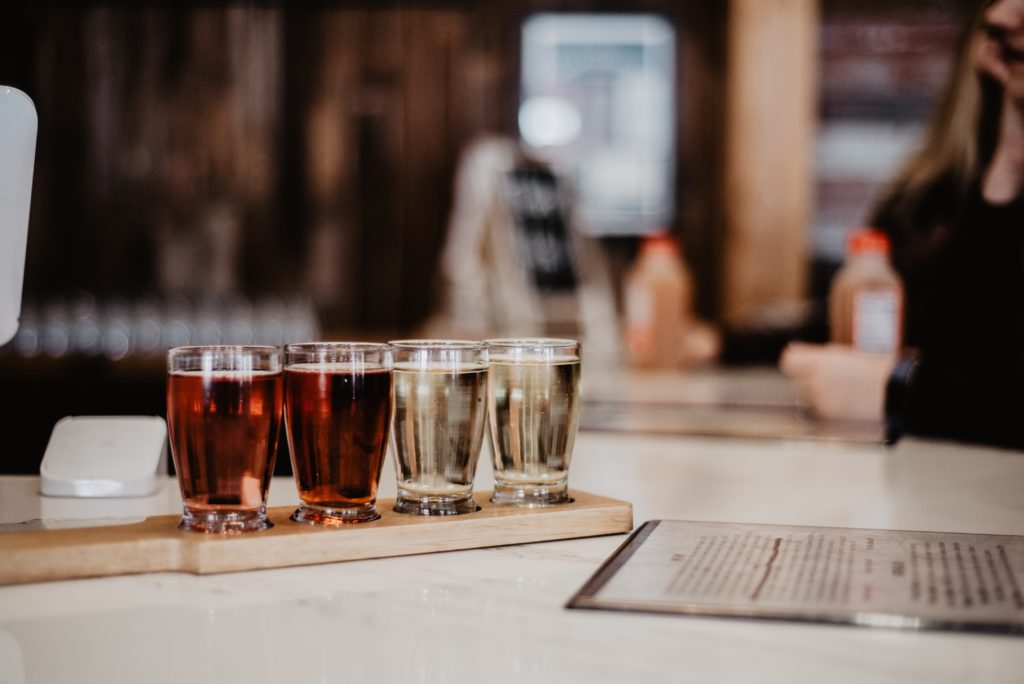 Shopping
Chantilly, like most towns in Northern Virginia, has a lot of strip malls and small shopping centers. All of the necessities are just a short drive away, in pretty much every direction. Here are some of the best spots to get your shopping done.
Fair Oaks Mall
This shopping mall is home to all your preferred clothing brands, salon services, and many restaurants. To find gifts, a new wardrobe, or to beautify yourself, you'll find all you need in one convenient place.
Get your shop on, and find out more:
11750 Fair Oaks Mall
Fairfax, VA 22033
Dulles Landing Shopping Center
Thirty five stores make up the Dulles Landing Shopping Center, including WalMart and TJMaxx. There are also places to get home goods, sporting goods, and baby and child essentials. Stop by Dunkin' Donuts for a fresh coffee before or after your shopping spree.
Visit and find out more:
Rte 50 & Loudoun County Pkwy
Dulles, VA 20166
The Treasure Hound
Bargain hunters can find a great deal at The Treasure Hound. Come here to resell items you don't want, and walk away with some new things you can't live without. 100% of this shop's proceeds are used for the Friends of Homeless Animals charity, which is a no-kill animal shelter in Aldie, VA. Help some furry friends and get some new home decor at the same time.
Lovers of deals and animals, visit their website, or trot on over:
14508 Lee Rd Ste D
Chantilly, VA 20151
Chantilly Crossing
Here you can find bulk-buying heaven, Costco, an essential for large families or people who only like to go to shopping once a month (or less). There's also a Target and Office Depot for your office supply needs. Walking around Costco's massive warehouse might leave you feeling peckish, so check out Five Guys Burgers and Fries afterwards.
Shops can be found here:
14392-14416 Chantilly Crossing Lane
Chantilly, VA 20151
Lodging
Being so close to Dulles International Airport means that there are a lot of well-known hotel chains to choose from. Many of them provide free shuttle service to the airport, too.
Hampton Inn Washington-Dulles
Free breakfast, a fitness center, and an indoor pool are a few of the amenities you can enjoy at the Hampton Inn. As mentioned above, you can also catch a free ride to the airport if you're not staying in the area.
Book your stay and visit here:
4050 Westfax Dr
Chantilly, VA 20151
Westfields Marriott
This gorgeous, colonial-style hotel makes for a nice getaway, tucked away in the trees away from main roads. This location is also suited for conferences, or other large events. You can enjoy a fitness center, an indoor and outdoor pool, and use on-site laundry machines. Traveling with some four-legged family members? Pets are welcome!
Make a reservation, and find them here:
14750 Conference Center Dr
Chantilly, VA 20151
Residence Inn by Marriott
At this hotel near the airport, you can partake in free breakfast, and enjoy time in their picnic and barbeque area. The other usual amenities are available here, including free wi-fi and pet friendly rooms.
Plan your visit, and bring your suitcases to this location:
14440 Chantilly Crossing Ln
Chantilly, VA 20151
Wingate Dulles Airport
When you stay at the Wingate, you can make use of meeting rooms, an indoor pool, and a free airport shuttle. Hot breakfast is available, as is a fitness center. Wingate will make your stay in Chantilly feel like a home away from home.
Visit Wingate's website, and find them here:
3940 Centerview Dr
Chantilly, VA 20151
Hyatt Place Chantilly/Dulles
Being only fifteen minutes from the airport is a major plus for this hotel location. They also have a fitness center and free breakfast. Like other hotels in this list, there are also pet friendly rooms. For business on the go, you can use their business center.
Plan a visit, and stay here:
4994 Westone
Chantilly, VA 20151
Transit and Location
Chantilly is in a central location in the DC metro area, making travel to DC and other attractions quite easy. Chantilly is centered around Rt. 50, and Rt. 28, with easy access to Rt. 66 that leads to DC. From there, access to Rt. 495 is a breeze. Chantilly is a 25 mile drive from DC's city center, and 64 miles from Baltimore, MD.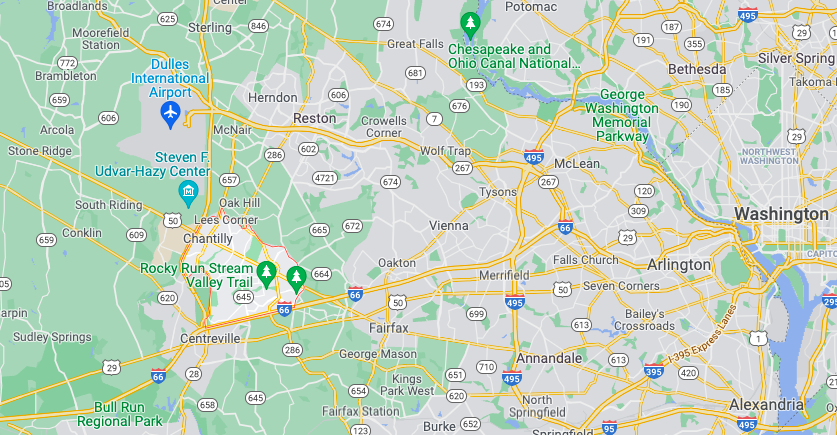 It's easiest to travel around Chantilly by vehicle, but there are buses available. In neighboring towns, you can catch the metro to DC.
Like what you see in Chantilly? Have a look at these other nearby communities: