Founded in 1745 by German settlers, Frederick is an ideal combination of culture, opportunity, and community. During the Civil War, Frederick was ransomed and became a hospital for wounded century. Because it had been protected during the war, it became an important city with a number of industries like canning and knitting. These products were then often delivered by rail to Baltimore.
Since then, Frederick has evolved into a welcoming town that includes a 40-block historic district, many park, resources, and neighborhoods. It places a big emphasis on art and community, plus the integration of technology and modern architecture to help it be the perfect place for businesses that are ready to grow.
Entertainment
Historic Downtown Frederick
Over 200 specialty shops, restaurants, and art galleries can be found in downtown Frederick. This section of the historic Maryland town is the place to go whether you're in search of a martini, a bit of history, or something in the middle.
https://downtownfrederick.org/
19 E Church St
Frederick, MD 21701
Carroll Creek Linear Park
Stretching over a mile, Carroll Creek Park was initially a flood control project in the 70's. With over $150 million in investment since then, it has transformed into a vibrant center – full of shopping, dining, and people enjoying the environment.
https://www.cityoffrederick.com/169/Carroll-Creek-Park
Carroll Creek Way
Frederick, MD 21701
National Museum of Civil War Medicine.
Learn what Civil War soldiers went through and the innovations that arose from the era! The museum is home to a number of primary sources and experienced historians to tell you everything you ever wondered about Civil War medicine.
http://www.civilwarmed.org/
48 East Patrick Street
Frederick, MD 21701
Baker Park
This 58-acre park is home to a band shell, tennis courts, a lake, playgrounds and more. It also hosts a number of concerts and events throughout the year for attendees of all ages. This is a great, pet friendly spot to relax and enjoy.
https://www.visitfrederick.org/listing/baker-park/12/
121 N. Bentz St.
Frederick, MD 21701
Monocacy National Park
Known as 'the battle that saved Washington', this Civil War site is full of history just a short drive away from downtown Frederick. A number of hikes and reenactments are hosted here, in addition to several historic buildings that are open to visitors.
https://www.nps.gov/mono/index.htm
5201 Urbana Pike
Frederick, MD 21704
Weinberg Center of the Arts
Since its earliest days of live theatre in 1978, the Weinberg has hosted a number of famous actors, symphony orchestras, choirs, comedians, and more. Classic and silent movies also remain a popular attraction.
https://weinbergcenter.org/
20 West Patrick Street
Frederick, MD 21704
Summers Farm
Open in September and October, this farm brings you all your fall favorites, like a corn maze, pumpkin patch, and tons more. This is a great option for families who want to welcome in the fall air under the sun. Open from September 22nd to October 31st, weather permitting.
https://summersfarm.com/
5620 Butterfly Lane
Frederick, MD 21703
Gambrill State Park
This beautiful mountain park features 16 miles of trails for hiking, mountain biking, and horseback riding. It is also home to the 1600ft High Knob which gives stunning views of the local valleys and Shenandoah Mountains; plus campground and picnic sites.
http://dnr.maryland.gov/publiclands/pages/western/gambrill.aspx
8602 Gambrill Park Road
Frederick MD 21702
Harry Grove Stadium
Come out over the spring and summertime to see the Frederick Keys baseball team in action! Tickets start at $9 for kids and $12 for adults, so if you're looking for an all-American way to pass an evening, the Harry Grove Stadium is just what you need.
https://www.milb.com/frederick
21 Stadium Dr
Frederick, MD 21703
Rose Hill Manor Park & Museum
This museum tells the story of the daily life of Thomas Johnson, the first governor of Maryland, in a hands-on and family friendly environment. This property is home to a manor house, log cabin, icehouse, blacksmith shop and more. Group tours are available.
http://recreater.com/404/Rose-Hill-Manor-Park-Museums
1611 N. Market St.
Frederick, MD 21701
Delaplaine Arts Center
Located within the 100 year old Mountain City Mill in historic downtown Frederick, this arts center has been part of the community since 1986. It is home to a number of attractions including galleries, studios, event venues and more.
https://delaplaine.org/
40 S Carroll St
Frederick, MD 21701
C Burr Artz Public Library
Aside from being everything you would expect from a library, this public center is also home to a number of resources for residents for needs such as passport and a business center. It also hosts teen writing clubs and study rooms.
https://www.fcpl.org/branches-hours/c-burr-artz-public-library
110 East Patrick Street
Frederick, MD 21701
Historical Society of Frederick County
Heritage Frederick is a nonprofit that researches, and shares, the significant historical impact of Frederick County, Maryland. They have a number of special events and programs throughout the year covering a range of topics. Appropriate for children.
https://frederickhistory.org/
24 East Church Street
Frederick, MD 21701
Roads and Rails Museum
Created in celebration of miniature railroads, this museum hosts the largest mini railroad in the world! Come see its intricate design and get inspired by the details and effort. A great option for kids!
http://www.roadsnrails.com/
200 N East St
Frederick MD
Schifferstadt Architectural Museum
This 1758 stone house is one of America's best examples of German colonial architecture. It hosts a number of living history events in the Heritage Garden and is open for tours on weekends from 1-4PM.
https://www.visitfrederick.org/listing/schifferstadt-architectural-museum/167/
1110 Rosemont Ave
Frederick, MD 21701
Escape This Frederick
If you're not familiar with escape rooms, they're when a group of people are locked in a room with hints and tools and must utilize them to 'escape'. Great for corporate functions or team building, this one in particular has tons of great reviews too.
https://escapethisfrederick.com/
924 N. East Street
Frederick, MD 21701
Dining
Volt Family Meal
Set in what used to be a car dealership, this restaurant is run by a former Top Chef contestant. Enjoy your home cooked favorites like fried chicken, shrimp and grits and rootbeer floats with a bit of a modern twist.
http://www.voltfamilymeal.com/
882 N. East Street
Frederick, MD 21701
Hootch & Banter
In search of brunch in Frederick? Enjoy meals like savory porridge (contains pork belly) or french toast – plus mimosas of course. Also has a generous menu for the rest of the day (and bar).
https://hootchandbanter.com/
49 S Market St
Frederick, MD 21701
Lucky Corner Vietnamese
Did you know that Vietnamese food is influenced by French cuisine? Stop here for authentic Vietnamese cuisine and a relaxed and friendly atmosphere.
http://www.luckycornerrestaurant.com/
700 N Market Street
Frederick, MD 21701
The Tasting Room
Voted the 'Best of Frederick' winner for overall restaurant, this spot is trendy and tasty. Founded in 2001, they feature a number of contemporary American favorites and a wide selection of cocktails and wines at the bar.
http://www.trrestaurant.com/
101 N. Market Street
Frederick, MD 21701
Callahan's Seafood Bar & Grill
Known for their crabcakes, this restaurant and bar has been in operation Frederick for 15 years. Stop in for your classic American and seafood favorites like surf n turf and crab legs – plus happy hour specials on many drinks.
http://frederick.com/callahans_restaurant_lounge-sp-3680/
1808 Rosemont Ave
Frederick, MD 21702
Madrones
For fresh cut steaks cooked over a hickory wood grill, Madrones is a great option. They also have changing monthly specials, adjusted to reflect seasonal choices – including many locally made brews.
http://madrones.net/
7810 Wormans Mill Rd
Frederick, MD 21701
The Wine Kitchen
Want wine and something tasty and paired just right? Then stop by The Wine Kitchen. With locations in both Frederick and Leesburg, you can be sure that you're getting top quality and unforgettable taste to keep you coming back.
https://www.thewinekitchen.com/location/the-wine-kitchen-frederick/
50 Carroll Creek Linear Park
Frederick, MD 21701
Pretzel and Pizza Creations
From traditional, Bavarian-style soft pretzels, to all your favorite pizza classics, this is the place to go if you're looking for something carby, cheesy, and delicions. Family-owned, drop in for an ideal atmosphere and meal
https://www.pretzelandpizzacreations.com/
210 N. Market St.
Frederick, MD 21701
Sabor de Cuba
"From Cuba, with love" is this restaurant's motto and the food is definitely made with this in mind. Enjoy all of your classic favorites like Cuban sandwiches, empanadas, croquetas and of course, mojitos.
http://sabordecubarestaurant.com/
9 East Patrick Street
Frederick, MD 21701
Il Porto Restaurant
Want fresh and delicious Italian fare that is widely recognized as a great value too? Il Porto should be on your list. From spring to autumn, outdoor dining is also available on their patio – so dinner with a breeze, anyone?
http://www.ilportorestaurant.com/
200 S Market St
Frederick, MD 21701
Wag's Restaurant
Located almost underground, this 'subterranean' eatery has been voted the Best Burger in Frederick on several occasions. They don't take reservations, but the happy atmosphere and tasty burgers are enough to convince anyone to arrive and hope for a seat.
https://www.eatatwags.com/
24 South Market Street
Frederick, MD 21701
Lazy Fish
If you're in the mood for sushi or Asian fusion cuisine, look no further than Lazy Fish. And for those in search of a healthier and lighter fare, there are a number of vegetarian rolls to choose from. Enjoy happy hour specials on both drinks and food.
https://lazyfishsushi.com/
10 E Patrick St
Frederick, MD 21701
Cafe Nola
A local favorite, this restaurant has been in operation in Frederick for over 10 years. In addition to all your American favorites, they also keep a rotating art collection that provides the perfect backdrop for any meal (or a perfect cup of coffee).
http://www.cafe-nola.com/
4 E Patrick St
Frederick, MD 21701
Greek Aroma
Tzatziki anyone? Enjoy this and many other Mediterranean classics like grape leaves, souvlaki, gyro, baklava, and more. Meals are available to eat in or carry out, plus a kids menu for those with a slightly smaller appetite.
www.greekaroma.com
177 D Thomas Johnson Drive  
Frederick, MD 21702
Black Hog BBQ Bar
With all the BBQ you could ever want smoked onsite daily, be sure to add this to the list for the BBQ lover in your group. Stop in for your favorites like spare ribs and Carolina chopped pork, paired with your choice of beer, wine, or craft cocktail.
http://blackhogbbq.com/
118 S Market St
Frederick, MD 21701
Serenity Tearoom
Ever wondered if you could get a traditional Afternoon Tea in Frederick? The answer is a resounding yes! Enjoy everything you would expect, from pots of tea to scones, to your favorite tea sandwiches in the closest thing to England you'll find this side of the Atlantic.
http://www.serenitytearoom.com/
162 W Patrick St
Frederick, MD 21701
Ayse Meze Lounge
If you love small plates (known as meze in the Eastern Mediterranean regions they derive from), then you'll love Ayse Meze Lounge. Pair it with refreshing wine or cocktail, and you'll feel like you're sitting beside the Bosphorus.
http://aysemeze.com/
6 N East St
Frederick, MD 21701
Dutch's Daughter
Since its founding in 1984 at the local VWF, this restaurant has endured and evolved to become a tasty fixture on the Frederick dining scene. Try the scallops or choose from their extensive menu of steaks – don't forget to pair it with a cocktail.
https://www.dutchsdaughter.com
81 Himes Ave
Frederick, MD 21703
Hospitality and lodging
A range of national hotels of varying prices are available throughout Frederick. There are also a few B&B's that bring the historic charm and hospitality of the region to everything they do.
10 Clarke
This warm and inviting bed and breakfast features several comfortable room and a breakfast that'll keep you going all day long! History tours and massages are also available for an additional fee.
http://www.10clarke.com/
10 Clarke Pl
Frederick, MD 21701
Inn at Stone Manor
Imagine what you think this B&B will look like – you're probably right! With stately grounds, this cozy manor house is the perfect getaway. It's so beautiful on the ground and inside that it is often host to weddings and other events. Located about 10 miles outside of Frederick.
http://www.innatstonemanor.com/
5820 Carroll Boyer Rd
Middletown, MD 21769
Hollerstown Hill
With an original build in the 1890's, this B&B has seen lot – and become a comfy spot to say with a historic twist; thanks to a number of successful renovations. Today, there are a number of rooms available, plus a lovely patio – all a stone's throw away from downtown.
https://www.hollerstownhill.com/
4 Clarke Place
Frederick, MD 21701
Vineyards and breweries
Hidden Hills Farm & Vineyard
"Wines, vines, and equines." So if you like any of these things, chances are you'll have a good time here. Wine tastings and premises tours can be combined for a great afternoon among horses and vineyards.
http://www.hiddenhillsfarmandvineyard.com/
7550 Green Valley Rd.
Frederick, MD 21701
Red Shedman Brewing Company
Located within Linganore Winecellars, stop in and try one of the beers they have on tap. We recommend the Men in Plaid or Lunatic Fringe which is infused with spicy Habanero pepper – yum!
https://redshedman.com/
13601 Glissans Mill Rd
Mt. Airy, MD 21771
Idiom Brewing Company
This brewery prides itself on having a variety of beers for everyone – regardless of whether they're new to craft beer or a season hoppy connoisseur.
https://www.idiombrewing.com/
340 E. Patrick Street, #104
Frederick, MD 21701
McClintock Distilling
It's not just beer and wine in Frederick, you can also get locally crafted gin, whiskey, and vodka. The distillery is open for tours and tastings, and can also be booked for weddings, or other events (alcohol not included).
http://www.mcclintockdistilling.com/frederick-md-distillery
35 South Carroll Street
Frederick, MD 21701
New Market Plains Vineyard
This farm has been family owned since 1760, and this love for land is definitely apparent in their wines. Tastings are held from Friday to Sunday and include seven different wines to try.
https://www.newmarketplains.com/
11111 W. Baldwin Rd
New Market, MD 21774
Monocacy Brewing
Producing a range of ales and lagers, Monacy offers many choices for different tastes and preferences. The tasting room has been open since 2012 and remains a great destination for tastings and tours.
http://monocacybrewing.com/
1781 North Market St
Frederick, MD 21701
Midnight Run Brewing
Describing themselves as 'brewers of non-conformist ales', stop in for a tasty and memorable beer and experience. They emphasize the art of brewing and create beers that often transcend too much clear categorization.
https://www.midnightrunbrewing.com/
912 N East St
Frederick, MD 21701
Springfield Manor
This diverse stop on your Frederick journey is a vineyard and a brewery – perfect when you've got a group that can't decide which they would prefer! On top of variety, there are also events like the annual Lavender Festival or even weddings and private events.
https://www.springfieldmanor.com/
11836 Auburn Road,
Thurmont, Maryland 21788
Linganore Winecellars
This family owned vineyard is more than just a place to enjoy wine, it is also a top destination for several festivals and events, including live music. Some events require ticket purchase in advance, so be sure to check their website first.
https://www.linganorewines.com/
13601 Glissans Mill Road
Mt. Airy, Maryland 21771
Olde Mother Brewing Company
With an eye to a simple goal – of creating great beet and a great community to enjoy it, this brand has crafted a number of tasty beers. Try the Notella – which includes hints of chocolate and hazelnut taste.
https://oldemother.com/
526 N. Market St.
Frederick, MD 21701
Attaboy Beer
Beers and food trucks – a simple yet delicious combination of variety and flavor. With a changing brew list, Attaboy Beer is a great place to for beer newbies and seasoned beer connoisseurs alike.
https://www.attaboybeer.com/
400 Sagner Ave Ste 400
Frederick, MD 21701
Orchid Cellar Meadery and Winery
Mead is an alcohol that is made from honey, yeast, and water. It is said to be one of the oldest alcohols and has a distinct and memorable taste. If it's not your preference, plenty of quality wines are also grown onsite and available for tastings.
https://www.orchidcellar.com/home
8546 Pete Wiles Road
Middletown, MD 21769
Rockwell Brewery
Ever heard of a beer cocktail? If you haven't and you're interested, Rockwell Brewery has the answer in the form of the Gin Radler, which is a pale ale spiked with ginger beer, and a number of other tasty beer mixtures.
https://www.rockwellbrewery.com/
880 North East Street, Suite 201
Frederick, MD, 21701
Links Bridge Vineyard
14 varieties of wine await you at Links Bridge Vineyard. The owners planted the first acre and 800 cabernet francs themselves (and with a little help from friends and family)! Tastings are available over the weekend.
http://www.linksbridgevineyards.com/
8830 Old Links Bridge Rd
Thurmont, MD 21788
Flying Dog Brewery
https://www.flyingdog.com/
4607 Wedgewood Blvd
Frederick, MD 21701
Shopping
Dancing Bear Toys and Gifts
A local gem in the community, this family owned shop believes in the value of play for both kids and adults. Pick up a fun gift from a shop that is also actively working to maintain downtown Frederick and support nonprofits for children.
https://dbeartoys.com/
15 East Patrick Street
Frederick, MD 21701
Savage Soaps
These all natural soaps will leave your skin smelling good and feeling clean for hours after you shower. They also carry salt scrubs, face oils, and a number of other beauty products – especially those with an all-natural lean.
http://savagesoaps.com/
10 E Church St
Frederick, MD 21701
Voila! In Frederick
If you love teas, then look no further than here! This locally owned tea store carries a flavor for every taste, with over 350 different kinds of tea in stock. In other words – there's a tea for every mood!
https://www.facebook.com/VoilaSpecialTeas/
10 N Market St
Frederick, Maryland 21701
Quartermaster Cigars
For those in search of fine tobaccos in Frederick, there is a solution. Not only does it have an extensive selection of cigars, but it has a number of comfortable places to smoke – inside and outside on the patio.
https://quartermasterscigars.com/
880 N East St
Frederick, MD 21701
S.A. Little & Co Fine Furniture
If you're looking for the opposite of fast, plastic or particleboard furniture, then you'll find it here. They specialize in modern, handcrafted furniture using traditional joinery techniques and making it all in the USA.
https://www.salittles.com/
100 N Market st,
Frederick Maryland United States 21701
Dream House Furniture and Design
This full service furniture and interior design company features a wide variety of fabrics, accessories, lights, and much more. Stop in to find the perfect touch for your home or to inquire about available interior design services.
The Skin Care Shop
Carrying advanced skin care products, this shop is a great place to go if you're trying to enhance the beauty of your skin. In addition to a range of items for your skin, they also have unique products for the bath and home.
http://www.theskincareshop.com/
23 East Patrick Street #100
Frederick, MD 21701
Frederick Coin Exchange
Got some old coins or interesting metallic items that you're wondering the value of? Visit the Frederick Coin Exchange for your free verbal estimate of your item or to browse their selection of coins and other items.
https://www.frederickcoinexchange.com/
20 N. East St
Frederick, MD 21701
The Knot House
For all your wooly knitting needs in Frederick, this is the place to go. In addition to a range of materials and even more colors, they even host classes – so even if you're new to the fiber arts, you don't have to stay that way.
https://www.knothouseyarns.com/
129 E. Patrick Street
Frederick, Maryland 21701
Paws in the City and the Temple of Groom
If you've got a furry friend in the family, you know you can't come home without something cute for them too! Or did you bring them on your trip to Frederick, only to have them find the perfect mud puddle to roll in? Either way, you'll find what you need here.
https://www.facebook.com/pawsinthecityfrederick
112 E Patrick St
Frederick, Maryland 21701
Frederick Fudge and Ice Cream
If you're in need of a cool treat during those hot Maryland summer days, look no further than here. Stop in for authentic and tasty ice cream, milkshakes and more. Outdoor / patio seating is available.
https://www.facebook.com/FrederickFudgeIceCream/
253 E. Church St.
Frederick, MD 21701
The Muse
This 100% handmade store sources all its items from artisans, 50% of which are in the local region. In addition to a variety of gifts and items for home, they also stock many cute accessories to complement any outfit and host crafting classes and events.
https://shopthemuse.com/
19 N Market St
Frederick MD 21701
North Market Pop Shop
Love soda? Ever wished you could go to a store dedicated entirely to soda? Now you can. Choose from over 400 varieties of sodas (including 'Chocolate Covered Maple Smoked Bacon') plus ice cream and hot dogs.
https://northmarketpopshop.com/
241 North Market Street
Frederick, MD 21701
Crisafulli's Cheese Shop
A store entirely of cheese is a store of happiness. But it's not just cheese, there's also a number of other tasty gourmet style treats. Looking for something a little more? Soups and sandwiches are also available (with cheese, of course).
https://www.crisafullischeeseshop.com/
8 E. 2nd Street, Suite 104
Frederick, MD 21701
Retro Metro
This variety prides itself in finding the perfect item for your needs that don't break the bank. They carry novelties, toys, decor, accessories and just about everything in between. Don't miss this one on your trip to downtown Frederick.
https://www.retro-metro.com/
213 N Market St
Frederick, MD 21701
The Record Exchange
Buy, sell, and trade music, movies, and video games here. They also offer disc repair, classic console repair (for Gameboys and Super Nintendos) and a number of related services. They even make custom buttons!
https://www.recordexchangeofmd.com/
151 N. Market St
Frederick,  MD 21701
Emporium Antiques
Open 7 days per week, this 55,000 square foot building is full to the brim with every antique you could imagine.This includes fine art, paintings, civil war era clocks, glassware, china, and much, much more.
http://emporiumantiques.com/
112 E Patrick St
Frederick, MD 21701
The Pasta Palette
Pasta, pasta, over 100 varieties of pasta! Yum! Choose from dry gourmet pasta, fresh frozen pasta, sauces, and pesto. This noodle shop also sells gluten free, vegan, and low-carb, high protein options. So there's a pasta for every person!
https://www.facebook.com/thepastapalette/
121 N Market St
Frederick, Maryland 21701
Yaneth Reyes
For retail and fashion jewelry with a one-on-one touch, stop by this locally owned business. They also offer a number of custom and unique pieces, so there's no better spot in Frederick if jewelry is on your horizon.
http://yanethreyes.net
114 N. Market St
Frederick MD
Brainstorm Comics & Gaming
Established in 1984, this Frederick favorite has new weekly comics, back issues, graphic novels, gaming supplies and more. Need trading card games? They have one of the largest in the region. Special orders can be made too!
https://www.brainstormcomics.com/
54 E. Patrick St.,
Frederick, MD 21701
Events
Frederick Festival of the Arts
On its 26th anniversary, this festival is held along the Carroll Creek Linear Park and features a number of free attractions and exhibitions. It spans for three days a year and in 2019 will be held on May 31st – June 2nd.
http://frederickartscouncil.org/programs/festival-of-the-arts/
Carroll Creek Linear Park, Frederick MD
Frederick's Oktoberfest
For an authentic way to celebrate this famous German festival of beers and brats, head to Frederick. Enjoy all your Oktoberfest favorites knowing that a portion of their proceeds will be going to charity.
http://www.frederickoktoberfest.org/
2019 dates: Sep 27-28
40th Annual CMATC Gas Engine, Tractor, and Truck Show
From wagon rides to flea markets, tractor pulls to cake auctions, and just about everything in between is here. Entering its 40th consecutive year, this 3 day event brings the community together.
https://www.visitfrederick.org/event/40th-annual-cmatc-gas-engine-tractor-and-truck-show/8595/
2019 dates: June 7-9
Frederick's 4th
It's a 4th of July celebration! Hosted in Baker Park and Culler Lake, this annual tradition has two stages of entertainment plus rides, food, and fireworks from noon until dusk.
https://www.celebratefrederick.com/events/fredericks-fourth/
Transit and location
Frederick, Maryland is located 48 miles from Washington, DC and 49 miles from Baltimore. There are a number of commuter trains and busses to help people get closer to the cities. There are also a number of county and town public busses, though the area is best navigated with a car. However, there are a number of businesses within Frederick city limits, so there's a good chance that you can find something that is right for you.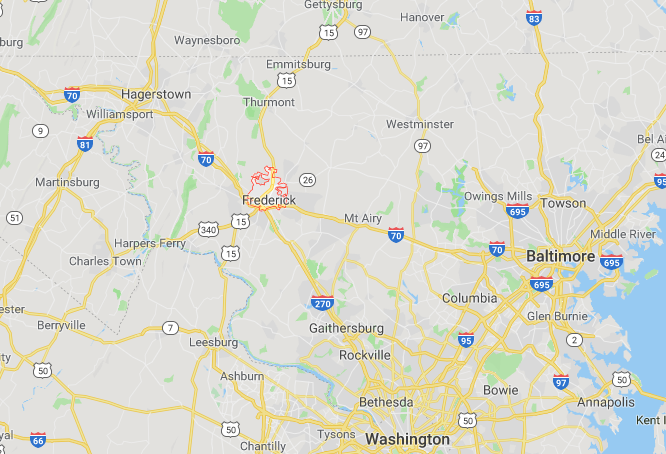 For more information about public transit, including maps and schedules, please go here: https://frederickcountymd.gov/105/TransIT
Other local cities to visit in the area include Round Hill, Purcellville, Hillsboro, Middleburg, Lovettsville, and Leesburg.