This quaint historic town is located deep in the Shenandoah Valley, known for its proximity to the Potomac River, Appalachian Trail, and Shenandoah River. A major rail line runs by the town and many travelers up the Appalachian Trail stop here to rest and recharge (it is said to be the approximate middle of the 6 month journey).
Given its proximity to major rivers and other geographical characteristics, it is no surprise that the small town was an important spot in history.
Entertainment
Harpers Ferry National Historical Park
Guided tours, hikes, and historic trades workshops oh my! Explore miles of hiking and trails in the heart of the Appalachian and get a look into how early residents of the region lived. The perfect family activity, this is a great way to combine history and fun.
https://www.nps.gov/hafe/index.htm
171 Shoreline Drive
Harpers Ferry, WV 25425
Appalachian Trail Conservancy Headquarters
Did you know that Harpers Ferry is the halfway point on the 6 month and 2200 mile journey on the Appalachian Trail? If a 2000 mile hike isn't quite for you, be sure to check out the exhibits and gift shop to get your own taste of the trail.
http://www.appalachiantrail.org/home/about-us/get-in-touch/harpers-ferry-visitor-center
799 Washington Street, PO Box 807
Harpers Ferry, WV 25425-0807
Appalachian National Scenic Trail
If you want to check out the trail, but aren't ready to do the whole journey, the stretch located in Harpers Ferry is definitely a great place to start. Want to help keep the trail maintained for future generations? A number of volunteer opportunities are available. Don't miss the Split Rock Overlook!
https://www.nps.gov/appa/index.htm
St. Peter's Roman Catholic Church
Want to find a little serenity and enjoy some more classical architecture? Visit this church for a look back in time. Constructed in 1833, this church withstood the Civil War and is a mainstay in the community.
https://stjameswv.org/about-us/chapel-of-st-peter/mass/#
110 Church St
Harpers Ferry, WV 25425
John Brown's Fort
Another important historical spot in Harpers Ferry, this landmark was where John Brown and some of his followers barricaded themselves in 1859. It has remained an important historical element and a sign of how times have changed.
https://www.nps.gov/hafe/learn/historyculture/john-brown-fort.htm
Shenandoah St & Potomac St,
Harpers Ferry, WV 25425
Storer College
Founded right after the Civil War, this landmark began as a one-room schoolhouse for freed slaves and ultimately evolved into a highly respected college – open to all. Closed in 1955, guests can still explore the campus and surrounding area.
https://www.nps.gov/hafe/learn/historyculture/storer-college.htm
River Riders
Got an adrenaline junkie in your group? Then this is 100% the place you need to go. Choose from whitewater rafting, ziplining, tubing and other exciting outdoor adventures. Activities with different skill levels for the entire family are available.
https://www.riverriders.com
408 Alstadts Hill Rd.
Harpers Ferry, WV 25425
Ghost Tours of Harpers Ferry
Do you believe in ghosts? Well, if you don't, you might after going on this spooky tour. This 49 year old tour is a fun way to explore the community at night and hear stories of times past. Appropropriate for children and strollers, but be prepared to do a bit of walking.
http://www.harpersferryghost.20m.com
The Piazza (Front Patio) of St. Peter's Catholic Church
100 Church Street
Harpers Ferry, WV, 25425
Dining
The Anvil Restaurant
Since 1985, this restaurant has been serving fresh and delicious seafood to residents and guests alike. A great option for after hiking, drop in for a beer, a nice meal, and a warm atmosphere.
http://www.anvilrestaurant.com/#welcome-to-the-anvil-restaurant
1290 W. Washington St.
Harpers Ferry, WV 25424
The Country Cafe
In operation for over 20 years, this cute cafe serves up tasty lunchtime sandwiches, burgers (including the Impossible Burger), and more – plus a hearty breakfast – perfect for fueling up for a day of exploring.
http://www.country-cafe.com/
1715 Washington St
Harpers Ferry, WV 25425
Almost Heaven Pub and Grill
The building itself goes back to 1863, but the food is fresh and modern. Have a locally brewed beer and some dinner on their upstairs outdoor terrace and enjoy a comfortable atmosphere and great view of Harpers Ferry.
https://www.facebook.com/pg/almostheavenpubandgrill
177 Potomac Street
Harpers Ferry, West Virginia
White Horse Tavern Restaurant
This sports bar style restaurant features an extensive collection of both beers and bourbon. Catch up on your favorite sports teams and chat with locals and visitors alike. And don't forget all of your rib-sticking favorites!
http://www.whitehorsetavernhf.com/
4328 William L Wilson Fwy
Harpers Ferry, WV 25425
The Canal House Cafe
With a focus on locally sourced ingredients, this chic cafe is the perfect spot to relax with friends – without or without a journey along the trails!
http://thecanalhousecafe.com/
1226 Washington St
Harpers Ferry, WV 25425
Boondock BBQ
Influenced by Thai, Filipino, and Latino flavors, this BBQ spot brings a tasty twist on traditional BBQ. Enjoy tasty ribs or grilled chicken with a taste unlike what you've ever had in BBQ. Can't get enough and want to share your discovery? Event catering is also available.
https://theboondockbbq.com/
36 Bakerton Rd
Harpers Ferry, WV 25425
Hospitality and lodging
Lily Garden B&B
Lily Garden Bed & Breakfast is an adorable and relaxing place to escape from it all. With two private suites available, this can definitely be the country getaway that you'll want to keep all for yourself. Vacation apartments also available.
https://lilygardenbnb.com/
701 Washington Street
At McDowell Street
Harpers Ferry, WV 25425
The Light Horse Inn
This upscale B&B has 225 years of history packed into a comfortable and unique setting. They have a full bar on site and offer a generous breakfast. Within walking distance to a number of local attractions.
http://www.lighthorseinn.com/
1084 Washington St
Bolivar, WV 25425
The Town's Inn
This quaint inn is located just steps from hiking, shopping, and much more. It is also  jam-packed with both history and comfort. The Inn also features a small store where hikers can purchase fresh foods and toiletry items for their journey along the Appalachian.
http://www.thetownsinn.com/
179 High St
Harpers Ferry, WV 25425
The Angler's Inn
This Victorian style B&B has a distinct southern charm that conjures an atmosphere of hospitality and warmth. This B&B has been maintained by the owners for 20 years and could quickly become your Harpers Ferry 'home away from home'.
https://www.theanglersinn.com/
867 Washington Street   
Harpers Ferry, WV 25425
Stonehouse B&B
This 'doily free' B&B is the only one that is located in the Historic Lower Town. It has bright and airy rooms with a more minimalistic feel. Perfect for a laid back weekend getaway in one of the most memorable parts of town.
http://hfstonehouse.com/
156 High Street
Harpers Ferry, WV
The Ledge House
If you're searching for the best views of Harpers Ferry Gap, then search no further. With an expansive back deck, this is the place to stay if you want to sit, have a glass of wine, and enjoy the peace and serenity that the region is known for.
http://www.theledgehouse.com/
280 Henry Clay St
Harpers Ferry, WV 25425
Shopping
Tenfold Fair Trade Gifts
This gift shop is deeply committed to making sure that the items that stock their shelves are made by artisans that are compensated fairly for their work. Many of the items are created sustainably and using recycled materials – so they're truly gifts you can feel good about.
https://www.tenfoldfairtrade.com/
180 High Street, Suite 1A
Harpers Ferry WV 25425
Harpers Ferry Outfitters and Bike Shop
Want to support local business and get everything you need for your Harpers Ferry expedition? Then this is the place you need to visit. Need local advice about where to go or what to explore? Bring your questions and be ready for your next adventure.
https://www.facebook.com/Harpers-Ferry-Outfitters-113293145866/
106 Potomac St
Harpers Ferry, West Virginia
Mary Adams Accessories
This cute shop features a wide range of unique jewelry pieces from local and not-so-local artisans. Much of what they carry is handcrafted by artisans, so if you're looking for something that stands out from the rest, this is the place to look.
http://www.maryadams.us/index.html
170 High Street
Harpers Ferry WV 25425
True Treats Historic Candy
This is more than just a normal candy shop, instead it is the nation's only research-based historic candy store. They feature candy straight out of the mid 1900's; and even earlier! Candy comes from original sources or expert candy makers who create it just for them.
https://www.truetreatscandy.com/
144 High Street
Harpers Ferry, WV 25425
Brooke Estate Gallery / The Gilded Flea
This unique antique store provides services like in-home estate sales and offsite liquidation of items. For the buyer, be sure to visit their shop, called the Gilded Flea – where you can find a wide range of special antiques and estate items on consignment.
http://brooke-estates.com/
970 Washington St.
Harpers Ferry, WV 25425
Park Bookshop
The Harpers Ferry Park Association (HFPA) raises funds through sales of books here, so not only can you expand your knowledge and understanding of the area, you can do it in a way that helps to support the park. Topics include transportation, history, and local business.
https://www.nps.gov/hafe/learn/bookstore.htm
723 Shenandoah St
Harpers Ferry, WV 25425
Events
Annual Don Redman Jazz Heritage Awards and Concert
As of 2019, the concert and awards will be entering into its 18th year! This concert commemorates Don Redman, who was an extremely influential jazz musician who graded from Storer College in 1920
http://www.jeffersoncountywvchamber.org/events/18th-annual-don-redman-jazz-heritage-awards-and-concert/
June 29, 2019: 7PM
Harpers Ferry Old Tyme Christmas
Enjoy a blast from the past over the holiday season. From the last week of November until the first week of January, Harpers Ferry will be wrapped in garlands, bows, and twinkling lights. Some activities include horse and wagon rides and craft making.
https://wvtourism.com/old-tyme-christmas-in-harpers-ferry/
Flip Flop Festival
This free community event is designed to welcome in the springtime and warm weather that accompanies it. This is a great way to explore potential hiking, cycling, rafting, and climbing opportunities in the area and to support local businesses.
http://www.flipflopfestival.org/
Transit and location
About 65 miles from both Washington, DC and Baltimore, Harpers Ferry is a hidden gem tucked away into the Appalachian mountains. It's close enough for a weekend visit, but far enough that the stress of the cities, stay in the cities. Frederick, Maryland is about 20 miles away, so close enough to commute to if necessary.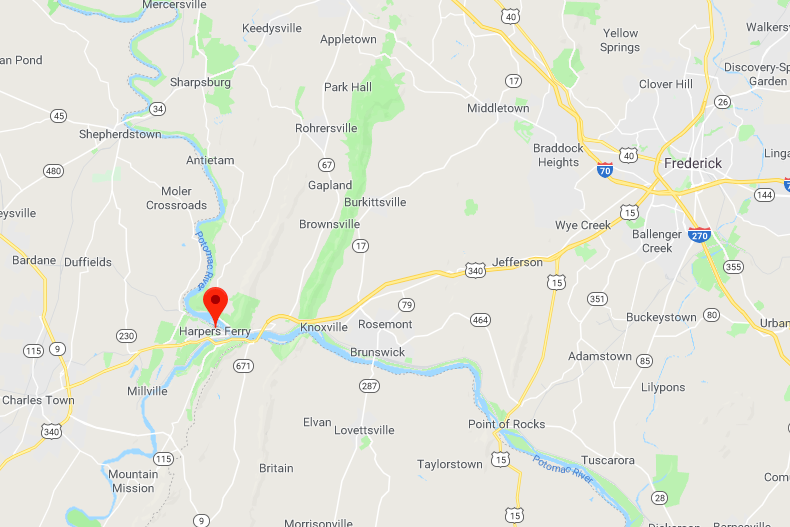 In terms of public transportation in and around the region, there are several bus lines that connect Harpers Ferry with other towns. You can find more information about public transit in Harpers Ferry here.
Other local cities to visit in the area include Round Hill, Purcellville, Hillsboro, Middleburg, Lovettsville, and Leesburg.
Want to see more? Check out our communities page.
Considering moving to Harpers Ferry? See available homes for sale or contact me to begin your search.