Originally named 'George Town' after King George II, Leesburg was established in 1758 and was eventually renamed for the Lee family of Virginia. This region is rich in American history, with a number of influential Civil War battles and icons in the town. It was also once home to creator of the Marshall Plan, Secretary of State George Marshall.
Today, it is a bustling small city of around 54,000 and is host to a number of attractions and events for just about every taste. If you plan to visit Leesburg, make sure to set aside a least an entire day to get the maximum experience!
Places to visit
Entertainment
White's Ferry
The last on the Potomac River, this ferry has been in operation since 1782. You can take it from Leesburg, VA, and arrive in Poolesville, MD, after a short while. An added bonus? You can bring your car along for the ride and go exploring in new state. They also sell food and snacks. Yay!
https://www.poolesvillemd.gov/338/Whites-Ferry
Whites Ferry Rd,
Leesburg, VA 20176
Red Rock Wilderness Overlook Regional Park
This 67 acre park is a great way to escape the hustle and bustle of much of the surrounding region. It includes a number of trails, but the primary route covers 1.2 miles – with options to head back earlier in a few places.
https://www.novaparks.com/parks/red-rock-wilderness-overlook-regional-park
43098 Edwards Ferry Road
Leesburg, VA 20176
Tally Ho Theatre
This theatre in the heart of old town Leesburg is home to a wide variety of films, comedians, and musical acts. It has been around since the Depression area and has a cool feeling of history around it.
https://www.tallyhotheater.com/
19 W Market St
Leesburg, VA 20176
Museum of Hounds and Hunting
Northern Virginia has some of the best foxhunting in the country. This museum holds the history and art of the sport and aims to help visitors gain a better understanding of it. It is located within Morven Park.
http://www.mhhna.org/
17195 Southern Planter Lane
Leesburg, VA 20176
Rust Sanctuary
In addition to acres of trails passing through meadows and forest, this park is home to the Rust Manor House – a stately home that is also available for weddings and events. It also hosts courses held by the Fresh AIr Kids Nature Program and the Audubon Naturalist society.
https://www.novaparks.com/parks/rust-sanctuary
802 Children's Center Road
Leesburg, VA 20175
Loudoun Museum
Open from Friday to Sunday, this museum explores the Civil War and Loudoun County's unique position in it. Stop in to learn about not only the war, but how it affected the entire region and community.
https://www.loudounmuseum.org/
16 Loudoun Street SW
Leesburg, Virginia 20175
Morven Park
This 1,000 acre estate is home to the Davis Mansion, a number of equestrian events, and an athletic complex. It is also a popular spot for events and weddings, given the picturesque backdrop and classic architecture.
https://www.morvenpark.org/
17195 Southern Planter Lane
Leesburg, VA 20176
Marshall House
Also known as Dodona Manor, this historic spot was home to General George Marshall and his wife, Katherine. General Marshall is best known for Winston Churchill's proclamation that he was the "organizer of victory" in WW2.
https://www.visitloudoun.org/listing/the-marshall-house/13/
312 East Market Street
Leesburg, VA 20176
Ida Lee Park Recreation Center
This full service recreation facility offers a fitness center, two indoor pools, racquetball courts, child care, banquet hall and more. It also features fitness programs and classes – so whether you're a resident or visitor, there's no skipping the gym.
https://www.leesburgva.gov/government/departments/parks-recreation/ida-lee-park-recreation-center
60 Ida Lee Drive NW
Leesburg, VA 20175
Dining
Tuscarora Mill
Affectionately known as 'Tuskies' by locals, this restaurant had its beginnings as a grain mill in 1899. Today, it's one of the most awarded restaurants in Loudoun County – featuring a range of foods for brunch, lunch, dinner and more.
https://www.tuskies.com/
203 Harrison St SE
Leesburg, VA 20175
Lightfoot Restaurant
Named in honor of Francis Lightfoot Lee who was instrumental in moving colonial Virginia towards independence, this spot has been a favorite for the past 30 years. Enjoy southern inspired cooking with a touch of gourmet – don't miss the fried green tomatoes!
https://lightfootrestaurant.com/
11 North King St.
Leesburg, VA 20176
Shoe's Cup and Cork
This cafe style spot is a full service restaurant serving tasty breakfast, lunch, and dinner (plus a brunch on the weekends). In addition to local foods, they carry a number of regional beers and even a garden bocce court to enjoy them by.
http://shoescupandcork.com/
17 North King St.
Leesburg, VA 20176
The Wine Kitchen
This wine bar and restaurant is home to not only 40+ wines, but something delicious to pair with all of them. The owners have also opened another location in Frederick, Maryland – demonstrating how much of hit their menu and wines are.
http://www.thewinekitchen.com/
7 S King St
Leesburg, VA 20175
King Street Oyster Bar
What is it about oysters that makes them so irresistible? They offer over 10 different types of oyster that are no more than 48 hours out of water. Pair it with some great happy hour deals, and you're all set.
http://www.kingstreetoyster.com/
12 South King St,
Leesburg, VA 20175
Yummy Pig BBQ
BBQ, empanadas, and local brews – what more could you ask for, really? Stop by here for some rib-sticking BBQ, tasty sides, and a great atmosphere. A number of events, including quiz and trivia nights are held onsite too – so you can work your brain and your belly together.
http://www.yummypig.com/
17 Catoctin Cir SE
Leesburg, VA 20175
Melt Gourmet Cheeseburgers
Voted the best burger in Loudoun County, this restaurant features a wide range of well.. Cheeseburgers. With their changing cheeseburger of the month, plus a wide selection of sides and drinks, there's a cheeseburger for everyone – including a vegetarian option.
https://meltgourmetcheeseburgers.com
525 E Market St Ste J,
Leesburg, VA 20176
Blue Ridge Grill
A community staple, this restaurant has been a fixture on the Leesburg restaurant scene for many years. Enjoy tons of your grill favorites like filet mignon and salmon, plus a number of wines and cocktails. Open for brunch.
https://brgrill.com/leesburg/
955 Edwards Ferry Road
Leesburg, VA 20176
Leesburg Public House
Ever had bacon popcorn? Well, if you visit the Leesburg Public House, you can! Along with a wide range of entrees, appetizers, and desserts it's basically impossible to leave hungry. A number of events are also held onsite, so do check their Facebook for updates.
https://www.the-lph.com/
962 Edwards Ferry Rd
Leesburg, VA 20176
Xuan Saigon Vietnamese Restaurant
Did you know that Vietnam's culinary heritage is a combination of French, Indian, and Chinese? And this restaurant definitely lives up to the expectations that such a combo would create! Enjoy delicious pho and a number of other traditional dishes.
https://www.xuansaigonleesburg.com/
15 Fort Evans Rd NE
Leesburg, VA 20176
Döner Bistro
Because really, who can turn down a kebab? This German, counter serve restaurant features incredible Turkish style kebab sandwiches in a relaxed and welcoming atmosphere. And of course, don't forget the German beer on the side.
http://www.doener-usa.com/about.html
202 Harrison Street, SE
Leesburg, VA
The Conche
A chocolate themed boutique restaurant in Leesburg? Yes please! But incredible chocolate items isn't the only thing, enjoy a number of savory items on their menu too. And of course, you can't miss the chocolate cocktails, like the Moussetache, made with chocolate mousse!
https://www.the-conche.com/
1605 Village Market Blvd SE, #J108
Leesburg, VA 20175
Hospitality and lodging
The Leesburg Colonial Inn
This 10 room bed and breakfast is the perfect spot for a relaxing weekend that has a certain historical twist. Take advantage of their full service bar and restaurant for dinner and of course, a hearty breakfast.
http://www.theleesburgcolonialinn.com/
19 South King Street
Leesburg, Virginia 20175
There are also several chain hotels, including The Hampton Inn and SpringHill Suites in the vicinity.
Vineyards and breweries
Stone Tower Winery
This family owned and operated winery covers over 50 acres of classic French varietals. The property itself consists of 206 acres on Hogback Mountain, sparking incredible views and the perfect atmosphere to enjoy one of their many wines.
https://www.stonetowerwinery.com/
19925 Hogback Mountain Rd.
Leesburg, VA 20175
Vanish Brewery
With tons of outdoor seating and a number of tasting options, this is a great choice for the beer lover in your group. This brewery focuses on using local ingredients and is also host to events big and small.
https://vanishbeer.com
42245 Black Hops Lane,
Leesburg, VA 20176
Fabbioli Wines
Enjoy wine tasting combined with small gourmet bites from local chefs and food artisans (including gluten free and vegetarian options). This family owned and run vineyard features a variety of wines and a spectacular view.
http://www.fabbioliwines.com/
15669 Limestone School Road
Leesburg, VA 20176
Zephaniah Farm Vineyard
Named as one of the top 25 wineries in the United States by Travel and Leisure Magazine in 2018, this vineyard features several red, white, and rosé wines. Tastings are held within an 1819 farmhouse, giving an inviting and warm atmosphere.
https://zephwine.com/
19381 Dunlop Mill Road
Leesburg, VA 20175
Tarara Winery
In 1985, a successful commercial developer chose to retire the 475 acres on the Potomac River that would one day become Tarara. And the results definitely made it worthwhile decision. Home to some gorgeous wines and incredible experiences, Tarara is definitely worth a stop.
https://www.tarara.com/
13648 Tarara Ln
Leesburg, VA 20176
Loudoun Brewery
This family owned brewery in historic downtown Leesburg is home to a frequently-changing and always delicious selection of beers. Their family-friendly atmosphere makes this brewery a great choice for a wide range of visitors.
https://loudounbrewing.com/
310 E Market St
Leesburg, VA 20176
Kettles and Grains
With craft beer from 12 rotating taps, Bavarian pretzels, and a range of other tasty snacks, this is a great place for when you need a little more than just a beer. They also carry a range of home brew supplies for the amateur beer maker.
http://www.kettlesandgrains.com/
Wild Hare Cider
Not a beer or wine fan? Fear not! This cidery has all the fruity, tangy, and just a bit buzzy taste that you're looking for. And with a building that's been around since 1840, it's the ideal atmosphere for hanging out and relaxing.
https://www.wildharecider.com/
106A South Street SE
Leesburg, Virginia 20175
Casanel Vineyards and Winery
Located along the Catoctin ridge, this vineyard features over 10,000 vines! And the results are amazing – with a range of beautifully tasting and colored options for any preference. They also pride themselves on a deep focus on sustainability.
https://casanelvineyards.com/
17956 Canby Road
Leesburg, VA 20175
Shopping
Leesburg Premium Outlets
With all of your favorite high end fashion brands like Brooks Brothers, Coach, Michael Kors, and more, you can definitely find something for everyone on your shopping list. And a bonus? Since they're outlets, enjoy sayings of up to 65% from original prices.
https://www.premiumoutlets.com/outlet/leesburg-corner
241 Fort Evans Rd NE
Leesburg, VA 20176
Black Shutter Antique Center
Located in the 19th Century Plaster House, this is more than just your average antiques shop. Instead, they feature 40 dealers offering 20 rooms of collectibles, art, and much more. Some of these vendors even specialize in certain areas, like mid-century modern or vintage clothing.
http://blackshutterantiques.com/index.html
1 Loudoun St., S.E.
Leesburg, VA 20175
Very Virginia Shop
Full of "Virginia's Finest Goodies and Gifts" this is the place to get a souvenir from your visit. Some of their popular items include peanuts, local honey, postcards, Civil War memorabilia, colonial costumes and much more.
https://www.veryvirginia.com/
16 S. King Street
Leesburg, VA 20175
Leesburg Cigar and Pipe
Providing cigars and tobacco to the region since 1988, this local store has a wide range of products for every type of smoker. They also feature an extensive walk in humidor and cigar selection to match.
https://www.leesburgcigars.com/
205 Harrison Street, SE
Leesburg, VA 20175
Hummingbird's Nest
Full of gifts, antiques and decor items, this is a great place to stop by if you need something for home. Many of the pieces are in the 'shabby chic' style, but there's tons of variety for all kinds of items.
https://www.hummingbirdsnestva.com/
14920 James Monroe Highway
Leesburg VA 20176
Altar'd State
Ladies, if you need a new outfit, this boutique is definitely worth a look. With a bunch of stylish and comfortable options, you'll definitely be able to find something to wear to the vineyard or out to dinner.
https://www.altardstate.com/
1604 Village Market Blvd., Suite 123
Leesburg, VA 20175
Events
Flower & Garden Festival
On the 3rd weekend of April, downtown Leesburg transforms into a wonderland of gardens. An average of 40,000 people attend the event every year – and there's definitely no sign of slowing down!
Located in downtown Leesburg. Portions of King Street, Market Street, and Cornwall Street are closed for the event.
4th of July
Celebrate our independence in Leesburg! Enjoy the annual parade that starts at 10AM in downtown Leesburg, followed by a concert and fireworks at Ida Lee Park in the evening.
https://www.leesburgva.gov/government/departments/parks-recreation/festivals-community-events/independence-day
Leesburg Airshow
Held at the Leesburg Executive Airport on the last Saturday in September, this airshow definitely isn't one to be missed. Exhibitors will showcase not only standard aviation practices but also acrobatic performances. Food is available onsite.
https://leesburgairshow.com/
September 28
Parking to be determined.
TASTE Leesburg
Head to historic downtown Leesburg for a showcase of restaurants, food trucks, artists, breweries and more – all from Leesburg! Demonstrations and music will also be there, so you don't have to worry too much about only eating.
https://tasteleesburg.com/
August 10
Annual Christmas and Holiday Parade
On the second Saturday of December, head to downtown Leesburg at 6PM for their annual holiday parade. This parade will welcome Santa and friends and the parade includes many local businesses and organizations.
https://www.leesburgpartnership.com/christmasparade/
Kiwanis Halloween Parade
This is one of the oldest Halloween parades in the country, so don't miss out! And in addition to being host to a number of spooky and fun costumes, it also is a fundraiser for Loudoun Interfaith Relief.
https://www.leesburgkiwanis.org/
Transit and location
Only 40 miles from Washington, DC, Leesburg has all the benefits of the city without the stress and other.. Well, city things. Enjoy a quick drive or a ride on the Metro from neighboring Reston and save yourself the effort of parking.
Leesburg has a local bus system and also has commuter busses that go to Falls Church and DC. You can see more about Leesburg public transportation here: https://www.leesburgva.gov/residents/public-transportation
Other local cities to visit in the area include Round Hill, Hamilton, Hillsboro, Middleburg, Lovettsville, and Purcellville.
Want more info about Leesburg or to see available homes? Do contact us.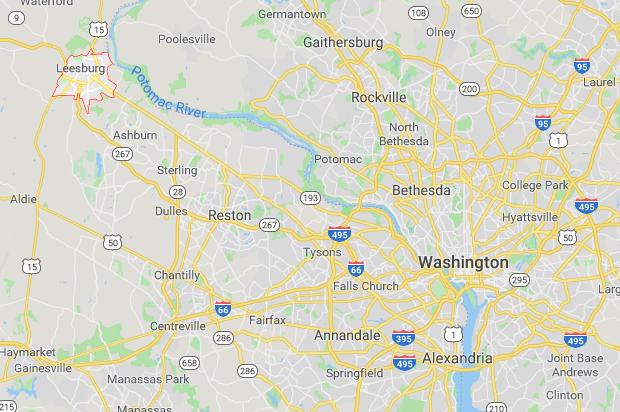 Want to see more? Check out our communities page.
Considering moving to Leesburg? See available homes for sale or contact me to begin your search.