Places to visit in Purcellville
Since its initial settling in the 1700's, Purcellville has played an important role for farmers and travelers – particularly with the old Purcell Store. The town as we know it was incorporated in 1908, and since then has evolved immensely into the town we see today.
Considered to be in the heart of the local wine country, Purcellville is home to a number of restaurants, vineyards, and other tasty attractions. It is also home to a number of historic markers, which you can find more information about here.
Entertainment
If you're looking for a fun way to spend a day (or evening!) these are some of our favorite options.
Franklin Park
Nestled in the hills of Blue Ridge Mountains, Franklin Park is 203 acres of open land that is host to a number of sports areas, trails, and other community amenities. Some events that are held at Franklin Park include 5K runs, season / holiday celebrations (like 4th of July fireworks), trout fishing days, summer camps, and more.
https://www.loudoun.gov/1397/Franklin-Park
17501 Franklin Park Dr,
Purcellville, VA 20132
Franklin Park Arts Center
This arts center features 263 stadium style seats, a full art gallery lobby, and digital sound and lighting within Franklin Park. This creates an ideal setting for a number of events, including jazz, ballet, comedy improv and more.
http://www.franklinparkartscenter.org/
36441 Blueridge View Lane
Purcellville, VA 20132
Blooming Hill Lavender Farm
Over 1,000 lavender plants from over 100 varieties grow across this 4 acre 'farmlet'. Pick up some homemade wreaths and other garden decor or drop in during one of their tea events. Tours are available. 
https://bloominghillva.com/
19929 Telegraph Springs Road
Purcellville, VA 20132
Washington and Old Dominion Trail (W&OD Trail)
Purcellville is the endpoint of the 45 mile W&OD trail that originates in Washington DC. The trail is an avoid choice for local bikers and hikers and features some gorgeous stretches of trail throughout. 
https://www.purcellvilleva.gov/194/WOD-Trail
209 State Rte 690, Purcellville, VA 20132
Dining
Market Burger
If you're craving a burger after a long day exploring vineyards or hiking up neighboring trails, this could be your spot. Burgers are available in turkey and vegetarian versions too, so there's something for everyone. 
http://www.marketburger.net/
145 W. Main Street
Purcellville, VA 20132
Magnolia's at the Mill 
Chosen as Loudoun's best fine dining restaurant in the Loudoun Times Mirror, "Maggie's" is the place to go if you're looking for a nice sit down dinner. A bonus? It's made from an old mill – so the atmosphere and architecture are pretty and inviting. 
https://www.magnoliasmill.com/
198 N.21st Street
Purcellville, VA 20132
Monk's BBQ
A family owned restaurant, Monk's is the place to go if you're craving authentic BBQ and a matching atmosphere. In addition to slow cooked meats, Monk's also offers a range of bourbons and live music.
https://monksq.com
251 N. 21st St
Purcellville, VA 20132
La Petite Loulou
Crepes? Without a doubt one of the best breakfast (lunch or dinner) foods. And if crepes aren't your thing, then instead enjoy handmade croissants and a selection of wines that will make you feel like you're in Paris.
https://www.lapetiteloulou.com/
713 E Main St,
Purcellville, VA 20132
West End Wine Bar and Pub
Focusing on farm-fresh and regionally available ingredients, this restaurant features a variety of selections of both food and drinks. The building itself was constructed in 1915 and has served in many roles before settling into this one – as evidenced by painstaking restorations to help retain the original charm and feel.
https://westendwinebarpub.com/
36855 W Main St.
Purcellville, VA 20132
Finn Thai Restaurant and Bar
If you're looking authentic and delicious Thai food in Western Loudoun county, Finn Thai is it. With chefs from Thailand, the food at their Purcellville location brings a certain Asian flare to the neighborhood.
https://www.finnthai.com/
126 N Maple Ave
Purcellville, VA 20132
Vineyards and Breweries
Otium Cellars
Located just a few minutes outside of downtown Purcellville, Otium Cellars hosts wine tastings for their German and Austrian inspired beers. The vineyard can also be rented out for weddings and other events.
http://www.otiumcellars.com/
18050 Tranquility Rd
Purcellville, VA 20132
Notaviva Vineyards
Music and wine lovers unite! This unique winery pairs each of their wines with a musical genre or lyrical inspiration. In addition this to this musical twist, they also have a number of augmented reality (AR) labels to include the right music selection for that wine.
http://www.notavivavineyards.com/
13274 Sagle Road
Purcellville, VA 20132
Catoctin Creek Distillery
Founded in 2009, Catoctin Creek Distillery is the first legal distillery in Loudoun County since before prohibition. They create whiskey, gin, and brand and host tastings onsite. They also host or partner at a number of local events.
https://www.catoctincreekdistilling.com/
120 W Main St
Purcellville, VA 20132
868 Estate Vineyards
Wine or wine with seasonal snacks? Or why not stay for dinner at the Grandale Restaurant? A number of wine and food options are available so there's no excuse to leave hungry.
https://868estatevineyards.com/
14001 Harpers Ferry Rd
Hillsboro, VA
Sunset Hills Vineyard
One of our personal favorites, Sunset Hills prides itself on sustainability. To support this mission, they have installed over 245 solar panels, which makes them the largest solar energy producer in Loudoun County. Oh and the wine is pretty tasty too.
https://www.sunsethillsvineyard.com/
38295 Fremont Overlook Lane,
Purcellville, Virginia 20132
Breaux Vineyards
Home to 17 different grape varieties, Breaux Vineyards has a bottle to suit every taste. It also presents a gorgeous backdrop for weddings and other events.
https://www.breauxvineyards.com/
36888 Breaux Vineyards Ln,
Purcellville, VA 20132
Adroit Theory
Considered to be a nano-brewery, this tight knit group only makes one or two kegs at a time. This smallness definitely doesn't slow them down though – they generally keep 24 beers on draft at a time. These tasty beers get their interesting flavor through a process with an emphasis on barrel aging.
https://www.adroit-theory.com/
404 Browning Ct. Unit C
Purcellville, Virginia 20132
Old 690 Brewing Company
On a historic looking family farm, Old 690 brews a wide range of beers and also is often host to a number of local food trucks. And with a rotating variety of beers, you'll be able to try something new every time.
http://www.old690.com/
15670 Ashbury Church Road
Purcellville, VA 20132
Belly Love Brewing
Located in downtown Purcellville, this brewery handcrafts every batch using the 7 barrel system. And if you're avoiding gluten this is the place to go – they have options that are suitable for those with gluten sensitivity (see their website for details on this).
https://www.bellylovebrewing.com/
725 E. Main St.
Purcellville, VA
Dragon Hops Brewing
With an emphasis on locally grown, organic hops, this brewery harvests and brews with hops sourced from a farm near Philomont. They also host a number of events, like line dancing and trivia.
http://www.dragonhopsbrewing.com/
130 E. Main St
Purcellville, VA 20132
Hospitality and lodging
Silverbook Farm Bed and Breakfast
Tucked away between the Blue Ridge Mountains and Short Hill Mountain is this cute B&B. The oldest wing of the house dates back to the mid 1700's. Today, it is an elegant country retreat for a night or even for an event.
http://silverbrookfarmbandb.com/
15286 Woodgrove Road
Hillsboro, VA 20132
Creek Crossing Farm Bed and Breakfast
This B&B has been providing hospitality to travelers since the 1770s. The farm is still home to some chickens and a number of seasonal vegetables (of which the latter you'll likely end up enjoying!).
https://www.creekcrossingfarm.com/
37768 Chappelle Hill Road
Lincoln, VA 20160
Springdale Village Inn
Originally built by a Quaker, Springdale was a successful school for girls in its earliest days. Today, it offers 6 different rooms, all speaking to the character and history of building. Enjoy a delicious farm-to-table breakfast as part of your stay.
https://www.springdalevillageinn.com/
18348 Lincoln Road, Purcellville, VA 20132
Shopping
Trail's End Cycling
The W&OD trail is only the beginning! But if you're planning on biking all around Northern Virginia, a stop in at Trail's End first isn't a bad idea. New to cycling? Their friendly and experienced team can help you to get off on the right foot. Repair services also available.
http://www.trailsendcycling.com/
201 N 23rd Street
Purcellville, VA 20132
Purcellville Farmer's Market
Want to support local agriculture and get the freshest fruits and veggies possible? Then the farmer's market should definitely be a stop on your list. Open on Saturdays.
https://loudounfarms.org/market-stands/farmers-markets/
21st Street
Purcellville, VA 20132
Twigs
Twigs is one of the earlier arrivals to Purcellville. They stock a wide range of gift and home items. Some of their most popular items include women's clothing and accessories, jewelry, kitchen and garden decor, books, stationary, and more.
https://www.facebook.com/twigsva/
123 N Maple Ave
Purcellville, VA 20132
Loudoun Christmas Trees
Obviously this one is more suited for the winter holidays, but picking out a tree is really one of the most classic wintertime activities. They have several farms located throughout western Loudoun County so you're sure to find one close to where you are.
http://loudounchristmastrees.org/
37268 Bolyn Rd
Purcellville, VA 20132
Hunt Country Jewelers
Located in the middle of main street, Hunt Country Jewelers carries a number of custom gemstones and pieces. A family business, stop by to browse their selection or to enquire about a custom piece.
https://huntcountry.com/
105 E. Main Street
Purcellville, VA 20132
It's Bazaar on 21st Street
This is more than just your average antique store – they stock tons of items ranging from homemade pottery to vintage collectibles (and of course, antiques). Stop by here and you won't go home empty handed.
143 N. 21st Street,
Purcellville, VA 20132
Events
Independence Day Parade
The annual 4th of July parade is sponsored by the Purcellville Volunteer Fire Department and features a number of community organizations. The parade starts at 12:30PM and is a great way to show your patriotism while also having a great time.
Christmas Day Parade
On Dec 14 (2019), the Christmas Day parade welcomes in Santa Clause and the official beginning of the winter holidays. Additional events on parade day include ornament decorating and pictures with Santa at the Purcellville Train Station.
Transit and location
Located just 50 miles outside of Washington DC, Purcellville is a refreshing breath of fresh air from the hectic city life.
You can find transit information about busses and metros here.
Other local cities to visit in the area include Round Hill, Hamilton, Hillsboro, Middleburg, Lovettsville, and Leesburg.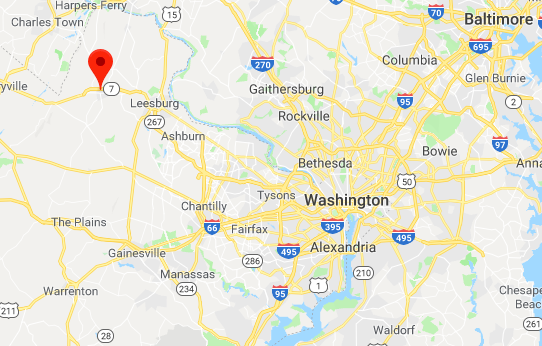 Want to see more profiles like this for other surrounding towns? See our communities page.
Love this town and want to move here? See available homes for sale and for rent.