Places to visit in Charles Town
Charles Town, WV, is home to tons of history, gorgeous mountains, and the kind of hospitality that you expect from West Virgina. It is located in the eastern panhandle of West Virginia and was originally settled by George Washington's brother Charles. During the Civil War it was home to a number of abolitionists and even underwent a number of struggles itself. Today, that history is present in the architecture and some of the local stores.
Entertainment
The Old Opera House
A part of the community since 1911, the Old Opera House has been a cultural mainstay for generations. The theatre currently presents 6 main stage productions, a one-act play festival, summer youth festivals, and a bi-annual ballet.
http://www.oldoperahouse.org/
204 N George St
Charles Town, WV 25414
Hollywood Casino
In addition to standard casino games like poker and roulette, a number of concerts and other events are hosted here. It is also home to a race track and restaurant and is a great option for groups.
https://www.hollywoodcasinocharlestown.com/
750 Hollywood Dr.
Charles Town, WV 25414
Jefferson County Museum
Founded in 1965, this museum contains objects of historical value and significance not only to the county, but to the country as a whole. A number of events, such as vintage photograph slide shows, and children's days are held at the museum.
https://jeffcomuseumwv.org/
200 E Washington St
Charles Town, WV 25414
Cool Springs Preserve
Covering 32 acres, this the perfect place for exploring nature – it is even designated as a 'birding hotspot'. Great for families, stop by for a guided bird walk, a visit to their nature center, or even a self-guided exploration of the 1.7 miles of trail.
https://www.potomacaudubon.org/preserves/cool-spring/
1469 Lloyd Road
Charles Town WV, 25414
Dining
Mountain View Diner
For your all-American favorites like milkshakes and burgers, this is definitely your best bet in Charles Town. And if you've got a sweet tooth? Even better. Choose from a wide selection of bakery goods.
https://www.mountainviewdiner.com
903 E Washington St
Charles Town, WV 25414
Redbook Restaurant
For the last 20 years, this restaurant has been serving seasonal menus that are full of fresh ingredients from local farms. This is a definite must for the foodie in your group! There are three different fare levels available for guests to choose from.
https://redbookrestaurant.com/
4486 Summit Point Rd
Charles Town, WV 25414
La Mezzaluna Cafe
Love pizza, pasta, and other Italian favorites? Then you can't miss this spot. Enjoy traditional Italian fare and wine in a relaxed and friendly atmosphere.
http://lamezzalunacafewv.com/
90 Somerset Blvd
Charles Town, WV 25414
Alfredo's Mediterranean Grille and Steakhouse
When the review says "the best homemade hummus", you know it's going to be tasty. Visit here for a selection of Persian, Moroccan, and Lebanese foods – plus your well known favorites like kebabs and falafel.
https://alfredosmedcafe.com/
741 E. Washington St.
Charles Town, WV 25414
Summitra Thai Cuisine
Enjoy a wide selection of traditional Thai food in Charles Town. Trying to eat healthier? Get one of their healthy green entrees and have all the delicious taste of Thai – but with an eye to lighter ingredients.
http://www.sumittra.com/
213 W Washington St Charles Town
West Virginia 25414
Mi Degollado Mexican
If you're in search of authentic Mexican cuisine, then look no further. Enjoy all of your favorites, like burritos and quesadillas – and of course margaritas, in a family owned and relaxed atmosphere.
http://midegolladowv.com/
92 Somerset Blvd.
Charles Town, WV 25414
Hospitality and lodging
Hillbrook Inn
This romantic and luxurious B&B is nestled away on George Washington's first piece of land. It includes an onsite spa, fine dining, wine tours and much more. Pet friendly.
https://www.hillbrookinn.com/
4490 Summit Point Rd.
Charles Town, WV 25414
The Carriage Inn Bed and Breakfast
This B&B is packed with both history and comfort! Stay in the same places as Civil War generals Thomas 'Stonewall' Jackson and Robert E. Lee. Though listed on The National Register of Historic Places, it still has every need or want covered.
https://www.carriageinn.com/
417 E Washington St
Charles Town, WV 25414
There are also a number of chain hotels available in the general vicinity and within city limits.
Vineyards and breweries
Abolitionist Ale Works
This local brewery has a wide range of beers on tap to suit every taste. Named for the many abolitionists that helped to shape US history, it aims to 'rebel' against the status quo of beers. They also host a number of events.
http://www.abolitionistaleworks.com/
129 W Washington St.
Charles Town, West Virginia
Shopping
Charles Town Farmer Market
Every week, find the freshest seasonal fruits and veggies, plus a wide selection of local businesses and organizations. This is a great way to support the local community and get to know the people and businesses of Charles Town.
https://www.facebook.com/Charles-Town-Farmers-Market-WV-198296286944643/
100 S Samuel St
Charles Town, WV
Bushel & Peck
This grocery store features a number of local farmers and vendors such as artisans, musicians, and nonprofits. It aims to connect the community and local businesses to help encourage small businesses and local agriculture.
http://jeffersongap.org/bp/
100 West Washington Street
Charles Town, WV
B.Vintage
A boutique furniture store in Charles Town, this is the place for modern farmhouse-style lighting fixtures and home decor. In addition to items for your home, this is a great place to look for that perfect gift.
https://www.shopbvintage.com
114 W Washington Street
Charles Town, WV 25414
The Hobbies Shop
Modeled after a hobby shop from many years ago, they carry a wide range of products for a wide range of interests. Stop by for models, puzzles, paints, and more. The owners are very involved with their community and the store is greatly loved locally.  
https://the-hobbies-shop.business.site
226 West Washington Street
Charles Town, WV 25414
Wooden Shoe Antiques
Have you ever seen so many kerosene lights in one place? Probably not – so here's the perfect opportunity. In addition to 500+ lamps, they also carry a number of antiques, and plenty of history to go along with them
http://www.woodenshoeantiques.com/
222 W. Washington St.
Charles Town, WV 25414
Yarnability
The best place for the fiber enthusiast in your life, drop in for a wide range of wools and other knitting needs. Also includes classes, social events, and more.
https://yarnability.com/
130 W. Washington Street
Charles Town, WV 25414
Events
WV Fest
This annual event features music, art, history, and much more in celebration of WV and what makes it special. There will also be a 5K fun run and then a pepperoni roll contest – so any calories you may have burned, will quickly be cancelled out – yum!
https://www.facebook.com/events/charles-town-west-virginia/wv-fest-2019
June 15, 2019
Charles Town / Ransom Christmas Parade
Held on the first Saturday of December, this parade is a great way to welcome in the winter holiday season. The parade features floats and music created by a number of local organizations and businesses.
https://ransonwv.us/132/Charles-Town-Ranson-Christmas-Parade
Transit and location
Though it feels tucked away in the mountains, a few major metropolitan areas may be closer than you think. Washington DC is 52 miles and Baltimore is 67 miles away – so not quite near enough for a regular commute, but definitely close enough to enjoy.
In terms of public transportation, the EPTA (Eastern Panhandle Transit Authority) maintains a number of bus lines for the region. You can learn more about available routes here.
Other local cities to visit in the area include Round Hill, Purcellville, Hillsboro, Middleburg, Lovettsville, and Leesburg.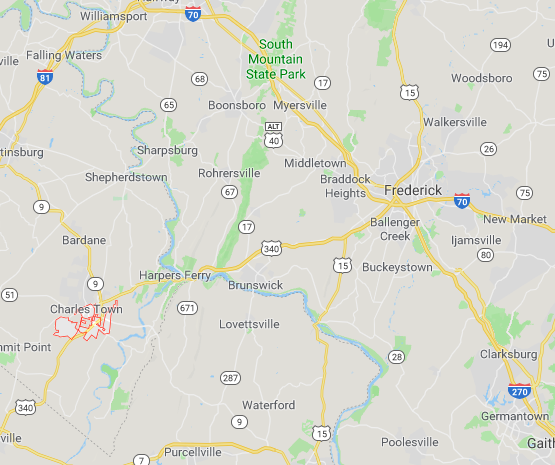 Want to see more local towns? Check out our communities page.
Considering moving to Charles Town? See available homes for sale or contact me to begin your search.