Berryville. A town full of berries? Well yes, but that's not all. It actually got its name, not from an excess of berries, but actually from Benjamin and Sarah Berry who applied for the establishment of the town from the Virginia General Assembly in 1798. Prior to that, it was known as 'Battletown' and according to legend, Daniel Morgan, a battlefield tactician used to engage in combat at the intersection by the town. He would even pile large stones close by to use as ammunition (just in case).
Though times have obviously changed considerably since then, one thing has remained the same: the small town is still full of friendly folk and local charm.
Entertainment
Mackintosh Fruit Farm
Opening in May every year, this family owned farm is full of the freshest fruits and veggies you'll find. You can pick your own, enjoy lunch, and go home with enough produce to help you make just about any pie you can think of.
https://www.mackintoshfruitfarm.com
1608 Russell Rd
Berryville, VA 22611
Barns of Rose Hill
If live music is your thing, then the Barns of Rose Hill should definitely be in your radar. In addition to a diverse set of artists and events onsite, they also are host to a number of community art classes and other workshops.
http://barnsofrosehill.org/
95 Chalmers Court
Berryville, VA 22611
Watermelon Park Campground
The perfect spot for camping, kayaking, canoeing, and otherwise spending time outdoors against the Shenandoah River. In addition to all your favorite outdoor activities, it's a great spot to throw parties and other events.
https://watermelonpark.com/
3322 Lockes Mill Road

Berryville, VA 22611
Dining
Berryville Grille
Located in a historic building from the 1800's, which had previously served as an Inn (and a number of other tasks), this restaurant serves breakfast, lunch and dinner. Stop by for some of your country favorites and leave fully fed.
https://theberryvillegrille.com/
9 East Main Street,
Berryville, VA 22611
The Tea Cart
Traditional British afternoon tea for everyone! Perfect for bridal parties, baby showers, and more, this cute spot in Berryville is everything you would expect in a traditional tearoom. Enjoy scones, finger sandwiches and other traditional tea fare.
Willie's Ice Cream
A family owned spot for tasty treats, Willie's Ice Cream is known for its delicious frozen snacks during those hot summer days. Join them for a banana split, hot fudge sundae, or soft serve and leave with a taste of Berryville.
https://www.facebook.com/pg/WilliesIceCream
1025 W Main St
Berryville, VA
Mario's Pizza
Maybe we're biased, but is it ever a bad time for pizza? If you're in search of hearty Italian food or your perfect pizza, don't miss Mario's.
https://www.facebook.com/Marios-Pizzeria-119380521424248/
6 W Main St
Berryville, VA 22611
Santorini Grill
In need of something a little more mediterranean? Well, luckily Santorini Grill has your back. With a wide selection of regional cuisine from Greece and surrounding countries, get ready to chow down on gyros, hummus, pita, souvlaki, spanakopita and more.
http://www.santorini-grill.com/
108 S Buckmarsh Street
Berryville VA 22611
Camino Real
It's always a good time for a burrito or a margarita! Well maybe not the latter, but as a community staple, with their Winchester location operating for 18 years, Camino Real serves tasty Mexican food that is sure to have you leaving with a smile
Hospitality and lodging
Waypoint House B&B
For the right combination of history and modern convenience, this is a comfy place to rest your head while visiting the region. A bonus? This B&B is pet friendly – so just mention your furry friend at reservation time and you're all set.
https://waypointhouse.com/
211 S Church St.
Berryville, Va
Vineyards and breweries
Veramar Vineyard
Opened in 2001, this vineyard is home to a range of tasty red and white wines. In addition to the classic tastings that are common to the region, Veramar also offers a vineyard picnic – full of local foods and their own wines.
https://veramar.com/
905 Quarry Rd
Berryville, VA 22611
612 Vineyard
This 'petite' vineyard is a great choice for those looking to enjoy live music and a mellow atmosphere with their wine tasting. There's also several outdoor eating areas where you can bring your dog and your lunch and enjoy the view.
https://www.612vineyard.com/
864 Shepherds Mill Road
Berryville, VA  22611
Shopping
Nalls Farm Market
I can tell you from a fair amount of experience that the pies you find here are the best pies in the region. That aside, this locally owned market is home to fresh produce, honey, garden supplies, and much more.
https://www.nallsfarmmarket.com/
4869 Harry Byrd Hwy.
Berryville, VA 22611
My Neighbor and Me
If you are looking for a gift or memento from your trip to a local vineyard or while just passing through, this is the place to go. They only stock fair trade certified items and are actively working to support those in marginalized situations.
http://myneighborandme.com/
15 E. Main Street
Berryville VA 22611
Modern Mercantile
In the middle of Berryville's historic main street, the front of this shop is almost as cute as the items they carry. Stop here for something for baby, luxury paper goods, or just to browse their wide selection of gifts and decor.
http://modernmercantilellc.com/
13 S Church St
Berryville, VA 22611
Events
Steam Show
Also known as the Pageant of Steam, this summer event celebrates vintage tractors and other antique farm equipment. Ever seen a tractor pull? Well, this summer you can if you add this event to your list! Dates are July 26-28 for this year.
http://www.svsgea.com/index.html
890 W Main St,
Berryville, VA 22611
Clarke County Fair
Ferris wheels, cotton candy, and funnel cake. These are some of the standard expectations for the county fair – and of course, Clarke County doesn't disappoint. There's also livestock shows, educational opportunities and more.
https://clarkecountyfair.org/
890 West Main Street
Berryville, VA 22611
Transit and location
Located 55 miles from Washington DC, it may be a bit far for a commute, but it's close enough to enjoy. Public transportation includes the Valley Connector which works to link the region with its more eastern counterparts. Learn more here: https://shenvalleycommuters.com/
Other local cities to visit in the area include Round Hill, Purcellville, Hillsboro, Middleburg, Lovettsville, and Leesburg.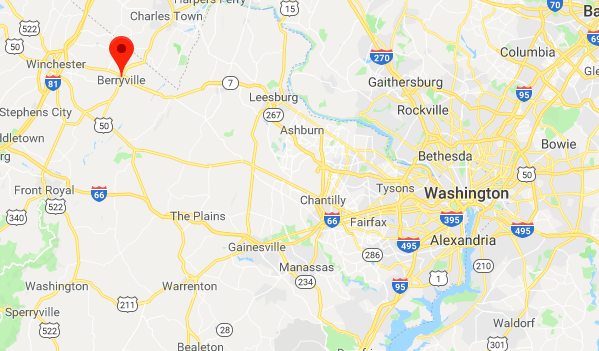 Considering moving to Berryville? See available homes for sale or contact me to begin your search.