Interest rates are on the rise again after the historic lows of 2020, and some are suggesting it may not be a good time to buy a new home or an investment property. On the other hand, we are also enjoying increased home equity from price appreciation over the last few years, and a less competitive buying market for desirable properties. 
So, is this the right time to buy property? There may be excellent opportunities for the bold, but there are also things to think about…
Inflation
It's no secret that inflation is affecting us in many ways, and the housing market is no exception. As of December 2022, inflation was at 6.45%, a dramatic rise from the 1.18% in October 2020.
How does inflation affect housing prices? It means that prices likely won't be going much higher in the short term, but it may be harder to purchase property because of higher interest on mortgage payments.  Higher interest rates increase monthly mortgage payments, which decreases buying power for people financing their purchase.
Current Interest Rates
Interest rates on conventional mortgages have overall been falling since the early 1980's, reaching below 3% in 2020. As of early January 2023, interest rates have risen, currently sitting between 5.5% and 7% percent for a 30-year fixed mortgage for borrowers with good credit. While this may be higher than we've seen in recent years, it is actually a moderate rate level from an historical context. The chart below demonstrates that prior to the Great Recession in 2008, mortgage interest rates were usually above today's levels…and plenty of people were still buying houses.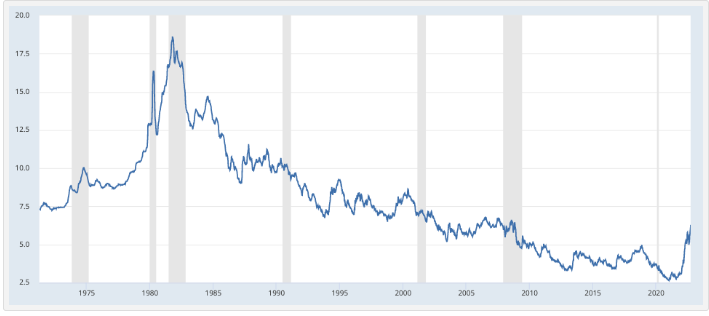 With interest rates climbing again, buyers must now decide if they want to wait for the economy to stabilize, for rates to decrease, or to take the leap now and acquire properties that might be harder to purchase when there is more competition. Understanding your financial status is the most important factor when buying a home, especially now.
Some lenders are offering programs where buyers can purchase a home at current rates, then refinance for zero or reduced closing costs within 12 months if interest rates fall. That strategy allows buyers to act quickly on desirable properties, then reduce their payments if interest rates fall in the future. Talk to your lender for details and more ideas.
Conclusion
While inflation is high and interest rates are higher than recent memory, it's important to have a long term focus when considering buying a home. Inflation and shaky consumer sentiment have reduced competition for good properties, while higher interest rates mean the cost of carrying a mortgage on the property is higher.  Still, there may be opportunities to refinance at lower rates in the future and take advantage of the market in transition today.
If you feel that you're in the right financial position to buy a home or investment, then this can be a good time to do so. With the uncertainty of the future, taking advantage of lower prices and less competition now may be better than holding off and seeing what lies ahead. If or when interest rates finally fall, refinancing your mortgage is always an option.
For answers to any questions you may have about your situation in particular, feel free to contact me directly at sian@sianpugh.com 
*Disclaimer: I am not a financial advisor. This content is for informational purposes only, you should not construe any such information or other material as legal, tax, investment, financial, or other advice.