Located in the Shenandoah Valley in north-western Virginia is the town of Strasburg. Founded in 1761 by Peter Stover, Strasburg is a small town, known for its Civil War history, plethora of antique stores, and local art culture.
Strasburg is a quiet place, with a population of under 7,000, according to the 2010 census. On the south side of town runs the north fork of the Shenandoah River. The Massanutten and Allegheny Mountains are also nearby. This town is the perfect place for nature lovers and people who are looking for a quiet retreat. If you'd like to see what's available in this scenic location, check out the latest homes for sale in Strasburg.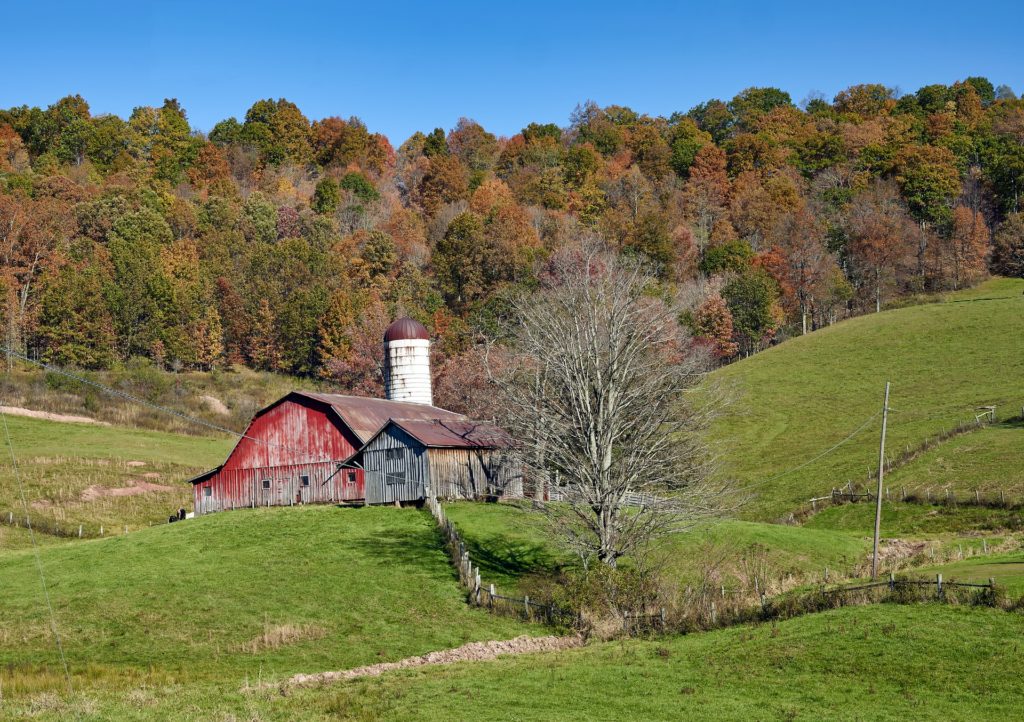 Entertainment
Author's note: At the time of this writing (Spring / Summer 21), COVID-19 is deeply impacting communities in Strasburg and beyond. As such, we can't guarantee the ongoing accessibility or safety of some entertainment, shopping, and dining options. And we, of course, recommend that you use your own discretion in deciding whether or not to partake in any of the activities outlined below. 
The Strasburg Museum
Thanks to a group of local citizens who were interested in preserving the rich cultural history of Strasburg, you can get a glimpse into the past at this museum. There are many interesting artifacts from the 19th century, including a large pottery collection. If you'd like a reminder of your visit, they also have a gift shop.
You can find the museum here:
440 East King St
Strasburg, Virginia 22657
Learn more on their website.
Hupp's Hill Civil War Park
Did you know that Strasburg was a Civil War battleground? If you'd like to learn more about Virginia's storied past, be sure to visit Hupp's Hill. You can enjoy nature and get some exercise while learning more about the Battle of Strasburg. There is also a museum on site, which has numerous displays, and a theater that plays educational videos about the location.
Visit the park here:
33229 Old Valley Pike
Strasburg, VA 22657
Find out about what the park has here.
Strasburg Ghost Walking Tour
Into something a little spooky? You can download a free app that guides you through the streets of Strasburg's historic district. Once you near one of the locations, the app will tell you about ghost sightings, strange happenings, and unexplainable events that have happened there. It's a great way to explore the town, and get into the Halloween spirit all year round.
To find the app, and the starting location of the tour, have a look at this flyer.
Skyline Paintball
For a high adrenaline experience, pay a visit to Skyline Paintball. They offer rates for groups, and for those who want to go solo. For the more sensitive-skinned folks, they also offer low-impact paintball sessions, so you won't walk away with as many bruises!
Bring your game face to this address:
363 Radio Station Rd
Strasburg, VA 22657
Learn more about the facility on their website.
Dining
Author's note — many restaurants may be only offering takeout or outdoor dining. Be sure to call ahead to see if your preferred dining arrangement is available.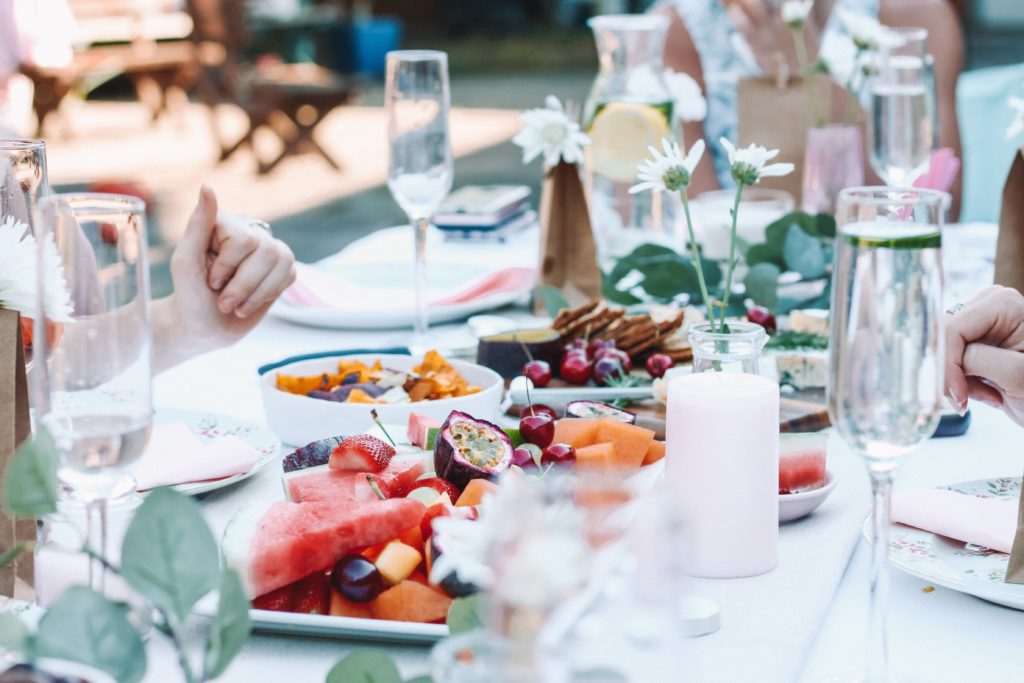 Breakfast
The Pancake Underground
This family-owned restaurant is the number one place to get delicious pancakes in Strasburg. Try The Elvis, which is made up of two pancakes topped with bananas, peanut butter, powdered sugar, syrup, and a side of bacon (vegan bacon is also available). If you're looking for something more savory, they also have sandwiches, and customizable potato bowls.
Find lots of pancakes here:
309 N. Massanutten St
Strasburg, VA 22657
Have a look at their menu and more on their website.
Queen Street Diner
Another great breakfast spot is the Queen Street Diner. Here you can find all the Southern classics, like biscuits and gravy, corned beef hash, and a county ham platter. They also offer french toast, eggs, and eggs benedict. Breakfast is served all day, so you can get your favorite breakfast foods whenever the craving hits. In addition to breakfast, they also serve lunch and dinner.
Enjoy some Southern classics here:
 728 E Queen St
Strasburg, VA 22657
You can find more information, including a menu, on their Facebook page.
Nancy's Coffee Bar
For the coffee addicts, there's Nancy's Coffee Bar. Nancy's offers a delightful, cozy environment to sip on some warm beverages. They have seasonal syrups, so depending on what time of the year you stop by, they'll have a different specialty drink to try. Start your day off right with a delicious cup of coffee right in the heart of Strasburg.
Come get a latte:
175 E. King St.
Strasburg, VA 22657
See more about Nancy's on their website.
Lunch
Crabby Maggie's
You won't be feeling crabby after a trip to Maggie's! Here, you can find a wide selection of seafood dishes, and all the classic sides to go along with them. Try the crab-stuffed Mahi Mahi, or chow down on some snow crab legs, sold by the cluster. For sides, you can get coleslaw, hush puppies, and more.
Stop by for lunch here:
260 East Washington St
Strasburg, VA 22657
See more information on their website.
Old Dominion Doggery & Burger Shoppe
What's more American than burgers and hotdogs? Maybe French fries, but you can get those here too! At Old Dominion, there are a ton of burgers and hotdogs to choose from, and some other tasty treats as well. Are you a lean, mean, burger-eating machine? Get the Quadzilla, which, as the name suggests, has 4 beef patties, 4 pieces of American cheese, grilled onions, and a side of coleslaw.
Get your burgers and dogs at this location:
133 East King St
Strasburg, Virginia 22657
Check out their webpage to see their menu, and more.
Fox's Pizza Den
Pizza lovers, rejoice. You can find fresh, delicious pizza right in Strasburg. If you'd like to try something new, consider ordering the Steak Rancher pizza, which comes with steak, peppers, onions, mushrooms, and ranch dressing. You can also choose from 14 different types of sandwiches, 7 salads, and several desserts to satisfy your sweet tooth.
Here is where you can find them:
289 North Massanutten St
Strasburg, VA 22657
Have a look at their menu here.
Dinner
Golden China
Golden China has something for anyone who loves Asian cuisine. They offer all of the Chinese-American dishes you know and love, as well as Thai and Japanese options. They only offer food to-go, so if you want to pick something up for a nice dinner at home, this is the perfect option.
Get your to-go at this address:
33820 Old Valley Pike #5
Strasburg, VA 22657
Look at their website for their menu, and to order.
Castiglia's Italian Restaurant
Castiglia's boasts Southern-Italian fare, featuring chicken, steak, and eggplant based dishes. Additionally, they have fresh pizzas with homemade sauces. Load up on all those tasty carbs with their pasta and sandwich selections, or keep it on the lighter side with one of their salads. No matter what you choose, you won't be leaving hungry.
Find Castiglia's in Strasburg here:
33820 Old Valley Pike Ste 8
22657 Strasburg VA
Decide what you want before you get there by looking at their menu.
El Jalapeño Mexican Grill
For some Mexican cuisine, make your way to El Jalapeño Mexican Grill. Their specialties include carne asada, fajitas, tacos, and several types of burrito. They also offer a kid's menu, which makes this place fun for the whole family. Try their chicken tacos, which come in a corn tortilla, mozzarella cheese, pico de gallo, and homemade salsa.
Visit them here:
131 N Massanutten St
Strasburg, VA 22657
See their Facebook for more info.
Lodging
Author's note: At the time of this writing, COVID-19 is still a very serious problem throughout the US. Be sure to call ahead to make sure operations are continuing and to get details about what precautions are being taken.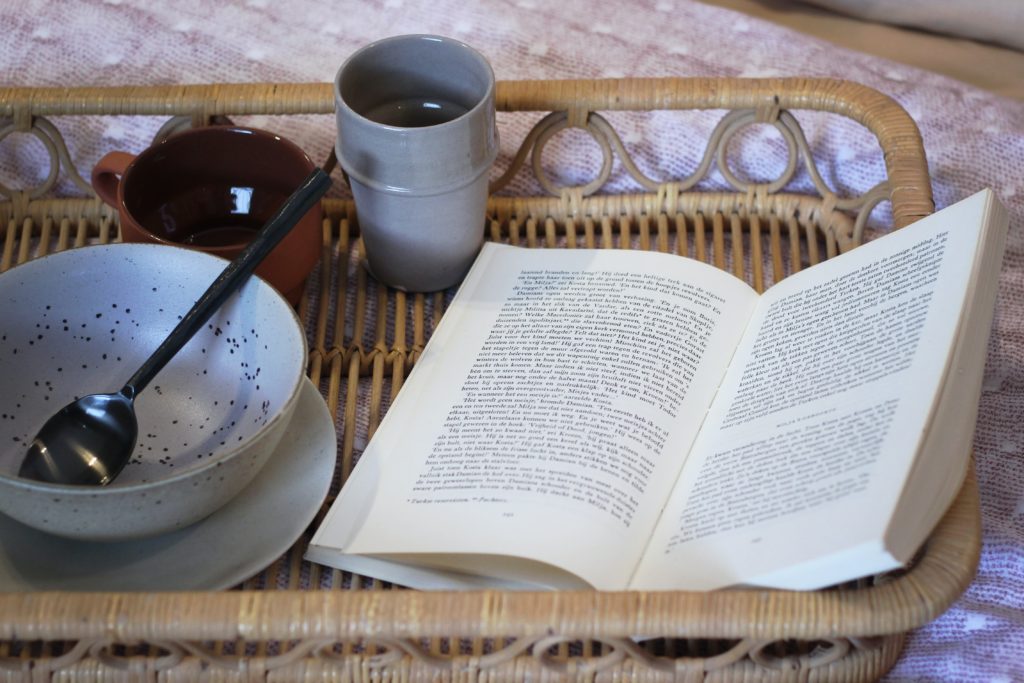 Hotel Strasburg
Close to the entrance of Skyline Drive is the Victorian-themed Hotel Strasburg. This isn't your average hotel, because it features homey rooms with antique fixtures and decor. In their main dining room, you can take part in all three meals throughout the day, and sample some of the local wines.
You can find them here:
213 South Holliday Street
Strasburg, VA
Book your stay on their website.
Hopewell House Bike & Bed
This gorgeous hotel specifically caters to cyclists and fitness enthusiasts who want to enjoy the beauty of the Shenandoah Valley. Amenities include a daily healthy breakfast, DIY bike storage and maintenance shop, and free WiFi. Owners Alice, Kevin, and their dog Vouvray will make you feel right at home!
Bring your bike and stay a while:
117 High Street
Strasburg, VA  22657
Check availability and make a reservation here.
Ramada by Wyndham
For a more traditional hotel experience, there's the Ramada. All the usual amenities such as a bar, free WiFi, fitness center, and fresh breakfast will make your stay comfortable and pleasant. They can accommodate large groups and pets. 
They're located at this address:
21 Signal Knob Drive
Strasburg, VA, 22657
Book your stay on their website.
Wayside Inn
Located in the nearby town of Middletown you can find a beautiful inn that has been around since 1797. There is a tavern attached to the hotel, so if you're looking for some live entertainment or a bite to eat, you just have to go downstairs.
Find them at:
7783 Main Street
Middletown, VA 22645
Learn more here.
Shopping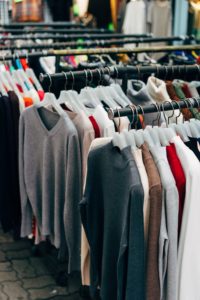 Author's note — COVID still present? Be sure to check with any stores before visiting to ensure that they are open and to take note of any restrictions thatmay be in place.
Strasburg Emporium Antiques
Remember how Strasburg is known for their antiques selection? This emporium is one of several places to go treasure hunting. They offer a wide variety of items. You know never what you'll find in a place like this, so make sure to visit when you're in town.
Visit them at this location:
160 N Massanutten St
Strasburg, VA 22657
Learn more here
Woodbine Farm Market
If fresh, local ingredients are what you're after, stop by this family owned and operated market. They have fresh fruits, vegetables, and beef. It's a great way to show support to local farmers and businesses.
Stock up on produce and more here:
5199 John Marshall Hwy
Strasburg, VA 22657
Visit their TripAdvisor page to learn more.
Lydia's Clothes Closet
Lydia's is a non-profit thrift store that offers clothes, accessories, and home goods to anyone who is looking for a good deal. Lydia's calls themselves 'the cutest little thrift shop in the Shenandoah Valley', and once you see it, it's hard to disagree.
Find your new outfit here:
137 E King St
Strasburg, VA 22657
Find out more on their website.
King Street Flea Market
For odds, ends, and forgotten treasures, King Street Flea Market is your best bet. Featuring antiques from local areas, you can find a little bit of everything here. Take a friend, go with family, or fly solo to their location for an eclectic shopping experience.
Find them here:
327 N Massanutten St
Strasburg, VA 22657
Check out their website for more.
Breweries and Vineyards
Author's note: at this time, many alcohol based venues are only offering carryout, per executive order of the state of Virginia. However, the below is written with an eye towards more normal days. But in the meantime, if you want to support local businesses, getting your drinks 'to go' might be the perfect solution. Cheers!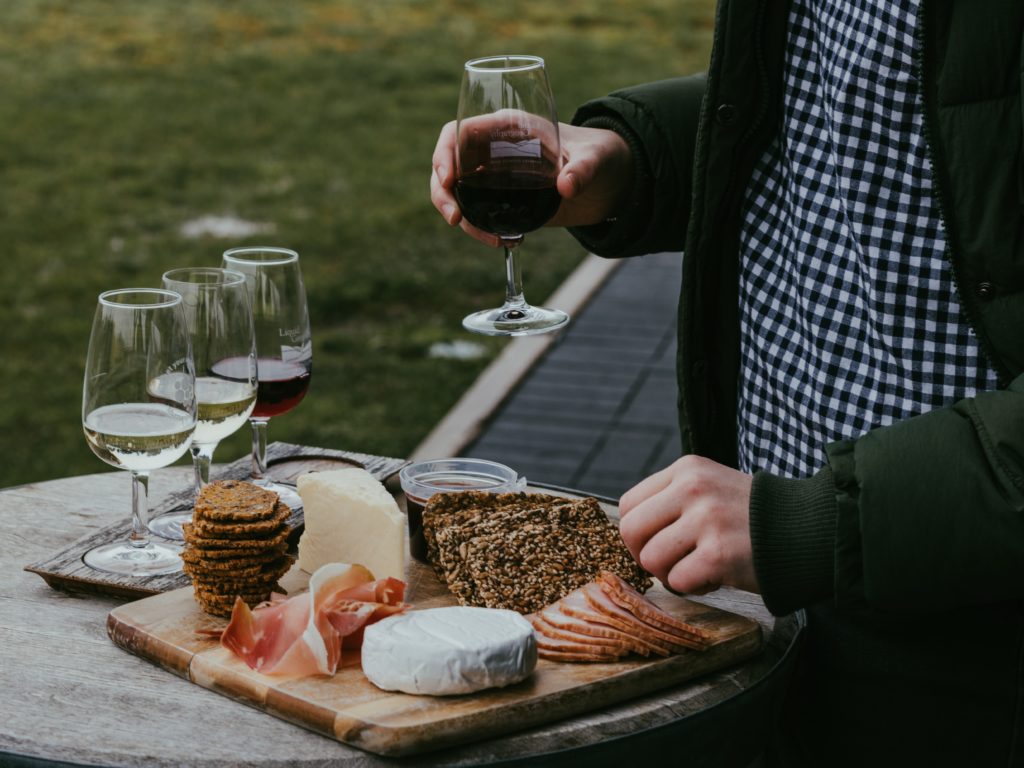 Box Office Brewery
Constructed in around 1918, Strasburg's Strand Theater opened its doors and became Strasburg's first movie theater. Today, this historic building is home to Box Office Brewery. They offer a full menu full of tasty snacks, as well as craft beers, ciders, and wines. Try their Prohibition Pilsner to really get in the 1920's spirit.
Find them here:
177 E King St
Strasburg, VA 22657
Check out what's on tap here.
Backroom Brewery
Outside of Strasburg in the Shenandoah River Valley you can find this brewery, surrounded by lush, green fields. They offer a wide selection of craft beers and sandwiches. This is a great place for groups both large and small, including pets. Drop by on the weekends for some live music.
Beer lovers can go here:
150 Ridgemont Rd.
Middletown, VA 23113
See their webpage for information about live events and other activities.
Star in the Valley
What's better than relaxing in the foothills of the mountains, sipping on wine? Not much, in my opinion. Star in the Valley is a vineyard located at the base of Little North Mountain, and is a beautiful place to unwind. Bring a picnic and your dog, and breathe in the fresh air. They have flights, glasses, and bottles to choose from.
You can find Star in the Valley at this address:
33 Amos Lane
Strasburg, VA 22657
See what they have to offer on their website.
North Mountain Vineyard
Escape for a little while at this European style vineyard. Relax with your favorite glass or bottle in the Great Room, which can also be used for parties and other large gatherings. Dogs are welcome in the outdoor parts of the vineyard.
Make your way to this location:
4374 Swartz Road
Maurertown, VA 22644
Here is where you can find out more about them.
Location and Transit
Strasburg is located in northwestern Virginia, 20 miles south of Winchester, VA. Route 11 runs directly through town, and Route 81 runs east to west across the upper border of town. You can also access Strasburg from Route 628/VA-55 E.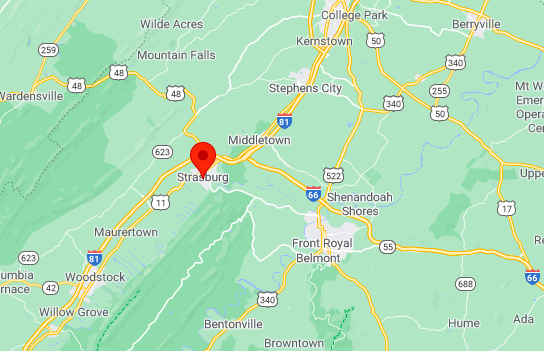 At the time of writing, there are no public transportation options within the town of Strasburg. However, there are commuter bus options located in Winchester, Front Royal, and Woodstock, VA.
Looking for more local communities? Check out: