Established in 1815, Falling Waters, West Virginia is located between the cities of Hagerstown, Maryland and Martinsburg, West Virginia. It is extremely close by to the Potomac River, meaning that it was historically relevant for merchants and shippers. As such, it has a number of historic buildings dotted throughout the residential community. During the Civil War, it was home two to important battles: The Battle of Hoke's Run and The Battle of Williamsport.
Today, this growing town is home to an increasing number of families that enjoy a quieter and more peaceful way of life than in many neighboring cities. Its proximity to major hubs like Washington DC and Baltimore means that residents are close enough to enjoy the benefits, but far enough to avoid the stressors.
Things to do in Falling Waters
Martin L. Snook Memorial Park and Pool
This park and pool is the ideal spot for cooling off during those hot summer days. The park also includes grills, picnic tables, and a number of sports pavilions. The park is open from 9AM to sunset.
https://www.washco-md.net/index.php/2017/05/01/mspark/
17901 Halfway Boulevard
Hagerstown, MD 21740
Fort Frederick State Park
Known for its unique stone fort that served as Maryland's defense during the French and Indian War, this should definitely be on your list if you're a history buff! Built in 1756, it has been restored to this original appearance.
https://dnr.maryland.gov/publiclands/Pages/western/fortfrederick.aspx
11100 Fort Frederick Road
Big Pool MD 21711​
Triple Brick Museum
Built in 1874, this museum was previously a home for local railroad workers and their families. Today it features memorabilia and artifacts from old Martinsburg. It also displays fossils, primitive tools, and similar items from the region.
http://www.orgsites.com/wv/adam-stephen
313 E John St
Martinsburg, WV 25401
Yankauer Preserve
This 104-acre nature preserve is located just a short drive from Falling Waters. It overlooks the Potomac River and is the perfect spot for a spring native wildflower walk. It hosts many events throughout the year for kids and adults alike.
https://www.potomacaudubon.org/preserves/yankauer/
438 Whitings Neck Rd
Martinsburg, WV 25404
Wonderment Puppet Theatre
This children's theatre has shows on Saturday and Sunday at 1PM. Also includes a number of hands on activities onsite. Perfect for kids birthday, celebrations, and a change of scenery from the standard.
http://wondermentpuppets.wixsite.com/mysite-1
412 W King St
Martinsburg, WV 25041
Chesapeake & Ohio Canal National Historical Park
The C&O Canal operated for nearly 100 years – helping communities along the Potomac River transport coal, lumber, and agricultural products. Today it is a great spot to explore and learn about local history and nature in a more recreational setting.
https://www.nps.gov/choh/index.htm
205 W Potomac St
Williamsport, MD 21795
Dining
TwisteDoughs
This food truck / restaurant has hot and tasty cinnamon rolls, pretzels, biscuits and much more! So if your breakfast is feeling a little light, and you want something rich and delicious to start out the day, this is the place to go.
https://www.twistedoughs.com
6541 Williamsport Pike
Falling Waters, WV 25419
King's New York Pizza
This family-run restaurant brings authentic Italian and New York pizza tastes to Falling Waters. The Colandreas family runs the restaurant, which now has several locations throughout the region. Stop in for a tasty slice and great service.
https://www.kingsnewyorkpizza.com/?utm_source=tripadvisor&utm_medium=referral
44 Worchester Drive
Falling Waters, WV
Paesanos Pizza
More pizza? Yes please! Enjoy delicious pizzas, subs, and other Italian classics. Delivery is available within 6 miles of their Falling Waters location.
http://paesanos.letseat.at/
9460 Williamsport Pike
Falling Waters , WV 25419
Tad's Dairy Barn
If you're in search of a rich and creamy frozen treat, don't skip Tad's Dairy Barn. A short drive away in Martinsburg, this is a great place to stop if you are in need of a way to cool off during those hot summer days.
https://www.facebook.com/Tads-Dairy-Barn-141388095934002/
5295 Williamsport Pike
Martinsburg, WV 25404
Tokyo
For sushi and other Asian cuisine, Tokyo is a local favorite in the area. They pride themselves on not only high quality and delicious food, but creating a warm and welcoming atmosphere for anyone that visits.
http://www.tokyomartinsburg.com/
5724 Hammonds Mill Rd suite F,
Martinsburg, WV 25404
Fiesta Tapatia
When the craving for Mexican food hits, Fiesta Tapatia should be on your list of places to go in Falling Waters. They're also known for their yummy margaritas – which are only $1.99 during their Margarita Mondays special.
https://www.facebook.com/Fiestatapatiamartinsburg/
201 S Viking Way
Martinsburg, West Virginia
Kitzies Restaurant & Lounge
Specializing in steaks and seafood, visit Kitzies for traditional American fare in a sports bar atmosphere. They also feature nightly specials every day of the working week, so you can be sure to find something you love.
http://www.kitziesofspringmills.com/
5623 Williamsport Pike
Martinsburg, WV 25404
Jakki's Station Grill
This local neighborhood bar and grill in Falling Waters is home to everything you would expect for an American-style grill – plus the hospitality you would come to expect from West Virginia. Includes a number of happy hour specials.
https://www.facebook.com/pages/category/Bar—Grill/Jakkis-Station-Grill-2139775332949387/
65B Cordial Court
Falling Waters, WV 25419
Hospitality and lodging
There are a number of hotel chains on the West Virginia side of the Potomac River. Many of these are a short drive away in Martinsburg, but there are also a few options more locally in Falling Waters.
In Hagerstown, MD, there are a number of national hotel options and also other more local options.
The Spa at Beaver Creek
This B&B is full of history, comfort, and hospitality. They feature a full breakfast with a number of hearty options, plus an extensive onsite spa for guest comfort. Additionally, they offer a number of spa and lodging packages, plus event hosting.
http://www.beavercreekinnandspa.com/
20432 Beaver Creek Road
Hagerstown,  MD 21740
Bay Farms Bed and Breakfast
Bay Farms B&B is a family owned and operated bed and breakfast on the C&O Canal – just a few minutes drive from Falling Waters. It is in a great location for cyclists and hikers that are traveling the Great Allegheny Passage (GAP) trail.
https://www.facebook.com/bayfarmsbnb/
14 N Conococheague Street
Williamsport, MD 21795
Elmwood Farm B&B
This 6.5 acre property is more than just a place to sleep and a gourmet breakfast, it is also a Maryland alpaca farm, with a number of furry residents. Enjoy visiting with the animals and spending a relaxing weekend away from it all.
https://elmwoodfarmbandb.com/
16311 Kendle Rd
Williamsport, MD 21795
Vineyards and breweries
Cushwa Brewing Co
A short drive away you can enjoy flavorful locally brewed beer and a great atmosphere. They pride themselves on having a unique and wide selection of beers and introducing new flavors and varieties to their customers.
http://cushwabrewing.com/
10212 Governor Lane Boulevard #1012
Williamsport, MD 21795
Shopping
Kitchen's Farm Market
This is West Virginia's only locally owned and operated orchard and farm market. It offers seasonal fruits and vegetables that are grown and harvested from their farm. They also offer a variety of hanging baskets, eggs, butter, and other farm grown goods.
https://www.kitchensfarmmarket.com/
1025 Kitchen Orchard Road
Falling Waters, WV 25419
Butler's Farm Market
This family owned farm brings a wide range of seasonal and harvest produce to Martinsburg. They also offer a number of baked goods – so whether you want sweet and healthy or sweet and less healthy, you'll find it!
https://www.facebook.com/Butlers-Farm-Market
1793 Dry Run Road
Martinsburg, WV 25403
DeFluri's Fine Chocolates
A store dedicated to chocolate? Sign us up! From truffles to caramels to your favorite bonbons, this is the place to go to find all the chocolate you could ever want and more. They also feature a number of sugar free options too.
https://www.defluris.com/
130 N Queen Street
Martinsburg, WV 25401
West Virginia Glass Outlet
If you're looking for a gigantic selection of hand made glass, then look no further than the West Virginia Glass Outlet. They feature an extensive selection of both new and vintage glass sourced from over 25 factories and studios.
https://www.facebook.com/WestVirginiaGlassOutlet/
148 N Queen St
Martinsburg, WV 25401
Events
Irie Wine, Beer, Blues & Reggae Festival
This festival showcases international, domestic and WV wines and beers. This annual event also features a wide range of food, art, and crafts vendors. This is a family-friendly event that also hosts a moon bounce for the kids.
https://iriewinefest.com
229 East Martin Street
Martinsburg, WV 25401
Martinsburg Wine Festival
Looking for another reason to sample local wines and beers? Well, now you've found it. Enjoy a wide range of delicious wines and tons of tasty foods – many of which are locally grown and sourced.
http://www.mainstreetmartinsburg.com/martinsburg-wine-fest/
601 South Queen Street
Martinsburg, WV 25401
June Jubilee
Celebrate summer in War Memorial Park at this annual event. It includes all of your fair favorites like rides and funnel cakes, plus arts and crafts and music. There will also be a car show in the morning that isn't to be missed!
http://mbcparks-rec.org/events/june-jubilee/
500 North Tennessee Avenue
Martinsburg, WV 25401
Transit and location
Eastern Panhandle Transit Authority (EPTA) manages several bus routes within Berkeley County and out towards some local cities. Martinsburg is the starting place for many of these routes.
Hagerstown, MD is about 15 miles away and is a common commuting destination for the region. Frederick, MD is about 40 miles away, Washington DC and Baltimore, MD are both about 80 miles away.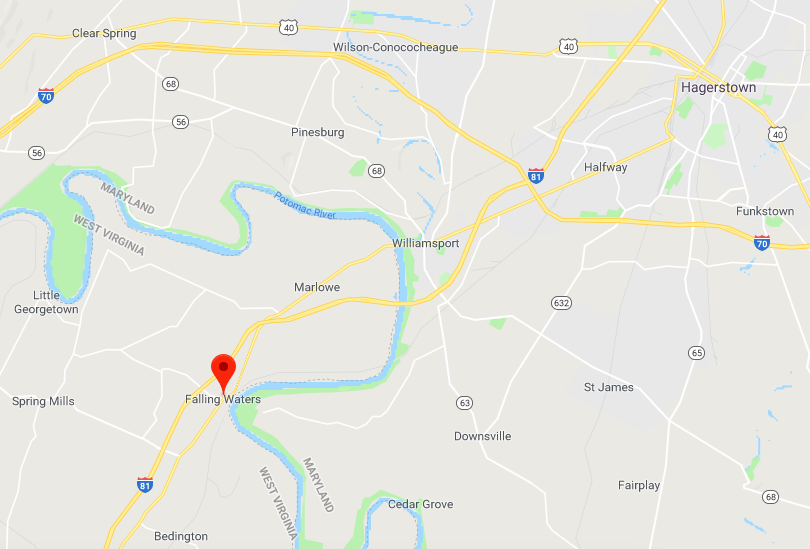 Other local cities to visit in the area include Round Hill, Hamilton, Hillsboro, Middleburg, Lovettsville, and Purcellville.
Want to see more? Check out our communities page.