Centreville, VA is a suburb of Washington D.C, located about 20 miles from the city, in the western region of Fairfax County. Currently, over 70,000 people call Centreville home. The land was established in the 1760's as Newgate, but was later renamed Centreville in 1792. During the Civil War, the Confederate army used Centreville as a supply depot. Several important Civil War battles were fought nearby, including the Battle of Bull Run and the Battle of Chantilly.
Centreville is located on several major highways that go straight into D.C and other surrounding suburbs. There is an abundance of shopping centers, restaurants, and opportunities to escape into nature here in this lovely town. Read on to find out more about things to do, dining, and lodging options in Centreville, VA.
Interested in moving to this bustling suburb? Check out my homes for sale in Centreville.
Entertainment
Author's note: At the time of this writing (Winter 2022), COVID-19 is impacting communities throughout Chantilly and beyond. As such, we can't guarantee the ongoing accessibility or safety of some entertainment, shopping, and dining options. And we, of course, recommend that you use your own discretion in deciding whether or not to partake in any of the activities outlined below.
Cinemark Centreville 12
Cinemark is in the heart of Centreville, and it's the best place to catch the latest blockbusters. Bring your family, friends, or just catch a flick on your own. After the movie, head on over to one of the restaurants nearby for dinner or a drink.
Check movie times, and find Cinemark here:
6201 Multiplex Dr.
Centreville, VA 20121
Atlantis Waterpark
Summers can get pretty hot here in Northern VA, and there's no better way to beat the heat than by splashing around in the water. Atlantis Waterpark has several slides, a dumping bucket, and a baby pool for the little ones. When you've worked up an appetite, grab some snacks at the snack bar and soak up the sun.
Find out more info and get your splash on here:
7700 Bull Run Dr.
Centreville, VA 20121
Bowlero Centreville
This isn't your grandpa's bowling alley. With 32 bowling lanes, a sports bar, and an arcade fitted with retro classics, Bowlero is a trendy spot to hang out every night of the week. The bowling lanes are fitted with fun, colorful lights and HD TVs that play sports or music videos, so you can watch something while you wait your turn to bowl. At the sports bar, you can dine on gourmet burgers, oven-baked pizzas, and fun cocktails. Need a place for your next birthday party or team-building event? Bowlero has party packages as well.
Check out their website and bowl your heart out at this location:
13814 Lee Hwy
Centreville, VA 20120
Bull Run Regional Park
You don't have to go far to get a taste of the great outdoors. Bull Run Regional Park has 1,500 acres of woodlands to enjoy. There are picnic areas to visit, and a playground for the kids to burn off all that excess energy. Atlantis Waterpark can also be found here. For a weekend getaway, there are cabins and campgrounds to stay at. For hikers, Bull Run is also the trailhead for the 20 mile Bull Run Occoquan Trail.
Find out more info and visit here:
7700 Bull Run Dr.
Centreville, VA 20121
Chantilly National Golf and Country Club
If you love golf, swimming, and community, consider becoming a member of the Chantilly National Golf and Country Club. Besides golf, they offer fine dining, tennis, and an Olympic sized swimming pool. If you'd like to improve your game, they offer lessons and personal instruction. Their state-of-the-art pro shop ensures that you'll get the best equipment, suited for your needs.
Learn more about the grounds, and find them here:
14901 Braddock Rd
Centreville, VA 20120

Dining
Like most other Northern Virginia towns, Centreville is host to many of your favorite fast food and casual dining chain restaurants. Below you'll find some of the unique restaurants this area has to offer.
Breakfast
Jireh Bakery Cafe
Open for breakfast or lunch, Jireh Bakery Cafe is here to serve breakfast sandwiches, platters, and baked goods. Try the Scramblecado sandwich, scrambled eggs and avocado on a fresh croissant, or for the famished, or The Hungry Man, which comes with eggs, French toast, breakfast meat, and homefries. Jireh also has seasonal offers, so check back throughout the year for new dishes to enjoy.
See their full menu and visit them at this address:
13848 Lee Hwy
Centreville, VA 20120
Virginia Bagel
Do you ever wake up in the morning with bagels on your mind, or is that just me? When that happens, I make my way over to Virginia Bagel. They sell freshly made bagels at prices that can't be beat. Choose from 18 different types of bagels, or grab one of their bagel breakfast sandwiches. If you've missed breakfast, fear not, for they also have lunch options. Need to feed the office? They do catering platters as well.
Learn more about the delicious bagels and then get some here:
5621 Stone Rd.
Centreville, VA 20120
Village Cafe
For breakfast on the go, there's Village Cafe. They offer a variety of breakfast sandwiches, omelets, and more. Have a look at their breakfast platters if you're especially hungry. Village Cafe not only has fair prices on breakfast, they also have a food truck you can spot around town.
Learn more and visit:
5649 Stone Rd.
Centreville, VA 20120
Tous les Jours
As their French name suggests, you should visit Tous les Jours on 'all days' for unique freshly baked bread and pastries. Try their taro buttercream bread, it has a gorgeous purple color that you probably haven't seen in bread before. For lunch, you can get sandwiches stuffed with spreads like egg or chicken salad, or choose from a few types of salads.
See their menu and visit here:
13834 Braddock Rd.
Centreville, VA 20121
Heo Tea
Heo Tea is a delightful Vietnamese cafe that serves banh mi sandwiches, bubble tea, and smoothies. What's bubble tea, you ask? For those of you who don't know, bubble tea is a sweet tea-based drink with balls of tapioca and other fruity, tasty toppings. You can order from the menu, or make your own.
Heo Tea isn't in Vietnam, it's here:
6041 Centreville Crest Ln.
Centreville, VA 20121
Lunch
Thai Kitchen
A great place for a light or heavy lunch is Thai Kitchen. Here you can find many different dishes including salads, curries, and all your favorite noodles. They also offer several vegetarian options, as well as desserts.
Check out their website and visit them at this location:
5653 Stone Rd.
Centreville, VA 20120
Chicken Latino
Need something quick and easy? Chicken Latino is a good place to stop if you either want delicious chicken or hate reading long menus. You can get a quarter, half, or full seasoned and roasted chicken, with one of several sides. Sides include beans, yuca, fries, and more.
They don't have a website, but you can see their menu here, and this is their location:
14245 Centreville Square
Centreville, VA 20121
Mezeh Mediterranean Grill
Luckily for Centrevillians, Mezeh has made one of their homes here. At Mezeh, you can create bowls, wraps, and pita pockets using a range of healthy, colorful ingredients. Let your creativity and your appetite team up and make yourself a tasty Mediterranean meal.
Check out menu options and visit:
14159 St Germain Dr.
Centreville, VA 20121
El Fresco Mexican Grill
El Fresco dedicates themselves to the freshest, most delicious Mexican food for affordable prices. They are open for breakfast and dinner, but their lunch specials deserve special mention. Every day until 4 you can enjoy dishes like fajitas, chimichangas, or tacos for under $10.
See their website and find them here:
6005 Centreville Crest Ln.
Centreville, VA 20121
Soy! Poke & Noodle Bar
Poke is a Hawaiian dish made of raw fish, vegetables, rice, and other toppings. Sounds refreshing, right? Soy serves several types of poke, as well as hot noodle dishes and other Asian favorites, like chicken yakisoba and bento boxes. A meal from Soy! will keep you full and energized throughout your work day.
Have a look at their website, or just head over to this address:
14240-C Centreville Square
Centreville, VA 20121
Dinner
Ciao Osteria
One of the best Italian restaurants in Northern Virginia is Ciao Osteria. Along with wood-fired pizzas and calzones, they serve many classic Italian dishes in a cozy, rustic atmosphere. It's a lovely place for a date, or just to indulge yourself for the night with some wine and pasta.
Find out more about their menu, and visit here:
14115 St Germain Dr.
Centreville, VA 20121
Sweetwater Tavern
Great American Restaurants have several Sweetwater Tavern locations throughout Northern Virginia, and one is conveniently situated in the heart of Centreville. This American style restaurant and brewery is a go-to spot for after work drinks. Their menu features a little bit of everything; steaks, seafood, pastas, and salads are just part of the fare. Check back often for new beers on tap, and daily specials.
Have a look at their website, and find Sweetwater here:
14250 Sweetwater Ln.
Centreville, VA 20121
Honey Pig BBQ
If you've never had Korean barbecue, you must make your way over to Honey Pig. The fun part about this restaurant is that you can grill the meat right at your table. When you choose the meat you'd like, you will also receive many bowls of side dishes and accompaniments that make every experience unique.
Find out more about Honey Pig and visit here:
13818-B Braddock Rd.
Centreville, VA 20121
Bonefish Grill
Bonefish Grill specializes in delectable seafood dishes and handcrafted cocktails. From their wood-fired grill you can enjoy meals such as Atlantic salmon or Chilean sea bass. For a decadent taste of the land and sea, try the filet mignon and lobster tail.
See their menu, and find them here:
 6315 Multiplex Dr.
Centreville, VA 20121
Meat Project
Famished carnivores will be in heaven at the Meat Project. For just $30 you can dine on all the grilled meat you can handle. This is a Korean barbecue restaurant, so they specialize in Korean meats, like bulgogi and pork belly. You can also get shrimp or chicken, to switch up the flavors. Wash it all down with a domestic or Korean beverage.
Find out more and visit this location:
5825 Trinity Pkwy
Centreville, VA 20120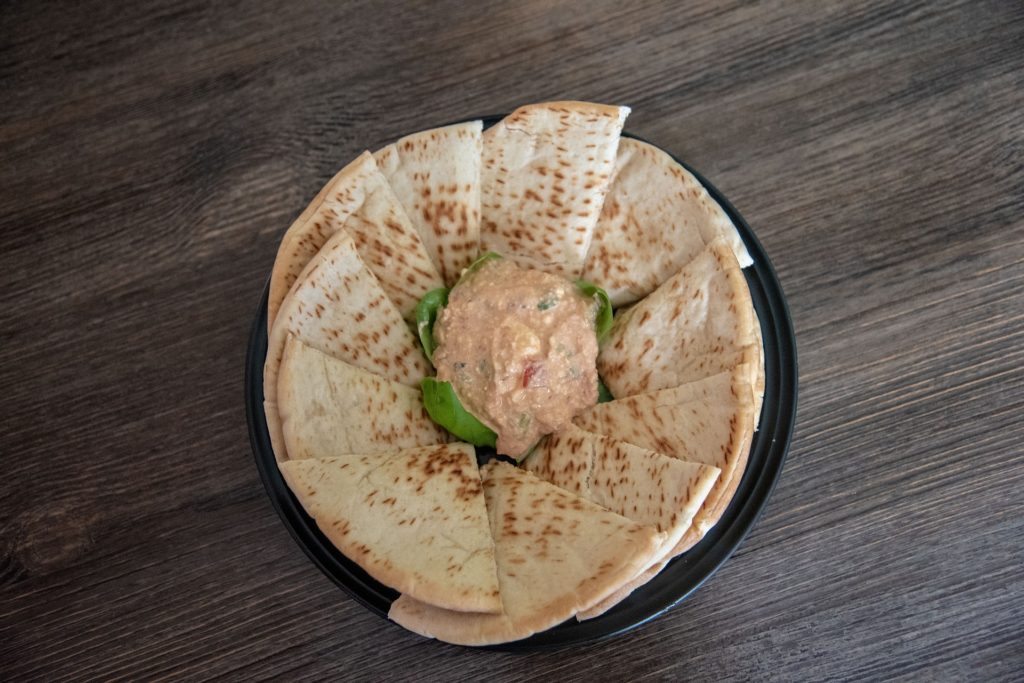 Shopping
Like most towns in Northern Virginia, there are a ton of shopping centers around. Most things you need are just a short drive away. Many of these shopping centers do not have an official website, so you can either check out what's there by using Google maps, or if you like surprises, head over and see for yourself.
Centreville Square Shopping Center
The major attractions here include several banks, Lotte, and restaurants like Firehouse Subs and Sweet Frog. It's an easy place to grab lunch or pick up some odds and ends.
Learn more and visit here:
14215 Centreville Square
Centreville, VA 20121
Pickwick Square Shopping Center
Pickwick Square is made up of many different types of shops. If you'd like to test out a mattress after having tea, or visit the dentist before getting your hair done at the salon, Pickwick Square has all of those things and more.
You can find this shopping center at this location:
5738 Pickwick Rd
Centreville, VA 20121
The Field at Commonwealth
Wegman's is the major attraction here, where you can get all of your grocery needs met. There are also several restaurants, a Verizon store, and an eye care center.
See what else is available before you visit The Field here:
14335-14350, Newbrook Dr.
Chantilly, VA 20151
Newgate Shopping Center
Trader Joe's, a beloved grocery store that sells only their own brand of products, can be found in Newgate. Other shops include a yoga studio, barber shop, and a few restaurants.
Check out this location:
14100 Lee Hwy
Centreville, VA 20120
Centrewood Plaza
Here you can find the lunch spot Mezeh, along with many other shops. There is a Giant Foods, many other cafes and restaurants, an Orangetheory Fitness, and a Starbucks. What more could you need?
See what else you can find here:
14125 St Germain Dr.
Centreville, VA 20121
Wineries & Breweries
The Winery at Bull Run
In need of some grape juice based relaxation? Well wine not head over to The Winery at Bull Run? This award winning winery is located in the countryside of Manassas, VA, a short drive from Centreville. They offer tours of the vineyards, during which you can learn about their production process and some Civil War history. On weekends, enjoy some live music and meals from local food trucks.
Find out more, and take a trip to this location:
15950 Lee Hwy
Centreville, VA 20120
Ornery Beer Company
Ornery Beer Company has two locations to visit, one of which is in the neighboring town of Bristow, VA. They have a variety of beers to choose from, including lagers, ales, and IPAs. Thursdays through Sundays food trucks stop by to serve up tasty meals, and there are some snacks on hand during the rest of the week.
Don't be stubborn, check out their website and pay a visit:
8088 Flannery Ct.
Manassas, VA  20109
Eavesdrop Brewery
What was once a resting place for racing pigeons is now a drinking place for humans. Eavesdrop Brewery is a go-to spot all year round, whether you want to enjoy their outside spaces by the firepits, or relax in the taproom. They offer around 14 beers on tap, as well as seltzers, wines, and sangria. If you get hungry while you're there, you can either bring your own food, or munch on a sausage from Eugene's Sausage & Fries. Pets and children are welcome, so bring the whole family along!
Eavesdrop Brewery can be found here:
7223 Centreville Rd Suite 115
Manassas, VA 20111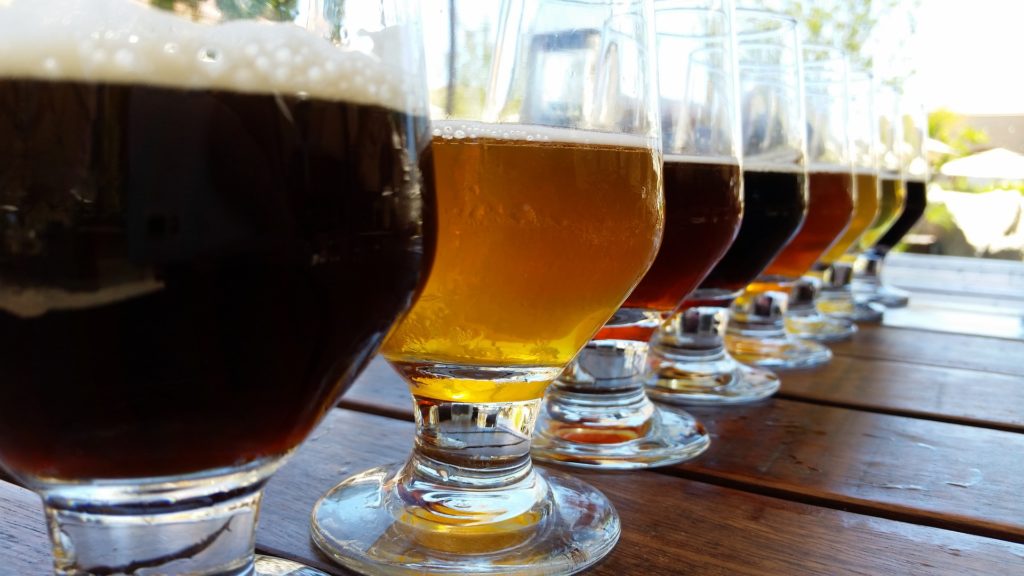 Lodging & Hospitality
SpringHill Suites
If you find yourself at Meat Project for dinner, you're in luck, because you can roll yourself across the way to SpringHill Suites. All suites come with a kitchenette and a pull-out sofa, for unexpected hunger attacks or overnight guests. There is also a fitness center, 24 hour market, and free breakfast buffet.
For booking, see their website, and find them here:
5920 Trinity Pkwy
Centreville, VA 20120
La Quinta Inn & Suites
This pet-friendly hotel offers free breakfast, an indoor pool, fitness center, and tennis courts as their main attractions. Guests can also take advantage of their onsite market and business center for all their snacking and printing needs.
Make a reservation and find La Quinta at this address:
7408 Centreville Rd.
Manassas, VA 20111
Days Inn
If you've ever traveled on a budget before, chances are you're familiar with Days Inn. They are an affordable and comfortable hotel, offering free breakfast, a fitness center, and a business center for all guests.
Days Inn is located here:
7611 Centreville Rd.
Manassas, VA 20111
Candlewood Suites Manassas
Candlewood Suites is your home away from home when traveling. They have kitchenettes in all rooms, as well as a desk space, if you need to study or get some work done. If the weather is nice, you can use their barbecue area, and snacks and drinks are available at their onsite market.
Candlewood Suites is at this location:
11220 Balls Ford Rd.
Manassas, VA 20109
Hyatt Regency Dulles
If you need to be closer to Washington Dulles International Airport, this Herndon-based hotel is just for you. Enjoy a meal at their restaurant, or order in some room service. There are meeting spaces and a business center for your work needs, as well. When you need to get out of the room for a bit, there is free shuttle service to Reston Town Center, which is full of shops and restaurants. When your stay is over, you can take a free ride to the airport.
Make a reservation and find Hyatt here:
2300 Dulles Corner Blvd.
Herndon, VA
Location & Transit
Centreville is aptly named, because it is right in the center of several major highways. Routes 66, 28, 29, and 50 are all located in or just outside of town. Rt. 50 gives access to both Loudoun County and other parts of Fairfax County, and Rt. 66 leads directly to Washington D.C. From Centreville, DC is a 26 mile journey, and from Baltimore, MD it is 63 miles.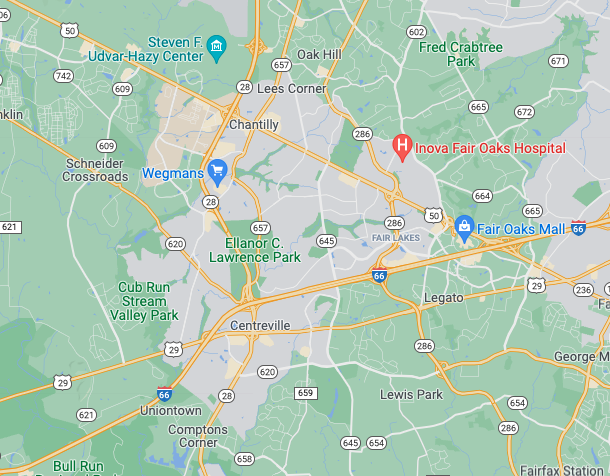 As with most Northern VA towns, public transit can be difficult to come by and many residents rely on personal transportation. However, the Fairfax Connector has bus routes that operate in the area, and the Silver Line metro is a short drive away in Reston, VA.
Interested in similar towns? Have a look at these communities: