Tucked away near the border of Virginia and West Virginia, in the Cacapon River Valley, lies the quiet community of Capon Bridge, WV. Capon Bridge, previously known as Glencoe, was incorporated in 1902. The new name was derived from the bridge that goes over the Cacapon River. Though American settlers have been living in this area since 1738, the population is only around 400 people, which has helped create a friendly, and close-knit community over the years. Interested in finding your dream home in this community? Check out current available listings here.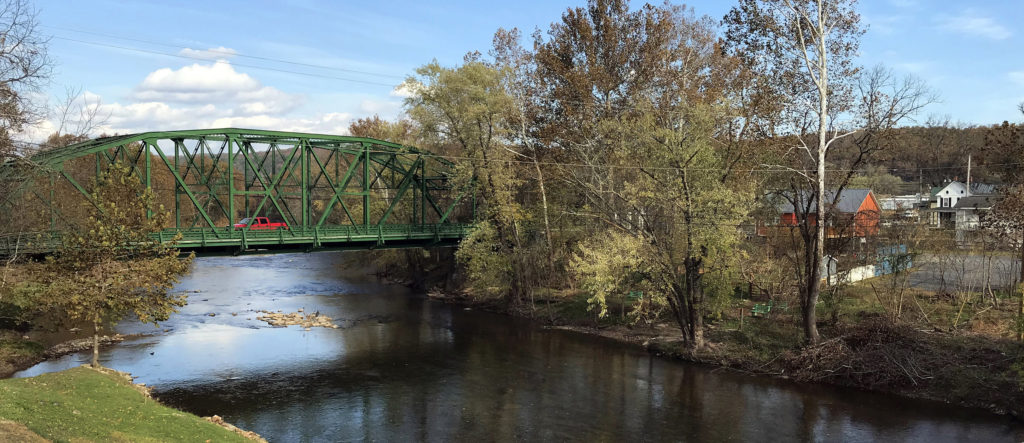 Photo courtesy of Visit Capon Bridge
Capon Bridge is a haven for those who want to take a step back from the fast and stressful pace of life. If you're seeking a peaceful, relaxed way of life in a small town surrounded by the beauty of nature, read on to find out more about what Capon Bridge, WV has to offer.
Entertainment
Author's note: At the time of this writing (Spring / Summer 21), COVID-19 is deeply impacting communities in Capon Bridge and beyond. As such, we can't guarantee the ongoing accessibility or safety of some entertainment, shopping, and dining options. And we, of course, recommend that you use your own discretion in deciding whether or not to partake in any of the activities outlined below. 
Capon Bridge is all about a relaxed and quiet way of living, and prides itself on the abundance of nature-related activities to do, such as fishing, hiking and camping. But, there are still some must-see destinations for your visit.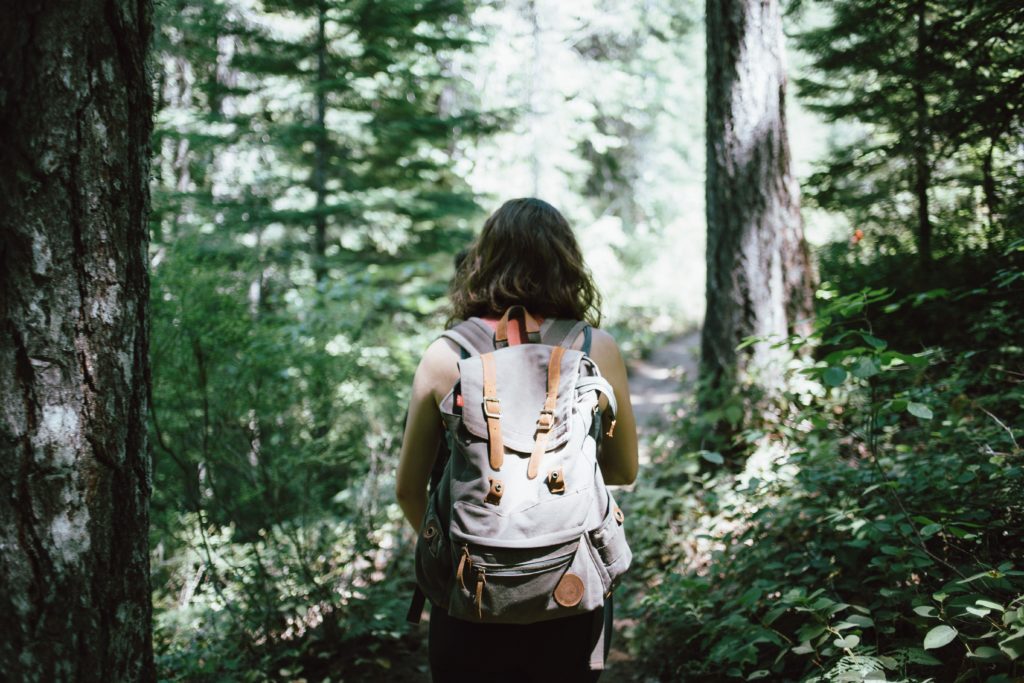 Green Bridge Walking Trail
Take a relaxing stroll over the Cacapon River by visiting the Green Bridge. There's a nature trail that will take you through the woods and by the river. Take a picnic basket, a good friend, and maybe even your fishing pole to enjoy a lazy afternoon.
Find out more about this iconic bridge here.
There is no official address for this trail, so ask a friendly local for directions.
Sherrard Auction Company
If you have a craving to see what a real live auction is like, then Sherrard can help you live out that dream. They have auctions every weekend on things such as real estate, land, items, and more. These are all public auctions, which means anyone is welcome.
Visit the auction company at this address:
2886 Northwestern Turnpike
Capon Bridge, WV 26711
Learn more about the auction house on their website.
Capon Bridge Museum
Located in a colonial style former post office, the Capon Bridge Museum is where you can learn about the history of the Cacapon Valley, as well as see what life was like back in the 1800's, as told by a series of photograph collections. You can also see furniture and other artifacts from that time.
Take in some local history at this location:
3005 Northwestern Turnpike
Capon Bridge, WV 26711
See what exhibitions there are here.
Ice Mountain Preserve
Not just a beautiful place to hike, Ice Mountain is a unique place to hide from the heat during those blazing summer months. Take a guided tour around the mountain, learn about special boreal plants, and see the real reason Ice Mountain got its name. Lucky visitors may even see ravens roosting in Raven's Rock.
Find out how to get here and more on this Nature Conservancy website.
Fort Edwards Foundation
This is the place to be for people who love the colonial era, and for those who would like to learn more about it. Have a look at the artifacts that have been found on site during archeological digs, take in a live Revolutionary War reenactment, and relax at the Colonial Kitchen Garden.
Check it out here:
Co Rte 15
Capon Bridge, WV 26711
See their website for more information.
Dining
Author's note — many restaurants may be only offering takeout or outdoor dining. Be sure to call ahead to see if your preferred dining arrangement is available.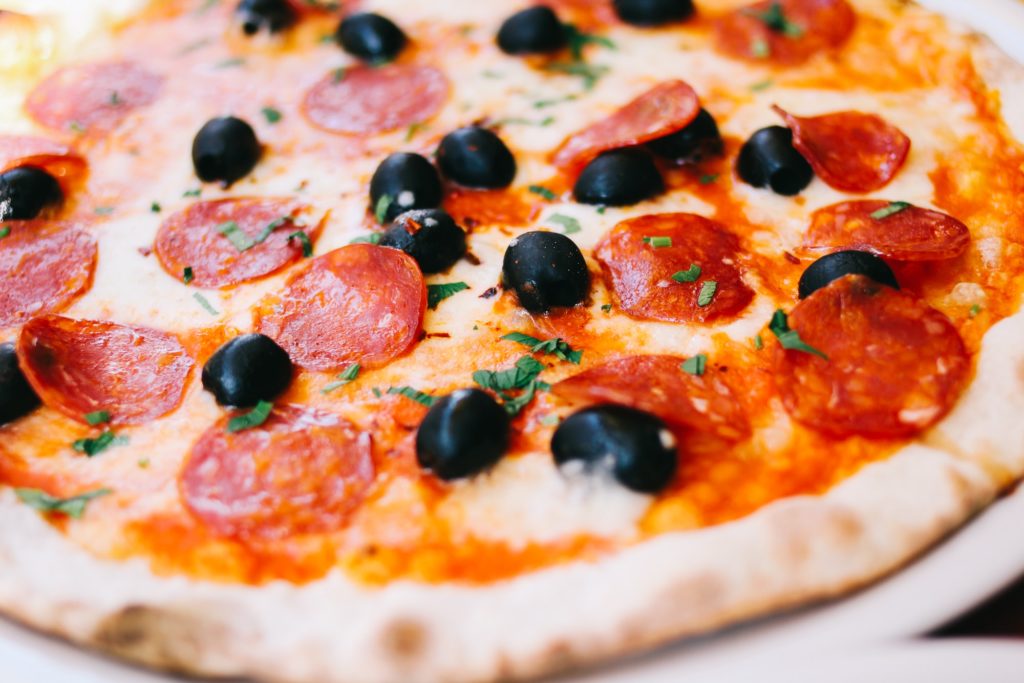 Farmer's Daughter 
Love meat? Need groceries? Farmer's Daughter has both. Not only can you pick up some staples for your pantry, you can also get fresh, locally sourced meat for lunch or to take home. Choose from a burger, salad, or one of their many house-made sausages. Be sure to pick up a tub of Pete's Killer Potato Salad while you're there!
Find them at this location:
2908 Northwestern Pike
Capon Bridge, WV 26711
See their menu and more here.
The River House
Looking for a quaint spot to enjoy a coffee or brunch? The River House is the perfect place to relax and enjoy some good company. They change their menu often, so make it a point to ask about what's new. Along with an espresso bar, you can also sit down for brunch. Check out their events calendar and stop by for their art, poetry, or photography club meetings.
Come visit at this address:
24 Rickie Davy Lane
Capon Bridge, West Virginia 26711
Check their events calendar and menu on their website
Anthony's Jr. Pizza
For a taste of classic Italian-American cuisine, Anthony's is the place to be. Besides pizza, they also offer hot and cold subs and sandwiches, wings, pastas, calzones, desserts, and much more. They have a different special for every day of the week, so have a look at their offers to find a good deal.
One of their locations is at this address:
3180 Northwestern Pike
Capon Bridge, WV 26711
Have a look at their menu offers here
El Puente Family Mexican Restaurant
For delicious Mexican food at a great price, stop by El Puente for lunch or dinner. They have a diverse menu with something for everyone, and an abundance of delicious house specials. Along with the classics like tacos and burritos, they have some less common dishes as well. Try the carnitas de puerco (seasoned pork with rice and beans), and top it off with some deep fried ice cream.
Bring an appetite over to this address:
2785 Northwestern Turnpike
Capon Bridge, WV 26711
They don't have an official website, but you can find them on Facebook, and someone has kindly uploaded a picture of their menu onto Menupix.
Shopping
Author's note — COVID still present? Be sure to check with any stores before visiting to ensure that they are open and to take note of any restrictions that may be in place.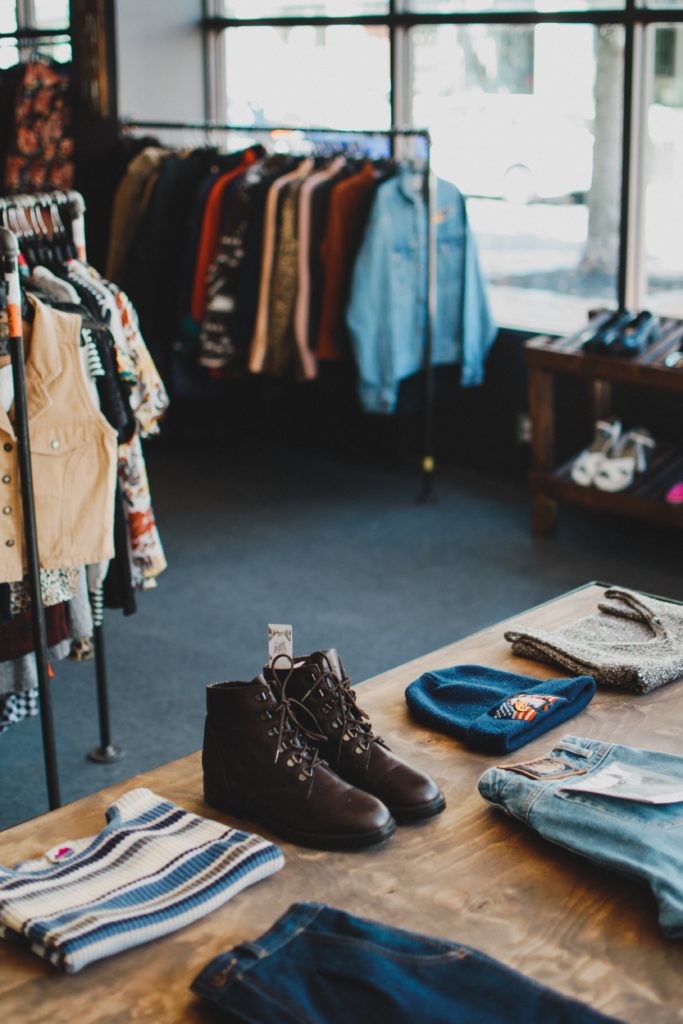 As Capon Bridge is a little town, you won't find any large shopping malls or super stores here. However, the town of Winchester, VA is just a 20 minute drive away, and you can find all the amenities you need there.
The Kettle Stop
Fancy some fresh kettle corn while you peruse an antiques shop? The Kettle Stop offers exactly that. You can find things such as furniture, home-goods, tools, and other locally crafted items for sale. The Kettle Shop offers a truly authentic and unique shopping experience.
Get your kettle corn fix here:
768 Northwestern Pike
Capon Bridge, WV, 26711
See what they have to offer on their website.
Bear Garden Plaza
A simple strip mall there you can find plenty of useful shops. Whether you need a good groomer for your dog, or you're looking for a fair price at the Family Dollar, this plaza has something for you. Anthony's Jr. also makes their home here.
This is where you can find the plaza:
Northwestern Turnpike
Capon Bridge, WV 26711
There is no official website, so you'll have to see what's here for yourself!
Mountain Man Fireworks
One of the perks of living in West Virginia is that fireworks are legal, and sold in abundance. Come to this fireworks depot for all your sparkly, explosive needs. Be sure to follow local laws, and use your fireworks responsibly.
Buy some boomsticks here:
2886 Northwestern Pike
Capon Bridge, WV 26711
They don't have a website, but feel free to strike up a chat on Facebook.
Missy's Thrift and Dish
Host to all sorts of odds and ends, Missy's Thrift and Dish is the local thrift shop where you can find great bargains on all sorts of items.
Come meet Missy here:
3759 Northwestern Pike
Purgitsville, WV 26711
She also has a Facebook page.
Apple Blossom Mall
You can find the Apple Blossom Mall in Winchester, VA. This location sports a movie theater, dining options, and all your favorite clothing brands. Drop by for some window shopping, a nice lunch, or for some new outfits and accessories.
Come by for some shopping here:
1850 Apple Blossom Dr
Winchester, VA 22601
This is the official website for the Apple Blossom Mall.
Lodging
Author's note: At the time of this writing, COVID-19 is still a very serious problem throughout the US. Be sure to call ahead to make sure operations are continuing and to get details about what precautions are being taken.
Due to Capon Bridge's small size, there are not many lodging options in town. Most of these hotels and retreats are located a short drive away in surrounding areas. Be sure to check a map to make sure the distance is suitable for your trip.
Buffalo Gap Retreat
For a home away from home in the valley between Sandy Ridge and Slane's Knob, plan a trip to the Buffalo Gap Retreat. Bring your family, including your furry friends, for a vacation in one of their cottages, or pitch a tent on one of their campsites.
Find your new vacation spot here:
229 Cool Creek Rd. 
Capon Bridge, WV  26711
See more information about this retreat on their website.
Capon Springs and Farms
Located a short drive from Capon Bridge in a town called Capon Springs, this resort is an absolute must-see. Take part in hiking or fishing, or try to solve their escape room. You can also play other games, like horseshoes or shuffleboard, and there is even an on-site golf course. Dining is available, as is a spa and swimming pool.
Take a break and visit:
3818 Capon Springs Rd.
High View, WV 26808
Book your stay on their website.
The Cove Campground
This spacious campground is located in Gore, VA, just over the Virginia border. Choose a cabin or a campsite for your rural adventure, and take part in activities such as boating, fishing, swimming, and a rifle and pistol range.
Spend some time in the woods at this address:
980 Cove Rd
Gore, VA 22637
Here is their website where you can reserve your stay and find out what they have to offer.
The George Washington Hotel
Take a drive down to Winchester, VA to have a stay in this luxurious hotel. Amenities include a Roman bathhouse style swimming pool, live entertainment in the lounge area, and fine dining options. This hotel is cozy and charming, which makes it perfect for a romantic getaway.
Come enjoy a holiday at this location:
103 East Piccadilly St
Winchester, VA 22601
Place a reservation on their website.
Breweries and Vineyards
Author's note: at this time, many alcohol based venues are only offering carryout, per executive order of the state of Maryland. However, the below is written with an eye towards more normal days. But in the meantime, if you want to support local businesses, getting your drinks 'to go' might be the perfect solution. Cheers!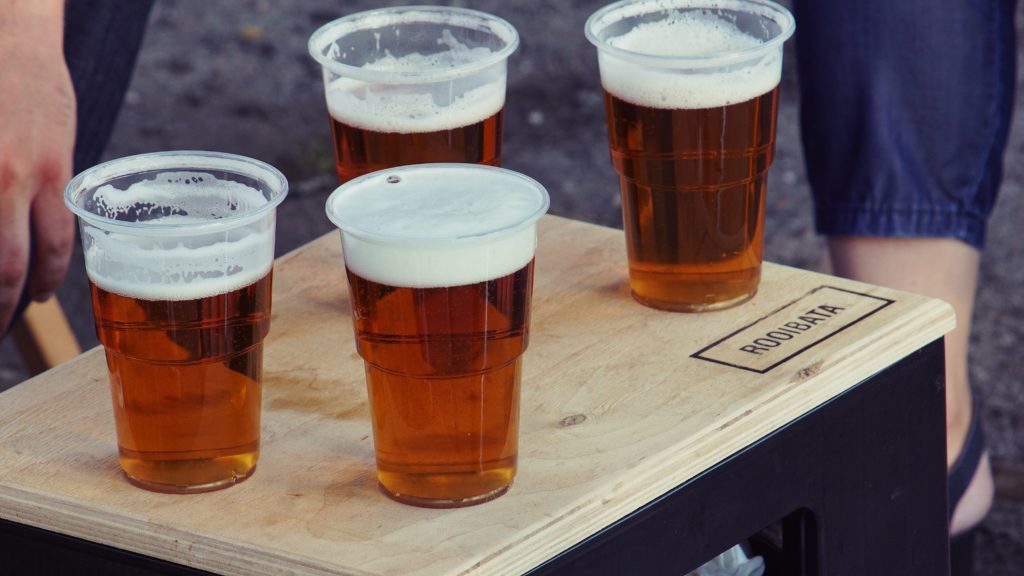 Please note that these locations are outside of Capon Bridge, but all of them are in the area and can be reached in under an hour by car.
Briede Family Vineyards
This vineyard is a real treat for wine-lovers. In addition to fine wine, there are also events to attend like yoga, and musical performances. What really makes this place special is the on-site falconry. Have you ever tasted wine while watching falcons soar? Now, you can. While Briede Family vineyards does not serve their own food, they do have a collection of food trucks and caterers who stop by regularly.
Enjoy some fantastic wines and make your way to this location:
450 Green Spring Road
Winchester, VA. 22603
Check out their website for additional information.
James Charles Winery & Vineyard
A gorgeous place to spend an afternoon (or evening), the James Charles Winery & Vineyard is excellent for groups, private events, or a date. Snuggle up next to the fire pit during the cooler summer nights, or book a Vintner's table tour for a truly elegant experience.
You can find them here:
4063 Middle Road
Winchester, VA 22602
Find out more on their website.
Misty Mountain Meadworks
Sometimes you want some sweetness with a buzz factor. When that happens, it's time for some mead! Mead is a type of alcohol that's made with honey and other natural ingredients, which gives it a delightfully sweet flavor. Stop by to pick up a bottle or two to take on a picnic.
You can pick up a few bottles at this address:
661 Warm Springs Rd.
Winchester VA 22603
Visit their website to learn more.
Escutcheon Brewing
For anyone who loves craft beers, make sure to visit Escutcheon Brewing. Try some of their new beers, bring your own snacks, and get a tour to learn how they make beer. Their menu changes often, so ask about their current offers when you're there. They don't serve food, but you are welcome to bring your own snacks and goodies to pair with your beer.
While you're in Winchester, stop by for a visit:
142 W Commercial St.
Winchester, VA 22601
Find out what's on tap on their webpage.
Alesatian Brewing
Try out some hand-crafted brews in their tap room, and pair it with a tasty meal. The usual food offers include salads, pizzas, and some unique items such as saganaki (Greek flaming cheese), calamari, and chicharones. They also have limited offers, so ask your brewmaster what the current specials are. Drop by to try their Bikini Bottom beer, which is a pineapple Berliner Weise, or the Pizza Bier, if you're craving an amber ale.
You can find the beer and flaming cheese here:
21 & 23 North Loudoun Street
Winchester, VA 22601
This page has all you need to know about your visit.
Transit and Location
Capon Bridge, WV is located just over the north-western border of Virginia, approximately 20 miles west of Winchester, VA. Rt 50 conveniently runs straight through Capon Bridge, and Interstate Rt 81 goes through Winchester, which can be used to redirect yourself towards Capon Bridge. Other nearby roads that intersect with Rt 50 include Rt 29 and Rt 259.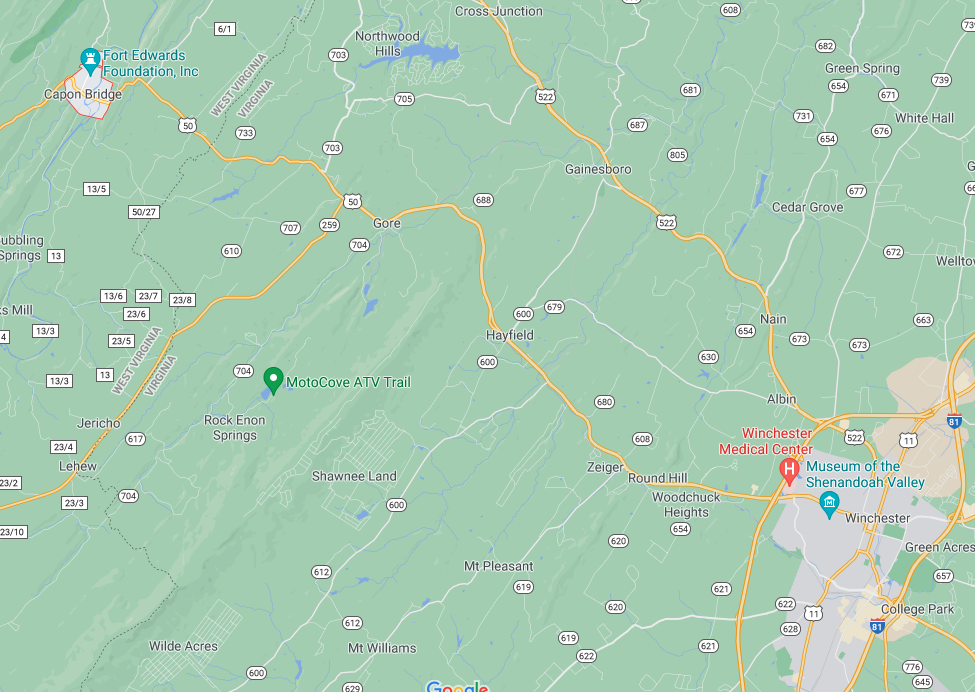 As far as transit goes, you will absolutely need your own vehicle, or rely on your own two feet for getting around town. However, there is a bus service run by the Potomac Valley Transit Authority that can get you from Capon Bridge to other surrounding towns. The bus operates from around 8 AM until 5 PM.
Have you got any other fun things to add to this page? Tell me about them in the comments below!
Are you looking for other serene locations in the area? Have a look at these other communities: