Arlington is a city full of rich history, walkable neighborhoods, and a great variety of restaurants. It sits on the southwest bank of the Potomac, right across from Washington D.C., and is rated as one of the best cities to live in Virginia. 
About 216,700 people call Arlington home and enjoy its lively environment and healthy remote working climate. With Covid still out and about, working from home has become a sought after position. Thankfully, Arlington placed as the #1 city for remote work. 
Originally called Alexandria County, Arlington was renamed so as to not cause confusion in 1920 after the city of Alexandria and its county separated. The name "Arlington" was chosen because General Robert E. Lee's home of that name is located in the county, on the grounds of Arlington National Cemetery. The cemetery, Pentagon, and the United States Air Force Memorial are but a small sample of the history available to explore here. 
Interested in homes for sale in Arlington? Have a look at current listings in the area. 
Entertainment
Arlington is a thriving city full of fun things to do, here are a few of my favorites. 
Gamebox
Technology has skyrocketed as of late and businesses centered around it have been popping up all over the states. This fast paced, immersive experience puts you right in the middle of a video game full of puzzles and challenges for your friends and family to navigate together. Each wall acts as a projector screen while a worn device tracks your movement to make you feel like you are actually in the game. 
Visit their website
Find them at Ballston Quarter Mall, Level M2, Exterior. Parking in Ballston Public Garage, level 3 is recommended.
4238 Wilson Blvd Unit 2233, Arlington, VA 22203
National Cemetery tour
The Arlington National Cemetery is a nationally known location dedicated to honoring the soldiers who died fighting for our country. There is much to learn here and many who have visited claim it to be a life altering experience. I'd recommend going in spring when the tulips and cherry blossoms are in bloom.
Visit their website
1 Memorial Avenue, Fort Myer, VA 22211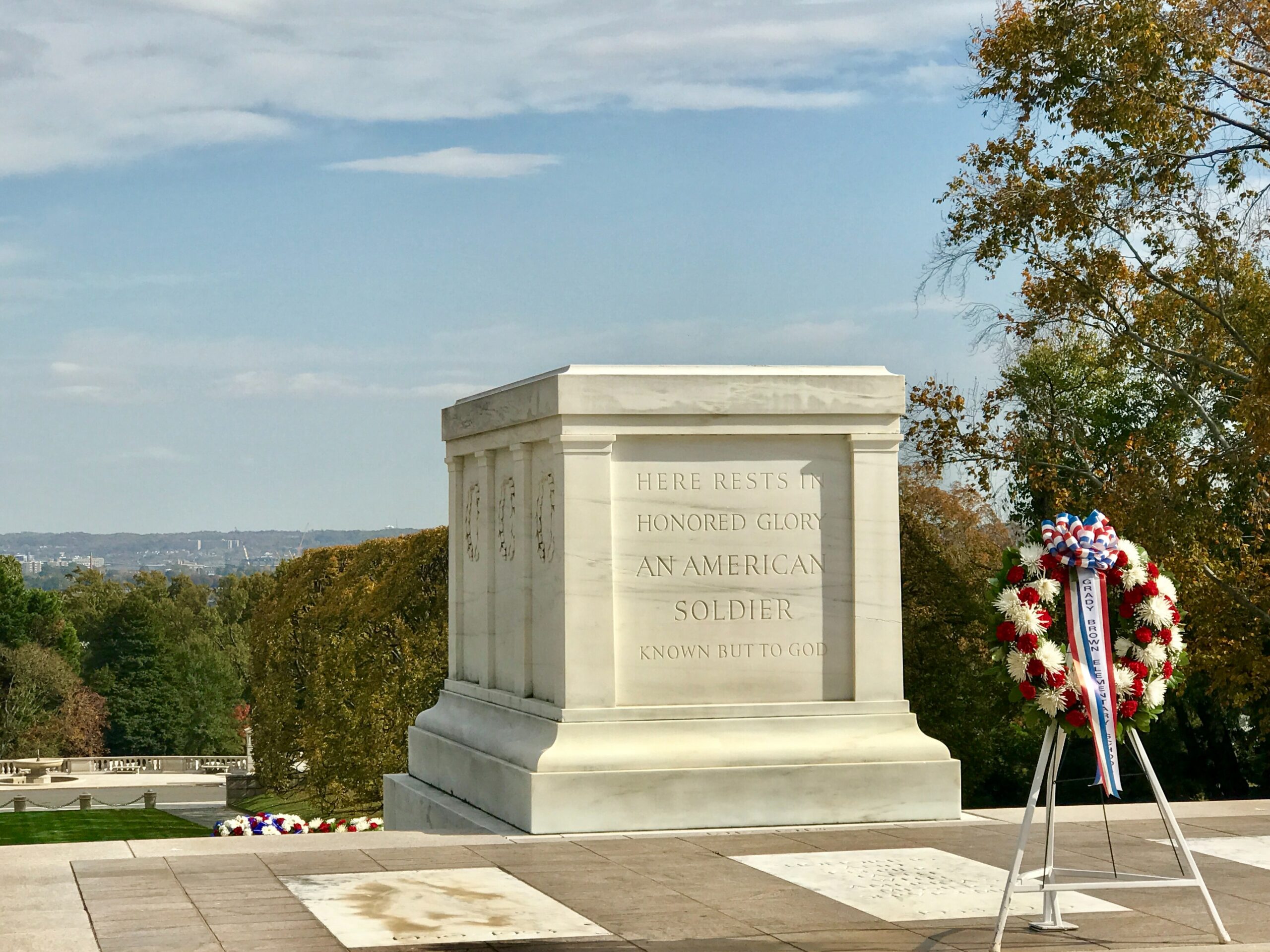 Arlington Museum of Contemporary Art
This contemporary art museum made its home in the old Clarendon Elementary School which closed in 1910. The building itself is considered an Arlington landmark and is listed in the National Register of Historic Places. It boasts original Tiffany windows and prides itself on enriching the community through exhibitions, educational programs, and artist residencies. 
Visit their website
3550 Wilson Blvd, Arlington, VA 22201
Signature Theatre
Signature is a Tony Award-winning theatre founded in 1989 that has been shaping the theatre culture in the area by reaching out to schools, performing and making Broadway shows accessible, and creating projects that introduce the communities youth to stage production. Currently, they are putting on 'Into The Woods', a staple musical many are excited to see. 
Visit their website
4200 Campbell Ave. Arlington, Virginia 22206
Upton Regional Park
Upton Regional Park has more than just some grass and a swingset for the kids. Upton has something for every member of your family including a waterpark, a miniature golf course, a vertical climbing course, maintained walking paths, and both softball and baseball batting cages. It's a great place to spend an afternoon whether you want a peaceful walk or something more thrilling. 
Visit their website
6060 Wilson Boulevard, Arlington VA 22205
Dining
This city is rich with cultural diversity and the array of restaurants reflect that. 
Breakfast:
Bayou Bakery
The Bayou Bakery is a café owned by Louisiana native, Chef David Guas, that specializes in Louisiana cuisine and southern hospitality. With biscuits, beignets, pralines, coffee, and cocktails, it is a must go for comfort food. In addition to those southern staples, you can also get one of their fan favorites such as Pimiento Cheese and Ritz Crackers, Roast Beef Arm Drip Sandwich, Muff-a-Lotta, or Chicken and Smoked Sausage Gumbo.
Visit their website
1515 N. Courthouse Road Arlington, Virginia 22201
Kaldi's Social House
If you're looking for a trendy, chic new coffee spot, then Kaldi's Social House is the place to be. They pride themselves on having high quality, hearty food and all in house baked goods. On top of great coffee, teas, and smoothies, they squeeze your juice upon ordering and have a selection of beer and wine to peruse. 
Visit their website
3100 10th Street North, Arlington, VA, 22201
Ruthie's All-Day
Ruthie's All Day is just that, an all day diner. However, their brunch is spectacular. They take classics and add a little flare with dishes like their Brisket Hash, Fried Chicken Biscuit, and Apple Pie Pancakes. 
Visit their website
3411 5th Street South, Arlington, VA 22204
Good Company Doughnuts
Getting breakfast here not only tastes great but also supports a family owned business. They experiment with fun doughnut flavors and specialty coffees. On top of spectacular homemade doughnuts, Brisket Tacos, Bourbon Street Soup, and Braised Pork fill out the menu making this a good spot to stop at any time of day. 
Visit their website
672 N. Glebe Road Suite Retail 1 Arlington, VA 22203
Bob & Edith's Diner
This family diner has been in business since 1969. If you want a classic, hometown American-style breakfast, this place has got you covered. Home fries, grits, and hashbrowns with eggs made your way, hotcakes and waffles. What else could you ask for?
Visit their website
539 South 23rd Street Arlington, VA 22202
Lunch: 
Ambar
Ambar offers Balkan cuisine which hails from around Romania, Bulgaria, and Greece. Dishes like Lamb Lasagna, Cevapi 'Balkan Kebab', and Sarma 'Pork Belly Stuffed Cabbage' adorn the menu and offer a taste experience that isn't often seen in this area. Ambar's colorful atmosphere and unique tastes make for a lovely lunch experience.  
Visit their website
2901 Wilson Blvd, Arlington, VA 22201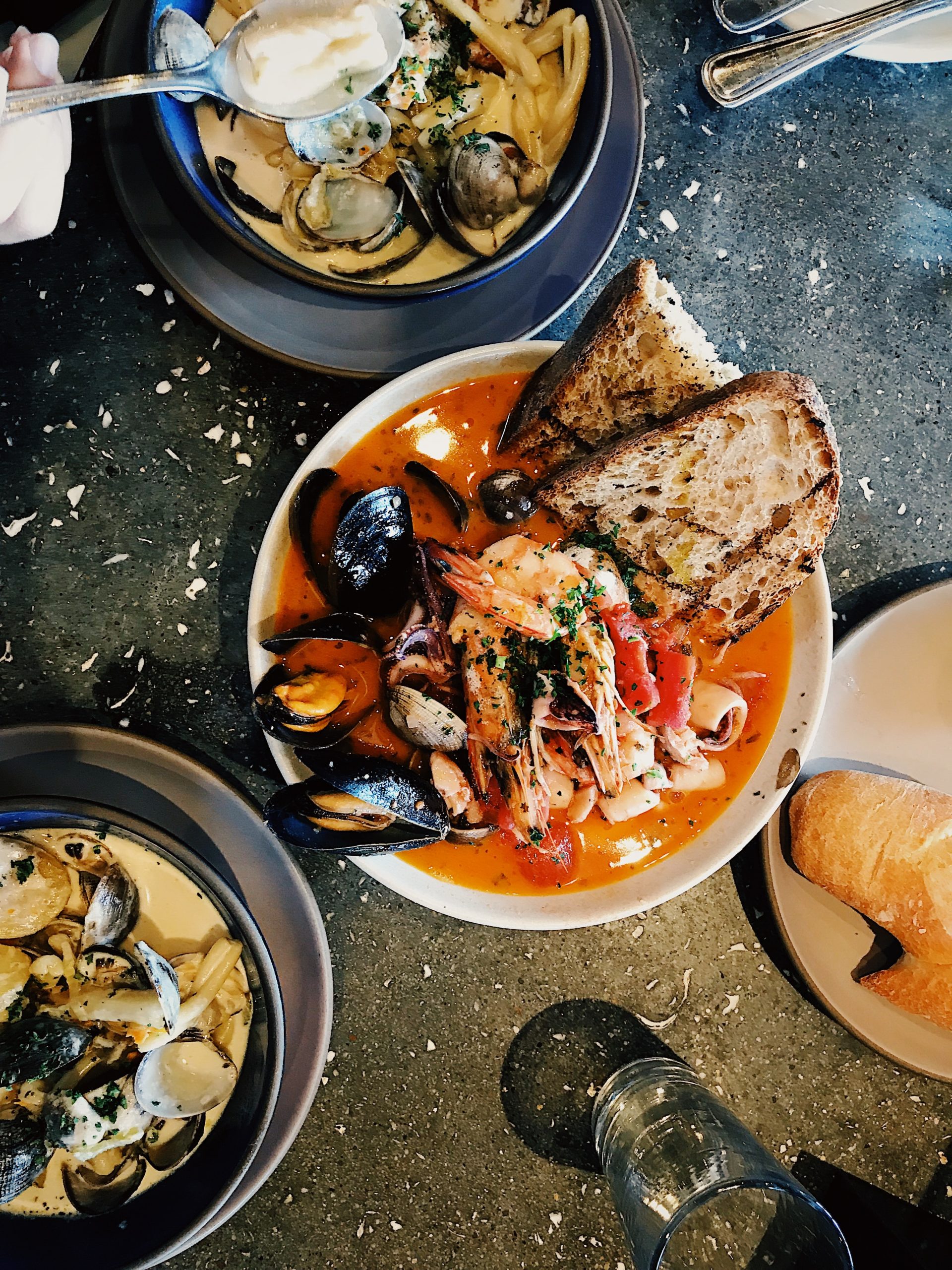 Green Pig
Green Pig sports rustic French cuisine with an American flare. Both lunch and dinner are full of fresh seafood, juicy meats, and handmade pastas that are sure to satisfy. They may be pork based, but pride themselves on making sure that most of their dishes can be made vegetarian friendly. I'd recommend the gnocchi, it is pure garlicky goodness. 
Visit their website
1025 N. Fillmore Street, Arlington, VA 22201
Superette
Superette is THE go to sandwich spot. They are known for their delectable sandwiches like The Short Rib or their classic reuben. After, wash it down with their specialty cocktails such as the Superette Sangria, Frosé, and Qué Chido. The Frosé is absolutely delightful in the summer. 
Visit their website
4238 Wilson Blvd, Suite 102 Arlington, Virginia 22203
Big Buns Damn Good Burgers
It's exactly as the name implies, they have some damn good burgers. Owner Craig Carey noticed while on a road trip that most cities all had a "best burger" place but they only sold one type of burger. So he set out to create a place that rotated its selection of both burgers and craft beer to give people a different experience each time. Go see what they have on the menu today! 
Visit their website 
4401 Wilson Blvd. Arlington, VA 22203
Tupelo Honey Southern Kitchen
Tupelo Honey is dedicated to building a better food system through responsibly-sourced ingredients. Their selection will vary based on the season and sustainability of the farms around them. They are famous for their fried chicken and have something on the menu for everyone from vegetarian to pescatarian.
Visit their website
1616 N Troy St Arlington, VA 22201
Dinner:
Yayla Bistro
Yayla has been called the best Turkish food on the east coast by multiple reviewers on Yelp and I am inclined to agree. With a clean, attractive interior design, and high quality, authentic cuisine to boot, it easily made my list. If you want the real Turkish experience, Yayla Bistro is for you. 
Visit their website
2201 N Westmoreland St, Arlington, VA 22213
Mele Bistro
In the heart of the historical shopping center in Arlington is Mele Bistro. They believe in the phrase, "good food, good life," so each ingredient is carefully selected with fresh seafood overnight shipped from Hawaii and farm-to-table chicken and eggs. With homemade pasta and in-house smokers, it's almost like actually being in Italy. 
Visit their website
1723 Wilson Blvd Arlington, VA 22209
Guerra Steakhouse
Guerra is a classic steakhouse with staples like filet and ribeye but has perfected the craft of grilling. All sides are family style which makes this a fantastic place to celebrate with the whole family. 
Visit their website
1725 Wilson Blvd  Arlington, VA 22209
Thai Square
Thai Square has over 80 items to choose from and great lunch/dinner deals. After being in business for 36 years, it has earned its spot as one of the best Thai places in Arlington. They have larger than expected portion sizes and you really can't go wrong with anything on the menu.
Visit their website
3217 Columbia Pike Arlington, VA, 22204
The Liberty Tavern
Established in 2007, The Liberty Tavern is located in a restored historic property and is locally owned and operated by two Arlington families, the Fedorchaks and the Normiles. They bake over a dozen varieties of breads/rolls, make homemade pasta, stuff their own sausages, and always have something in their hardwood smoker. 
Visit their website
3195 Wilson Boulevard, Arlington, VA 22201
Shopping:
Need a gift for someone you love? What about for yourself? Either way, Arlington has plenty of options available for you.
The Crossing Clarendon
Voted Best of Arlington multiple years running, The Crossing Clarendon has 10 acres of shops, restaurants, and green spaces to enjoy. Along with the bigger retailers, there are many small businesses to peruse. 
Visit the website
2800 Clarendon Blvd, Arlington, VA 22201
Forest Shopping Center
Forest Shopping Center is a quieter shopping experience than The Crossing. It has an older feel with a calmer atmosphere and while it may not be as big as The Crossing, it is a nice change of pace from much of Arlington. 
1st St N, Arlington, VA 22203
Crystal City Shops
For a more unique shopping experience, visit The Crystal City Shops. These shops are mostly subterranean, meaning they are under the city! The shops tend to cater to local residents and workers with small specialty shops but recently has expanded to a few bigger name brand stores. While a tad dated, it's a really fun place to explore.  
Visit website
1750 Crystal Dr, Arlington, VA 22202
Fashion Centre at Pentagon City
The Fashion Center is your standard Tyson Corner-like mall. It is full of name brands and big ticket retailers, making it great for holiday/birthday shopping. There are over 140 specialty store fronts so you will be sure to find what you are looking for. 
Visit website
1100 S Hayes St, Arlington, VA 22202
Breweries/wineries
Not unlike much of the Northern Virginia region, Arlington is home to a number of options for local beer and wine.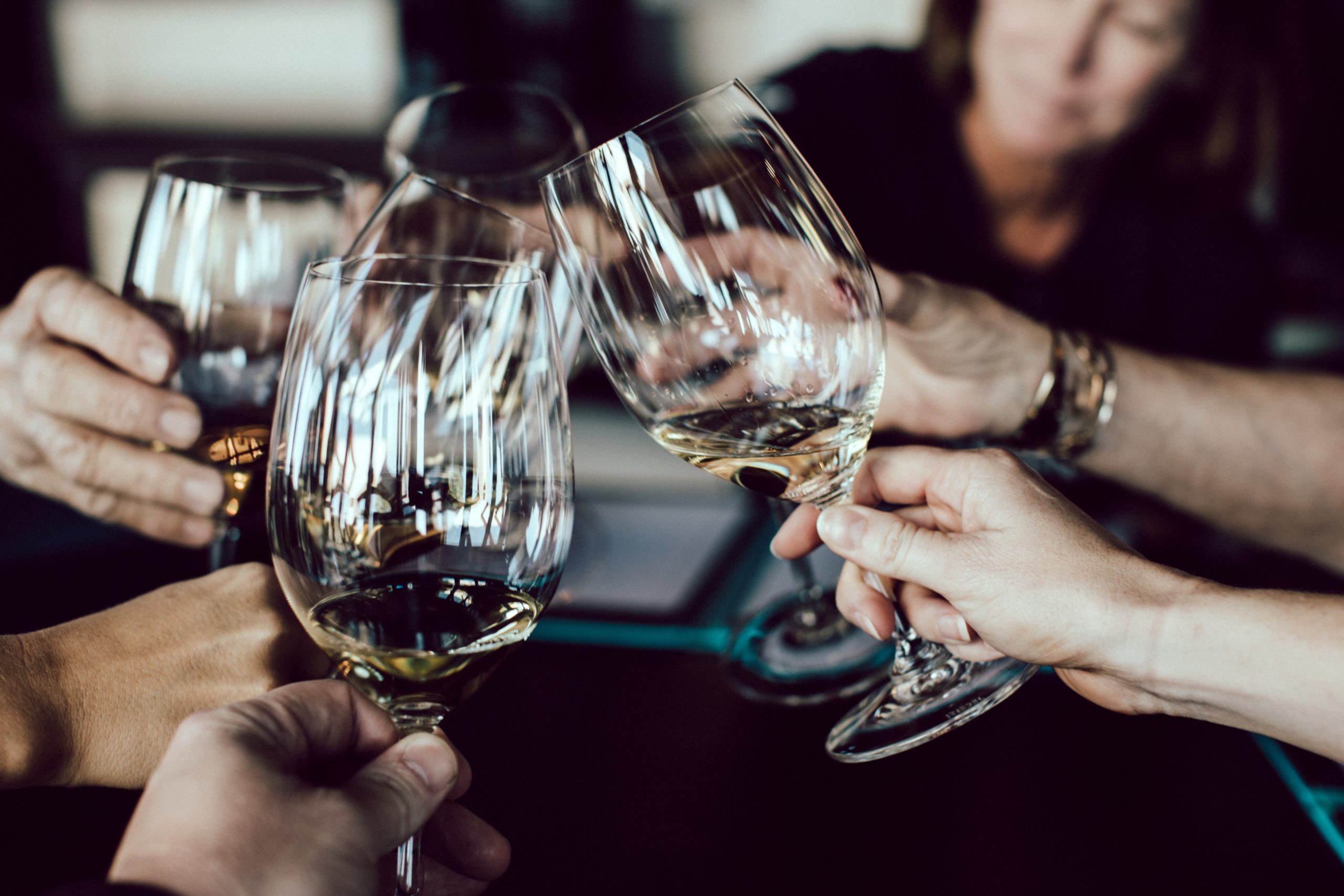 New District Brewing Company
New District Brewing started as Mike Katrivanos, one of the owners, taking his love for beer and his knowledge of engineering to the next level by building his own brewing station system in his backyard. Since then, he and his friend Dan Murray have done exceptionally well and now own the first distribution brewery in Arlington since 1916. 
Visit their website
2709 S Oakland St. Arlington, Virginia 22206
The Board Room
The Board Room is a truly unique brewery due to its library of board games available to patrons. They are, "all about fun and games," with Trivia Tuesdays and team building events throughout the year. Most of their beers have themed names like Battle CryPA and Princess Peach (Berlinger-Weiss). Grab yourself a flight and enjoy a night of drinks and tabletop fun!
Visit their website
925 N. Garfield Street Arlington, VA 22201
Crafthouse Arlington
"Eat Local – Drink Local – Support Local" is Crafthouse's motto. Each of their locations has their staples like the giant Bavarian Pretzel and Crafthouse burger, but other menu items will be at the local offerings discretion. For instance, on tap at the Arlington location, there is beer from both Bear Chase and Mustang Sally. 
Visit their website
901 N Glebe Rd. Arlington, VA 22203
Meridian Pint
Meridian Pint has your standard pub style food with wings, nachos, and burgers, but branches out with items like chicken marsala, steak, and salmon as well as gluten free, dairy free, and vegetarian options. With karaoke nights and live music regularly, this is a great spot to spend a Friday night.
Visit their website
6035 Wilson Blvd, Arlington, VA 22205
Oby Lee Winery
Oby Lee Winery is a Polish owned business that specializes in bringing you delicate desserts, crepes, and Polish treats with wine pairings, cocktails, and coffees. It is a one stop shop for good food and even better drinks with an artistry not commonly seen. 
Visit their website
3000 N Washington Blvd., Arlington, VA, 22201
Lodging
Need a change of scenery? Here's a few local options.
Placemakr Marymount Ballston
This hotel is in one of the best locations in the city for shopping, eating, and exploring. Just steps out the front door are monuments and memorials to visit. Placemakr is interesting as instead of a standard room, they have an apartment style concept. You can feel like a resident in your own full apartment space while visiting the city. 
Visit their website
1008 N Glebe Rd, Arlington VA 22201
The Westin Arlington
The Westin offers a dog-friendly option to those traveling with their little buddies. Nestled in the Ballston neighborhood, it is right next to the Pentagon, the Kennedy Center, Arlington Cemetery, and George Mason University. It also has a Starbucks in the lobby for a quick grab in the morning. 
Visit their website
801 North Glebe Road, Arlington, Virginia, 22203
Hilton Garden Inn
Hilton Garden Inn offers a slightly cheaper option without skimping out on modern amenities. It is also dog-friendly and is situated within 10 minutes of the National Mall and the Arlington National Cemetery. 
Visit their website
1333 N Courthouse Rd, Arlington, VA 22201
Renaissance Arlington Capital View Hotel
This stunning modern aesthetic hotel takes design into consideration in everything it does. Each light fixture, couch, and rug were chosen to make it feel like an art piece.  While a bit on the pricey side, it has great reviews, is in a convenient part of town, and has wonderful amenities. 
Visit their website
2800 South Potomac Ave, Arlington, Virginia, 22202
Le Meridien Arlington
In the heart of Rosslyn, Le Meridien boasts lovely staff that are known for remembering their guests by name and greeting them each time they come through the lobby. It sports a sleek grey and blue toned color palette and a clean aesthetic that will keep you comfortable for the duration of your stay. Everything you could need is nearby with easy access to transportation to take you wherever you'd need to go. 
Visit their website
1121 19th Street North, Arlington, Virginia, 22209
Location/Transit
Arlington county is situated on the southwest bank of the Potomac and directly across from DC. Since it is so close, getting to DC is quick and easy with 11 Metro stations on the Orange, Silver, Blue, and Yellow lines, more than 100 miles of biking and walking trails, and Reagan National Airport (plus two international airports within a 35-mile radius).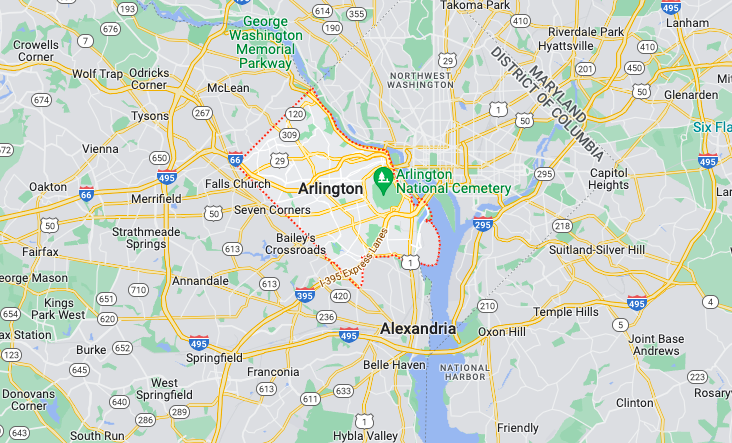 Don't have a Metro card? No problem! The bus from Clarendon Blvd/Highland to N Moore St/Rosslyn Station takes 11 minutes including transfers and departs every 20 minutes. Taxis, while a little more expensive, take around 7 minutes. 
Want to explore other local communities? Check out: