One of the most populous and busy towns in Fairfax County, VA is Reston. Founded by Robert Simon in 1964, Reston is a place where people come together as a community, and have both the beauty of nature and the convenience of commerce at their fingertips. In 2018, Reston was voted as Best Place to Live in Virginia by Money magazine. Once you see what Reston has to offer, it's hard to disagree.
Want to make Reston your new neighborhood? See current homes for sale in Reston.
Entertainment
Reston Town Center
The gem of this area is Reston Town Center, affectionately called RTC by locals. This walkable center is filled with shops, restaurants, bars, and even has a movie theater. Come grab a coffee and have a stroll around the area, or take part in one of the many events that happen here throughout the year, like Oktoberfest and outdoor ice skating.
Find RTC here:
11900 Market St.
Reston, VA 20190
Roer's Zoofari
For some more family fun, take the kiddos over to Roer's Zoofari. Here you can take a driving or walking tour of the zoo, visit the butterfly garden, and meet some friendly feathered friends in the Budgie Adventure. Other events take place at the zoo as well, like Paint at the Zoo or LuminoCity.
Find out about tickets here, and visit:
1228 Hunter Mill Rd.
Vienna, VA 22182
Water Mine Family Swimmin' Hole
Who doesn't love a good water park? The Water Mine comes equipped with fountains, sprays, dumping buckets, and (my personal favorite) a lazy river. For the little ones, there are also gentler water features and a baby pool. The Water Mine is right next to a large park where you can have picnics or barbecues, and there is a snack bar onsite.
Find out about tickets and visit here:
1400 Lake Fairfax Dr.
Reston, VA 20190
Lake Fairfax Park
Home to the Water Mine, Lake Fairfax is a massive 476 acre park that has activities for everyone who yearns for a taste of the outdoors. Skatepark? Got it. Camping? Got it. A place to ride BMX or dirt bikes? You guessed it, they've got that too. For the more leisurely trip, there are picnic spots and walking trails to bring you maximum relaxation.
Learn more about the park and find it here:
1400 Lake Fairfax Dr.
Reston, VA 20190
SkateQuest
Whether it's too hot outside or you want to get into the festive winter spirit, you can visit this ice skating rink. SkateQuest has public skate sessions multiple times per day on several days of the week, as well as adult pick up hockey games three nights a week. Don't know how to skate? There are lessons in hockey and figure skating for all ages. They also cater to parties and other events.
Visit their website for more and bring your skates to this location:
1800 Michael Faraday Ct.
Reston, VA 20190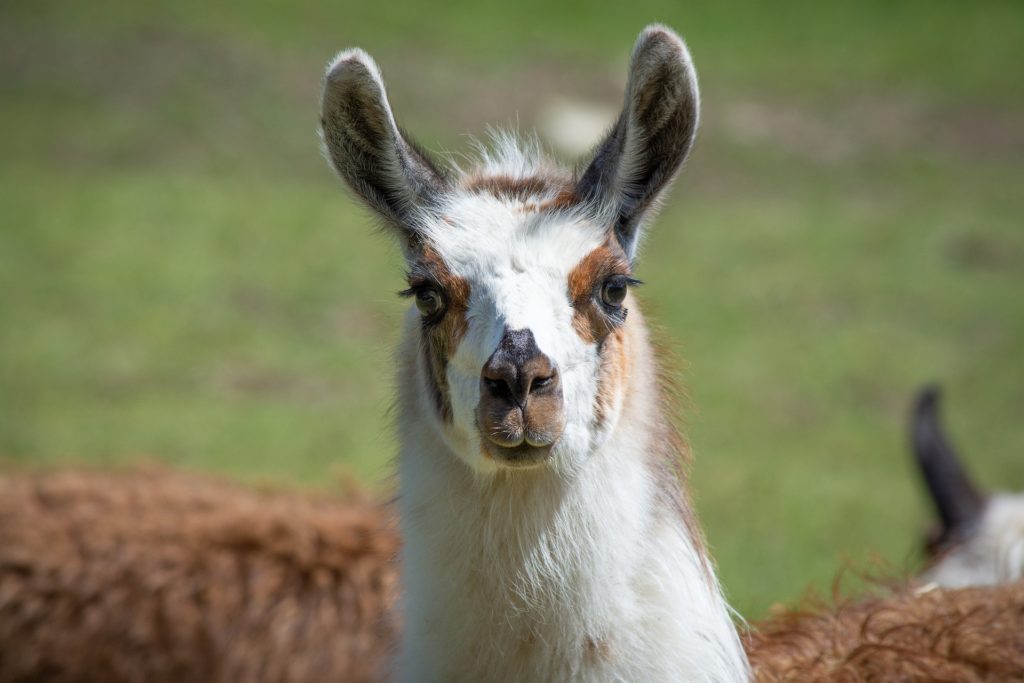 Dining
Breakfast
Sunrise Cafe
Open for breakfast and lunch, the Sunrise Cafe is a simple little spot with a host of breakfast sandwiches and platters to indulge in. If you happen to find yourself breaking your nightly fast in the afternoon hours, there are plenty of sandwiches and subs to enjoy as well.
See their menu and visit:
12355 Sunrise Valley Dr STE 150.
Reston, VA 20191
Bobby's Bagel Cafe
Bagels are the ultimate breakfast bread, and Bobby's Bagel Cafe takes it to the next level. Not only are classic bagels, spreads, and bagel sandwiches available, you can also get charcuterie boards and rainbow bagels. Never had a rainbow bagel? You'll need several sweet teeth to handle this colorful jam and sprinkle filled creation.
Find the bagels here:
1484 North Point Village Center
Reston, VA 20194
Ted's Bulletin
Ted's Bulletin is open all day long, but they get a special mention in the breakfast section because they sling breakfast platters from dawn 'til dusk. They've got southern classics like biscuits and gravy, and more modern dishes like eggs and avocado toast. Make sure you try their homemade 'PopTarts'!
Find out more and pay a visit:
11948 Market St.
Reston, VA 20190
Cosmos Cafe
Conveniently located at the Reston Metro Station, Cosmos Cafe is a great place to grab something on the go if you're on your way to the Silver Line metro. The usual breakfast classics are here, like sandwiches and handhelds, as well as omelets and bagels. Be careful though! They're closed on weekends.
See their website and find the cafe here:
1850 Centennial Park Dr.
Reston, VA 20191
la Madeleine
For a little taste of France, you don't have to go any further than la Madeleine. Some of their specialties include quiche, Croque Madame, and French toast. Along with hot breakfast items, there are also pastries and tarts to take home with you. This is a chic cafeteria style restaurant, complete with mimosas. Feel free to drop by here for lunch as well.
See their website and feel the French vibes here:
1833 Fountain Dr.
Reston, VA 20190
Lunch
Bartaco
Tacos are the perfect lunch food. They can fit in the palm of your hand, and are full of flavor. Bartaco has a ton of meat, seafood, and vegetarian tacos to choose from on a checklist-style menu. As an appetizer, I recommend the chips and salsa, which are the best in town. Not feeling a taco? Get a rice bowl instead. The perfect accompaniment to any Bartaco dish is, of course, a handcrafted margarita.
Check out their menu and find them here:
12021 Town Square St.
Reston, VA 20190
Jackson's Mighty Food and Lucky Lounge
There's almost no cuisine you can't find at Jackson's, which makes it the perfect place for large groups or picky eaters. Some highlights of the menu include the sesame crusted tuna salad, the drunken rib eye, and Ozzie's brick chicken. Along with these fabulous menu items there are plenty of wines and custom cocktails.
Check them out at this location:
11927 Democracy Dr.
Reston, VA 20190
MOD Pizza
MOD Pizza is a place where you can mod-ify pizzas and salads to your liking. Pizzas come in 3 sizes, and you can choose from a menu classic if you're in the mood for something traditional, or a MOD Pizza original. As for salads, they also come in 3 sizes and have menu options, or you can create your own.
Find out more and make your pizza here:
11642 Plaza America Dr.
Reston, VA 20190
Mason's Famous Lobster Rolls
Mason's has lobster rolls, and they're famous for a reason. For all the lobster lovers out there, Mason's is a must. They also serve lobster mac and cheese, New England clam chowder, and even a lobster grilled cheese sandwich. This light and refreshing seafood restaurant is a great way to get coastal tastes without leaving your neighborhood.
See their menu and visit this location:
11939 Democracy Dr.
Reston, VA 20190
The Counter
To get a burger, salad, or sandwich with over 85 ingredients to customize your meal with, The Counter is where you need to go. There is also beef or turkey chili, for those cold autumn days. The menu is checklist-style, so you can pick all of your favorite additions with ease. Try the loaded tater tots, or the Southern fried chicken sandwich. On the sweeter side there are milkshakes, and for a boozy treat, get one of their spiked shakes.
Check out their website and grab a burger:
11922 Democracy Dr.
Reston, VA 20190
Dinner
Not Your Average Joe's
Not Your Average Joe's is an American fusion restaurant that brings new life to old classics. Enjoy some oven-fired pizzas, funky cocktails, and a variety of handheld sandwiches. They sport a robust happy hour with food and drink specials, which makes this a great after work hangout.
See their menu and drop by here:
1845 Fountain Dr.
Reston, VA 20190
Kalypso's Sports Tavern
To enjoy Greek and Mediterranean food on a peaceful waterside terrace, pay a visit to Kalypso's at Lake Anne. A local favorite, Kalypso's is a hot spot for Restonites on weekend nights and for brunch. Some favorites to try out are the spanakopita, and the moussaka.
Check out their website and find them here:
1617 Washington Plaza N.
Reston, VA 20190
Founding Farmers
One of the most decadent restaurants in Reston is Founding Farmers. You can find this trendy spot at the Reston metro station. Every dish is made from scratch, right down to the hand-churned ice cream. This menu is truly massive, with a bit of every cuisine to enjoy.
See what they have to offer and visit at this address:
1904 Reston Metro Plaza Dr.
Reston, VA 20190
Morton's The Steakhouse
Morton's is an elegant, 1920's style steakhouse located in the heart of Reston Town Center. Despite being a steakhouse, Morton's also features a raw bar and many seafood dishes, such as lobster ravioli and miso marinated sea bass. They have special menus for holidays throughout the year, so check their website to see if there are any current specials.
Book a table here and find them at this location:
11956 Market St.
Reston, VA 20190
Ariake Japanese Restaurant
For a refined Japanese cuisine experience that's sure to wow your friends and colleagues, book a table at Ariake in Reston. Along with traditional sushi and maki rolls, Ariake also serves bento boxes and hot entrees. A truly special experience is the Omakase, which is the chef's selection of sushi.
Visit their website and find them here:
12184 Glade Dr.
Reston, VA 20191

Wineries & Breweries
Cooper's Hawk Winery & Restaurant
While Cooper's Hawk is both a tasting room and a restaurant, their wine tasting sets them a bit apart from other restaurants in the area. Not only have they won over 200 awards since 2005, Cooper's Hawk also has wines for every taste. Sparking, reds, whites, and even international wines are in their inventory. Wine tastings are first come first serve, so make sure you get there early.
See more about their wines on their website and visit here:
12130 Sunset Hills Rd.
Reston, VA 20190
Lake Anne Brew House
This fun spot is a family owned nano-brewery taproom in the heart of Reston. The first Friday of the month, you can bring your work crew and collaborate on your work projects on the Brew House's free high-speed wi-fi, potentially with fun prizes in a raffle, and enjoy other events. Their tap list changes often, so check back frequently to try new beers, or have some of your favorites.
Find out more and drink beer here:
11424 Washington Plaza W.
Reston, VA 20190
Crafthouse Reston
With over 50 beers on tap and over 250 bottled beers and ciders, even the most discerning beer drinkers will find something they love here. For those who need something a little stronger, Crafthouse also serves spirits and cocktails. But what's a good drink without a tasty snack? There are traditional bar foods like soft pretzels, and entrees including tacos and burgers to enjoy.
See their website and find them here:
1888 Explorer St.
Reston, VA 20190
Shopping
Reston Town Center
As mentioned above, Reston Town Center is the go-to spot for everything. Hip and upscale shops like Anthropologie, Paper Source, South Moon Under are just a few of the amenities you can find. So come wander around and find yourself some new things for your home and closet.
Find RTC here:
11900 Market St.
Reston, VA 20190
Lake Anne Plaza
Besides Kalypso's, Lake Anne Plaza has a used book store, art gallery and shop, and other places to find unique odds and ends. Come for the ambiance, stay for the interesting treasures you find along the way.
Find out more about the shops and restaurants here:
11402 Washington Plaza W
Reston, VA 20190
The Spectrum at Reston Town Center
The Spectrum is the place to go for your daily needs. Find Harris Teeter, Barnes & Noble, salons, spas, and several types of clothing and electronic shops here.
Visit their website and shop here:
11846 Spectrum Center
Reston, VA 20190
North Point Village Center
North Point is home to big retailers like Giant Foods, Baskin Robbins, and GameStop. Other restaurants and small shops can be found here as well. If you need a ham for the holidays, check out Honey Baked Ham.
North Point Village Center can be found here:
1452 Reston Pkwy
Reston, VA 20194
Plaza America
Being surrounded by office buildings, Plaza America has a lot of restaurants, both fast and sit-down. You can also get your office needs met here at Staples, and there is a Home Goods, for those of you who have made your home your new office during these post-2020 times
See Plaza America's website and visit here:
Plaza America Dr.
Reston, VA 20190, USA
Lodging & Hospitality
The Westin Reston Heights
For a luxurious yet affordable stay in Reston, check out The Westin. Boasting a fitness center, free shuttle service to the airport and other nearby attractions, and a bar and restaurant onsite, this hotel is a place you can feel like royalty.
Book your stay and find them here:
11750 Sunrise Valley Dr.
Reston, VA 20191
Hyatt Regency Reston
This Hyatt hotel is conveniently located in Reston Town Center, which gives you walking access to almost everything you need. Other reasons to stay are their pool and fitness center, room service, and onsite restaurant. There are also business services, and you can even bring your pets along.
Reserve a room and visit here:
1800 Presidents St.
Reston, VA 20190
Sheraton Reston Hotel
The Sheraton is a well-known hotel chain you can find in Reston. Here you can use a fitness center and take advantage of several surrounding bike and hiking trails. There are breakfast options available for purchase, as well as a shop to buy any snacks or travel items you may have forgotten.
Find out more and stay at this address:
11810 Sunrise Valley Dr.
Reston, VA 20191
Homewood Suites by Hilton Reston
Free breakfast, a business center, and pet friendly rooms are the main attractions at Homewood Suites. Being part of the Hilton family means that a stay at Homewood Suites will be of the highest quality.
Reserve a room for your visit and find them here:
1735 Business Center Dr.
Reston, VA 20190
Location & Transit
Reston is centrally located in Fairfax County, with Rt. 267 running straight through it. Rt. 267 can take you to either Washington DC, or in the opposite direction to Leesburg and the surrounding Loudoun County areas. Rt. 7 is located on the northern border of Reston, which can lead to Rt 28 and Rt 66. All other suburbs around Reston are easily accessible. Reston is 22 miles from DC, and 55 miles from Baltimore.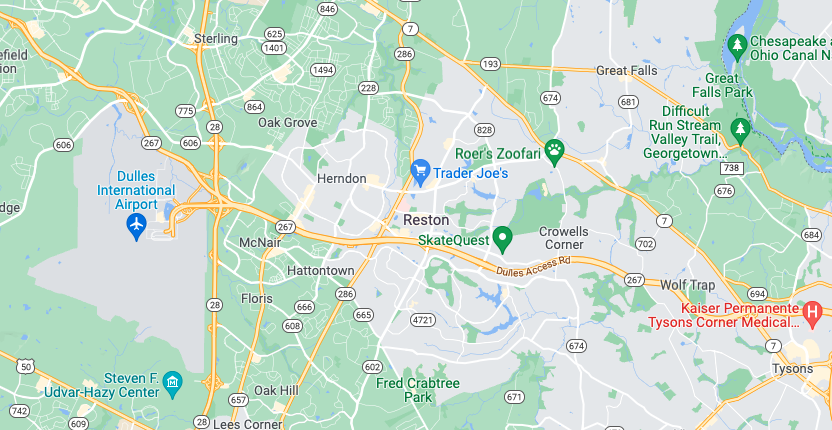 Many Northern VA residents rely on their own transportation to get around town, but the Fairfax Connector bus system operates here. The silver line DC metro is also accessible from Reston.
Interested in similar communities in the Northern Virginia area? Check out these towns: