Wardensville, WV is a small, quiet haven just over the border of Virginia, and is part of Hardy County. It was incorporated into West Virginian territory in 1879, and the area itself was a place of importance during the French and Indian War. Several outposts and fortifications were built during the war, which eventually made way for permanent settlement.
Wardensville lies to the west of the Great North Mountains, and sits on the eastern bank of the Cacapon River. Surrounded by forests, Wardensville is a must see for nature lovers and adventurers alike. If you'd like to see what's available in this woodsy hideaway, have a look at the current homes for sale.
Author's note: At the time of this writing (Fall 2021), COVID-19 is impacting communities throughout West Virginia. As such, we can't guarantee the ongoing accessibility or safety of some entertainment, shopping, and dining options. And we, of course, recommend that you use your own discretion in deciding whether or not to partake in any of the activities outlined below.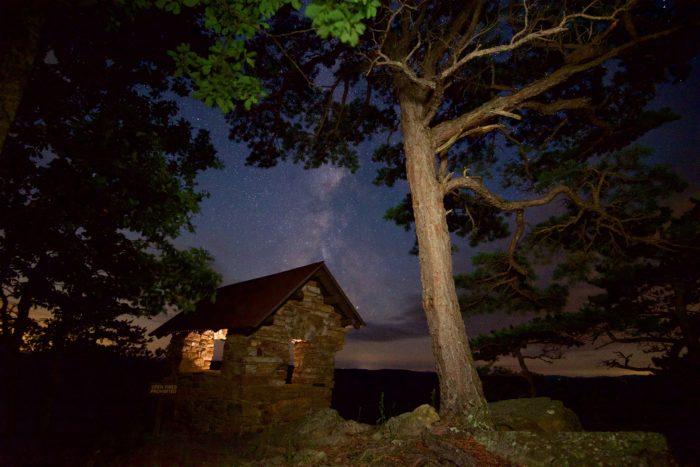 Entertainment
Warden Lake
Fishermen, you'll be happy to know that just 5 miles from Wardensville lies Warden Lake. A tributary of Cacapon River, Warden Lake is a 44 acre body of water brimming with trout, northern pike, channel catfish, and more. If fishing isn't your game, it's still a great place to relax outdoors and have a swim.
Directions: Warden Lake is located in northern Hardy County and southern Hampshire County, approximately five miles north of Wardensville, WV. To reach the lake from Wardensville, follow Carpers Pike (WV-259) north 1.3 miles to a left turn onto Moores Run Road (CR-23/13)
Learn more here.
George Washington and Jefferson National Forests
This massive 1.6 million acre forest spreads out over Kentucky, West Virginia, and Virgina. With so much to explore, you'll never run out of trails to hike or sights to see. Other activities you can partake in include boating, camping, hang gliding, and fishing.
Get more details on these beautiful forests here.
Capon Crossing Farm
Craving some bluegrass? Capon Crossing Farm hosts Bluegrass in the Barn every month, where you can dance, relax, and enjoy live music from local bands. Their market also offers a wide selection of meat products, produced right on the farm. It's a great location to shop, meet friends, and host events all in one place.
It's located at:
12279 Carpers Pike
Wardensville, WV 26851
Get the details here.
Dining
Author's note — many restaurants may be only offering takeout or outdoor dining. Be sure to call ahead to see if your preferred dining arrangement is available.
The Kac-Ka-Pon Restaurant
For a real home cooked West Virginian meal, you must visit the Kac-Ka-Pon Restaurant. They serve everything from steaks to seafood, and even have turkey dinners on Sundays. No matter what you order, you'll leave this restaurant with a full belly and the feeling of being home.
Stop by at:
395 E Main St 
Wardensville, WV 26851
See the menu ahead here.
Lost River Trading Post
This is a special location, because not only is it a restaurant, it's also a market and an art gallery! The Trading Post serves coffee, bakery goods, and savory breakfast items. Try their frittata on a biscuit, or enjoy a freshly baked scone to go with your cappuccino. 
Visit them at:
295 E Main St
Wardensville, WV 26851
Check them out before you visit here.
Marina's Pizza
Nothing hits the spot like a good pizza on a Friday night, and Marina's is your one stop shop for those cravings. Along with fresh pizzas, they also serve up subs, salads, and home cooked barbeque on the weekends. They have new specials every day, so check back often for updates.
Stop by for a slice at:
229 W Main St
Wardensville, WV 26851
See the menu here
Lodging
Author's note: At the time of this writing, COVID-19 is still a very serious problem throughout the US. Be sure to call ahead to make sure operations are continuing and to get details about what precautions are being taken.
Firefly Inn
Right in the heart of Wardensville is the Firefly Inn. This 4 room hotel is a quaint, modern place within walking distance to restaurants and shops. Their gel and memory foam mattresses are perfect for a good night's rest after a long day of fishing or hiking. Maid and cleaning services are available, and small pets are welcome to stay.
Drop by at:
30 W Main St
Wardensville, WV 26851
Make a reservation here.
Guesthouse Lost River
For a stay outside of Wardensville there's the Guesthouse Lost River. This 18 room inn has a rustic, homey feel that evokes the feeling of a mountain cottage. But there's more to it than just the cottage feeling. There is a sauna and spa on site, as well as fine dining and a full bar. Breakfast is complimentary for all overnight guests, and some rooms welcome pets.
Stop in for a stay at:
288 Settlers Valley Way
Lost River, WV 26810
See the details here.
Lost River Reserve
Looking for an escape? Find seclusion and peace at the Lost River Reserve, a sleek and modern 4 bedroom house hidden in the forest, less than 5 miles outside of Wardensville. Ideal for families or small groups, this home has all the amenities and more, like a fire pit for roasting s'mores, and a hot tub to relax in. The 30 acre property on the edge of the George Washington Forest ensures that you will be completely separated from the stresses of society.
Visit them at:
299 Bedford Mountain Drive
Wardensville, WV 26851
Get more info before you go here.
Shopping
Author's note — COVID still present? Be sure to check with any stores before visiting to ensure that they are open and to take note of any restrictions that may be in place.
Grasshopper Gallery at Lost River Trading Post
It's not possible to get the full Wardensville experience without a stop at the Grasshopper Gallery. After enjoying some freshly baked pastries, head over to the art gallery that doubles as a shop of oddities, art, and collectibles. Occasionally there are events with the opportunity to talk to local artists whose work is featured in the gallery.
Visit them at:
295 E Main St
Wardensville WV 26851
Learn more here.
Wardensville Garden Market
This is not your ordinary farmer's market. Wardensville Garden Market is an organization dedicated to sustainable farming practices, and providing knowledge and opportunities to the youth and young adults of the Appalachian region. The Garden Market is open year round, and also has a from-scratch bakery. Shopping here is a wonderful way to support the local economy in a 'green' way, and get some delicious produce and baked goods.
Say hello at:
28813 WV-55
Wardensville, WV 26851
Learn more before you go here.
WordPlay
No one likes empty space on a bookshelf! WordPlay is Wardensville's resident bookshop, where you can find books for readers of all ages, either online or in the shop itself. Looking for a game to play at your next dinner party? WordPlay has you covered there, too. Join one of their monthly book club meetings to meet some locals, and talk about great literature.
Visit them at:
50 W Main St
Wardensville, WV 26851
Check them out online here.
Location and Transit
Unfortunately, public transit is not an option in Wardensville, but everything in town is within walking distance. For ventures outside of town, you'll need your own transportation. Route 48 conveniently runs right through Wardensville, as does travel from Route 259.
Despite this town's rural location, it's still easy to get to all the major metropolitan areas. Wardensville is 30 miles from Winchester, VA, 100 miles from Washington, D.C, and 140 miles from Baltimore, MD.
Interested in other local communities? Check out: