According to a study completed by Freddie Mac in its Primary Mortgage Market Survey (PMMS), the average 30-year fixed-rate mortgage has dropped 22 points. This is the biggest drop one-week drop in 10 years and may give the housing market a boost just in time for spring.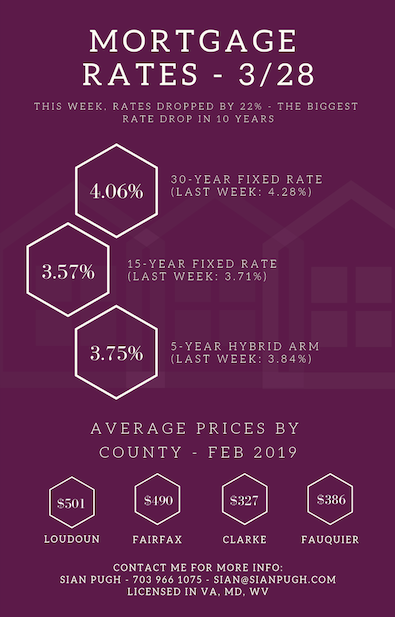 What does this mean practically speaking? A few things:
Lower payments for buyers: A lower rate translates to lower monthly mortgage payments.  In other words, lower interest rates make payments more affordable and can help to offset other costs.
A greater market for sellers: Lower rates may help to attract new buyers to the real estate market. For example, a buyer that was previously unable to buy might now have enough purchasing power to make it happen.
To put it in numbers, take this example from Greg McBride, chief financial analyst for Bankrate.com. Let's say you have a $200,000 mortgage. When you change the interest rate from 5.1% to 4.1%, your payment would drop by about $120 per month. [1]
In other words, if you are considering buying, now could be the perfect time to do so – and save a bunch of cash. And if you're selling, your new buyer might be just around the corner.
Are you considering buying a home in Loudoun County? Be sure to check out our recent report on the housing supply.
If you're ready to take advantage of this drop in rates (and the incredible savings it can lead to), be sure to contact me to get started.
Licensed in VA, MD, WV
Freddie Mac studies: