Continuing our series on all that's wonderful in Loudoun County, here's a sample of some of the resident artists and outlets for their work. Let me know of anyone you know I should include:
Loudoun County Artisan Trail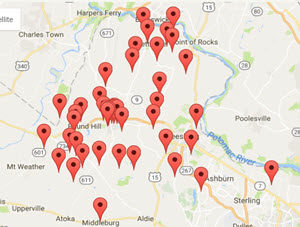 The Loudoun County Artisan Trail is the 31st artisan trail in the Commonwealth and encourages visitors to discover artist studios, galleries, local farms, wineries, craft breweries, farmers markets, distilleries, cideries, restaurants, hotels, boutiques and other artisanal and agri-tourism based businesses.
Alizarin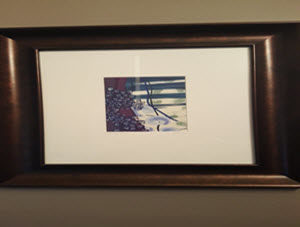 My friend Jan Blacka from Hamilton uses a pen tablet to draw and paint on the screen as fluidly as on paper or canvas. Her working methods are closely related to collage and print-making in the use of repeated elements and layering. She sometimes includes her photos and scans of objects in her images. You may have seen some of her work on my walls (see the above photo).
Arts in the Village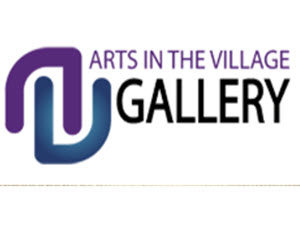 Arts in the Village is a non-profit artists' cooperative gallery that is operated as a program of the Loudoun Arts Council and located at the Village At Leesburg. The gallery features a stylish atmosphere and sells handmade fine and functional artwork from over 20 of the area's most creative artists and craftspeople. The 2,100 sq. ft. gallery showcases work in a diversity of media and styles including: ceramics, collage, glass, jewelry, painting, photography, wood, and more.
1601 Village Market Blvd, Suite 116
Leesburg, VA 20175
http://www.artsinthevillage.com
Designer Goldsmith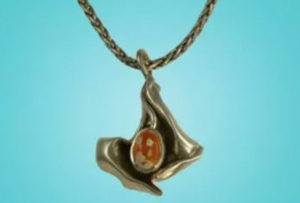 Unique Handcrafted one of a kind Artisan Jewelry by Jolanda Pali Kesari
203A Harrison St. SE
Leesburg, VA 20175
http://www.designergoldsmith.com
Gateway Gallery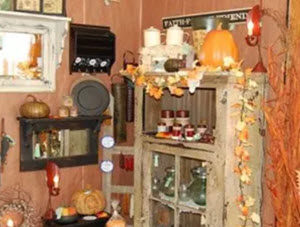 An artist's cooperative, Gateway Gallery is a place where thirty Loudoun member artists and artisans display and sell their works in a cultural and educational setting. Visitors can chat with the artists and shop for their one-of-a-kind handmade items including jewelry, ceramics, wood, textiles, pewter, sculpture, photographs, and paintings.
35246 Harry Byrd Highway, Suite 100
Round Hill, VA 20141
http://www.thegatewaygallery.com
Glenfiddich Farm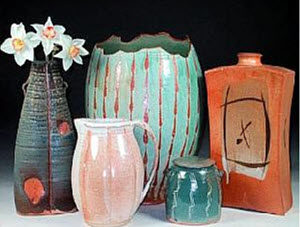 Handmade salt-glazed, functional stoneware items including bowls, vases, teapots, pitchers, and more, created by Richard Busch. Please call ahead to visit the studio and showroom.
17642 Canby Road
Leesburg, VA 20175
http://www.glenfarmpottery.com/
 Kelley Wills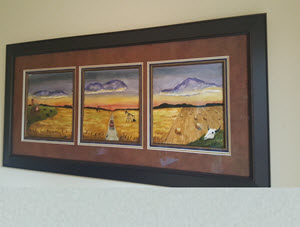 Another friend, Kelly Wills, whose art graces our dining room (see the above photo), creates awesome Americana-style pieces, particularly for musicians.
http://www.kelleywills.com/about
K & S Pewter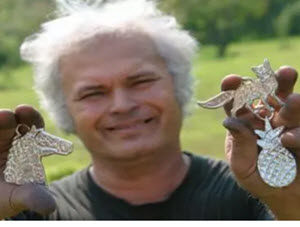 Handcrafted pewter: bowls, cups, plates, candlesticks, oil-lamps, ornaments. By appointment.
Cherry Grove Ln
Round Hill, VA 20142
The Parsonage Handmade Soaps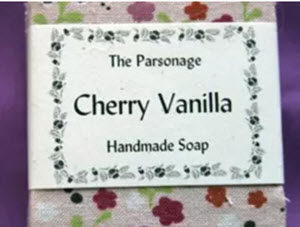 Blending olive, palm, and coconut oils with extra emolients such as cocoa butter, avocado, and jojoba oil, they create gentle bars which give a fragrance, making their soaps a delight to all the senses.
39644 Lovettsville Rd
Lovettsville, VA 20180
Potterosa – David Norton Pottery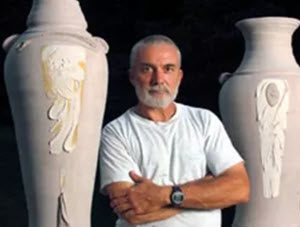 Gallery of handmade functional pottery and ceramic sculpture in the woods. If they are home, they are open; best to call first.
18005 Kullgren Rd
Round Hill, VA 20141
http://davidnortonpottery.com/
Round Hill Arts Center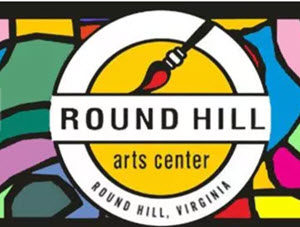 This arts center features an art gallery showcasing works by local and regional artists.
35246 Harry Byrd Hwy
Hill High Orchards Complex
Round Hill, VA 20142
http://www.roundhillartscenter.org
Shenandoah Furniture Gallery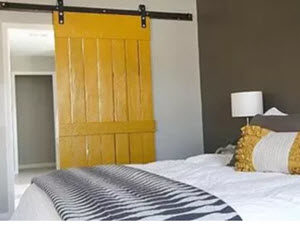 Custom designed furniture made from carefully dismantled area barns/historic structures.
151 W Main St
Purcellville, VA 20132
http://www.farmwoodcollection.com
Very Virginia Shop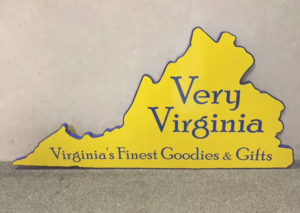 A charming shop full of Virginia's Finest Goodies and Gifts from Leesburg, Loudoun County, and Virginia. Come in to find peanuts, gourmet foods, homemade sweets, souvenirs, t-shirts, postcards, books, Wood/Wick Candles, college alumni gifts, Colonial/Civil War memorabilia and much more.
16 S King St
Leesburg, VA 20175
Waterford Corner Store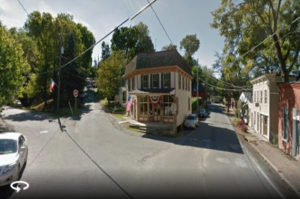 The Corner Store is run by the Waterford Foundation to support local artisans and also acts as a visitor education center with information about Waterford's history and involvement in the historical events of our country. All year long a full selection of crafts made by local artisans are available. Many of these unique craft items are from the juried artisans who exhibit at the Waterford Foundation's annual fair.
40138 Main St.
Waterford, VA 20197
http://www.waterfordfoundation.org/corner-store/
Here are some other lists of things in our lovely area:
Breweries in Loudoun and surrounds
Places of Worship in Northern VA
Community Supported Agriculture in Loudoun
Where to Stay in Loudoun and Surrounding Counties