One of the things that we love the most about Loudoun County is how deeply agriculture is embedded into the local community – and there are few better examples of this than the Loudoun County Fair. This annual event brings spectators and participants alike together to celebrate all the things that make Loudoun County special. This year, it will be held from July 23-38 in Leesburg and will be host to a number of exhibitions, competitions, and of course, all the carnival games and foods you can handle.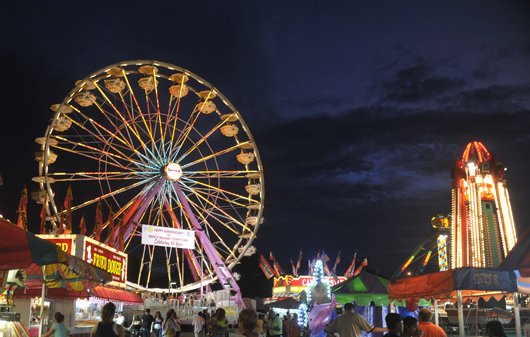 One attraction that seems to stand out among the rest? The Kiss-a-Pig fundraiser, where local members of the community compete to raise money for a charitable cause, and the person who raises the most, gets to kiss a pig! What better way to help a worthy cause and have fun while doing it?
Some other annual attractions that you can expect to find at the 2019 Loudoun County Fair include:
Animal agriculture and showmanship competitions with rabbits, cows, horses, goat, and all the rest of your farm favorites

Dinners made by local 4-H groups

Live music

Lawnmower races

Watermelon and pie eating contests

Professional bull riding

Carnival rides and games (and of course, all the fried food you can imagine)

Livestock auctions
Want to see what else you can do during fair week? Here's the full schedule of events and attractions that can be enjoyed throughout the event.
Tickets can be purchased online and cost $15 per day for standard admission. Some days are free for seniors and children and weeklong passes are also available. They can also be purchased onsite (credit cards or cash accepted) and that there is a $5 parking fee per vehicle (good for the entire week). 
The Loudoun County Fair is a fantastic way for the youth of the region to demonstrate their hard work and dedication, while also enjoying everything that fairs are synonymous with: education, animal husbandry, rides, snacks, and of course, having a good time. It also serves as a valuable fundraiser for a number of local organizations, so anyone in attendance can feel good about helping to support initiatives that keep agriculture strong and alive in Loudoun County. 
It's also home to the Miss Loudoun County Fair Pageant, which chooses a member of a local 4-H club that it believes most embodies the ideals of 4-H. Contestants are judged on a number of different factors include 4-H involvement, community service activities, public speaking, stage presence and attire.
Do you have a favorite part of the Loudoun County Fair that you look forward to every year? Tell us about it in the comments below!