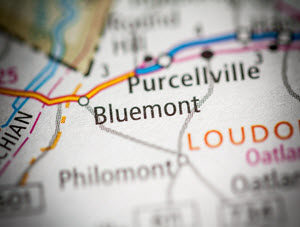 Bluemont is one of my favorite places. From the beautiful Blue Ridge Mountain views, to the Appalachian Trail to the winding Shenandoah River, Bluemont is a little piece of paradise. And thanks to slow growth policies, it looks to remain that way for quite some time.
The 20135 ZIP code actually contains roads in Loudoun county on the east side of the mountains and Clarke county on the west side. Strangely enough, it also contains some roads in Jefferson county West Virginia accessed from Raven Rocks Rd (which has some plots that are in both Clarke and Loudoun). So from a US Postal Service perspective, it is easier to treat them as being in Virginia, but they are in West Virginia, pay West Virginia taxes and go to West Virginia schools. Confusing, I know.
The "main" street in Bluemont is Snickersville Turnpike on the east side of the mountains. It boasts a Post Office, a general store aka horse veterinarian (really!), a cidery and a community center. The village hosts an awesome festival, Bluemont Fair, every September with live music, crafts, kids activities and eateries.
Another awesome place in the village is Boulder Crest Retreat for Military and Veteran's Wellness. It offers private accommodations and a variety of opportunities for adults and children to enjoy recreational and healing activities. If you have time, they are always looking for volunteers!
Whitehall Estate is a 50 acre estate with a 200 year old manor house that specializes in hosting weddings, and is minutes away from "downtown".
As mentioned above, the Appalaichian Trail runs atop the Blue Ridge Mountains. It is worth a trip to beautiful Bear's Den Lodge and Hostel to gaze out over the Shenadoah Valley. Find Bear's Den at 18393 Blueridge Mountain Rd.
The Bluemont Concert Series showcases local bands in venues around northern Virginia. It was founded by musicians living in the Bluemont commune, Skyline, in the 1970's.
So what's going on in and around Bluemont?
Restaurants, Wineries & Cideries
Twin Oaks Tavern Winery
Twin Oaks Tavern Winery is conveniently located just off Route 7 at 10835 Raven Rocks Rd. In addition to wine and views they have live music and open mic every weekend.
Bluemont Vineyard
With spectacular views 951 feet up on the side of the mountain, Bluemont Vineyard produces about 6,000 cases of wine per year, Check out their special events such as Father's Day Ribs & Rose, and live music events. Find them at 18755 Foggy Bottom Rd.
Great Country Farms
Owned by the same family as Bluemont Vineyard, Great Country Farms offers pick your own produce, a CSA, a farm market and lots of outdoor activities including a jumping pillow, wagon rides, mazes and a dog play area. Find them opposite Bluemont Vineyard at 18780 Foggy Bottom Lane.
Dirt Farm Brewing
Owned by the same family as Great Country Farms and the Blueomont Winery, Dirt Farm Brewing focuses on small batch brewing from ingredients grown at the farm. Another location with panoramic views of Loudoun valley.
Horseshoe Curve Restaurant
Just off Rt 7 on the west side of the mountain, Horse Shoe Curve is a great little family run pub featuring regular live music and traditional American fare such as Chili, burgers and beer. Real community atmosphere. Find them at 1162 Pine Grove Rd.
Pine Grove Restaurant
Pine Grove Restaurant is a family style restaurant is popular with locals and Appalachian Trail hikers alike. It serves traditional hearty American food, and the breakfasts are especially popular. Stock up on fuel before hiking the AT! Everything is home made from scratch. Find them at 574 Pine Grove Rd.
The Wild Hare Hard Cider
Located just off Snickersville Turnpike in the heart of Bluemont Village, Wild Hare Cider is a micro0cidery making cider from apples harvested in the Shenandoah Valley. Visit their tasting room at 33735 Snickersville Turnpike.
Foxglove Retreat
Foxglove Retreat offers accommodations with panoramic views of the Shenanadoah Valley, sleeps up to 10 people and offers a pool with mountain views and landscaped gardens. It is located just up from Bear's Den at 19043 Blue Ridge Mountain Rd.
Sorry we are experiencing system issues. Please try again.