One of my favorite things about living in Purcellville is that with each distinct season, we have just that many more local activities to enjoy. And with so many beautiful places just a short drive away, it's easy to spend every weekend trying something new or exploring a different local town.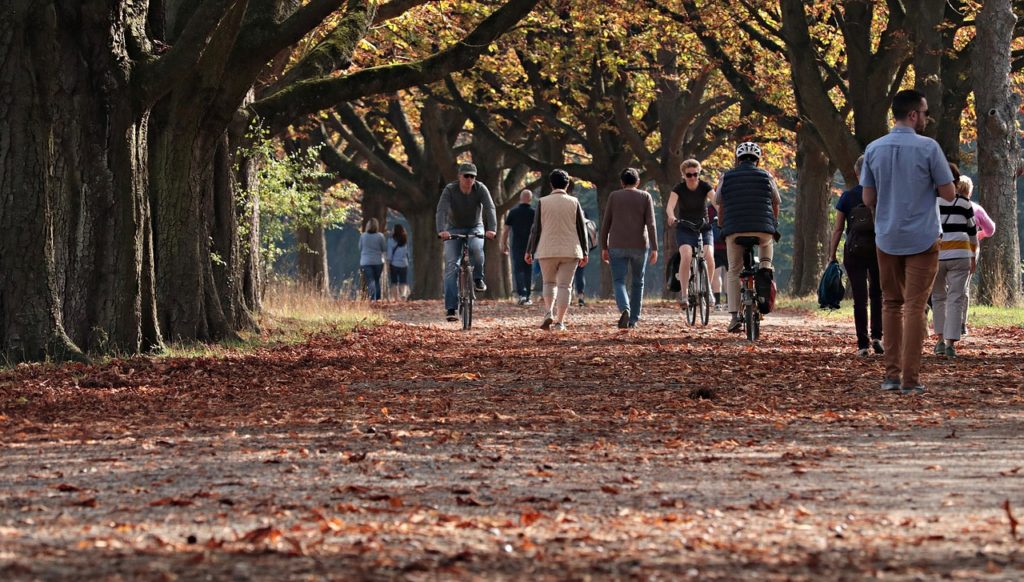 To help you decide how to best use your limited time this season, we've put together some of our favorite local activities for 2019 sorted by category: food / drink, entertainment, sports, and beautiful places to visit.
Without further ado, onto the list of fall activities! 🍁
DINING & DRINKING:
44th Annual Virginia Wine Festival
We can't live right in the middle of DC's wine country and not spend at least a little time celebrating our regional vineyards. This festival will feature wines and spirits from a number of local growers, plus a wide range of food options to suit every taste (and every wine).
Did you know a number of towns in our area have Germanic origins? And this influence is never more apparent than it is in the around the time of Oktoberfest. Frederick, MD, is no stranger to hosting a popular and memorable celebration, particularly as it directly benefits a number of local organizations and nonprofits. 
OK so oysters may not be the first thing that comes to mind when we say autumn, but it definitely could (and maybe even should) be. This annual favorite in Baltimore features food, fun, and even a bit of education here and there about relevant topics like recycling oyster shells. 
With 325 acres of apples, plus over 20 different apples to choose from, Marker-Miller Orchards in Winchester is a super way to spend a day outside this fall. Don't forget to bring a picnic to have a truly perfect fall day in Virginia. 
If you've never been to Lewisburg, WV, this could be just the opportunity you've been waiting for. Join locals and visitors alike on the streets of historic downtown Lewisburg to sample delicious food from local restaurants, civic clubs, and nonprofit organizations.
Unlimited tastes of over 50 beers. Since that's all you really need to know, we'll stop there. Just kidding! This fun event in DC also has music, food, outdoor games, and much more. So if beers and fall weather are your favorites, there's really no better combination. 
ENTERTAINMENT:
Great Country Farms Fall Pumpkin Harvest Festival
Is there anything more autumnal than pumpkins? We didn't think so. So get yourselves out to Great Country Farms in Bluemont to pick out your very own pumpkin. This family-friendly event will also feature marshmallow roasting, corn mazes, and of course their infamous cider donuts. 
This country fair is a local favorite of mine! The fair is home to a wide range of activities, music, and food. It also features an art show, a pie contest, and many other opportunities for artisans in Loudoun County and the surrounding area to show off their skills.
Another historic favorite, this annual festival has been around longer than most residents (or so it seems, at least). Stop by and tour historic homes and find incredible and unique pieces from local artisans; many of whom will be happy to show you and the kids how its done! I'm a docent at the fair for the Charles and George Schooley House and the Hough House on Saturday October 5th, so let me know if you are coming!
Is there anything more autumnal than a corn maze with a hot drink? No, not really. This 8-acre corn maze and pick your own pumpkin patch is a great way to get outside and enjoy the changing of the seasons, while also supporting many local charities. 
Fall Concert Series at the National Gallery of Art
If you're looking for a way to expand your mind and appreciate of art and culture this fall, there really couldn't be a better solution than this series. What makes it even better is the admission is FREE! Just be sure to show up on time as it is on a first come, first serve basis.
What would fall be without a little bit of spooky mixed in? Regarded by many as one of Maryland's best haunted houses, don't miss this as part of your Halloween celebrations. What makes this one different from others? It's modeled directly after local haunted history, even including a few 'drowned soldiers'. 
West Virginia Pumpkin Festival
This festival brings over 50,000 guests of all ages together to celebrate the more fall-esque items there is: the pumpkin. This festival features live music, food, educational seminars, and of course, all the pumpkins you could ever want. 
SPORTS:
If you want to get pumped up, don't miss the finish line of this incredible event at the end of October. Ranked as one of the biggest marathons in the world and includes a route through the National Harbor and finishes at the Marine Corps War Memorial in Arlington, Virginia. The entire weekend is full of related events and celebrations including a runner's conference and a kids fun run.
With cooler temperatures come bigger waves – so there aren't many better options for the adrenaline junkie on your list. Head on over to Harpers Ferry in West Virginia to find whitewater rafting for all skill levels. These local outfitters will take you on the Shenandoah and Potomac Rivers, ensuring that you have a great time on the water under the gorgeous fall foliage. 
As many of our local neighbors are nestled deep in the heart of horse country, we couldn't make a whole list without an equine event! 'Gold Cup' is probably one of the best ways to get into the thick and fun of the horse industry; but only for a day or so. 
Not quite up to running a marathon yet? Worried that you might eat too much turkey on Thanksgiving? Well, the Fairfax Turkey Trot is a great solution to both of these things. Hello, guilt free dinner! 
Football Games with the Washington Redskins
Whether you're a football fan or not, attending a football game (and tailgate) can be a great way to pass a fall day. And with FedEx Field a relatively short drive from most places in our region, there's not too many reasons not to go!
BEAUTIFUL PLACES:
Want to enjoy the changing of the seasons up close? Hiking is by far one of the best ways to do so – and you also get the added benefit of exercise and fresh air. Head to Maryland Heights for one of the best scenic overlooks in the area that you won't soon forget. 
Want to take some photos or just pass some time outside among those gorgeous autumn colors? Head on over to the National Mall, where you can capture the height of fall foliage with a touch of history built in.
Aside from being a major battle site during the Civil War, Antietam is also home to gorgeous leaves and a unique perspective from which to view the seasons changing. Hire a guide and learn more about the history of the Civil War and the role that Antietam played in its development.
Covering over 180 miles, wandering along this canal is surely one of the best ways to enjoy the changing of the seasons while also getting in your steps for the day. An area that is rich in local history and culture, a number of youth activities can be found throughout the park and season. 
This Registered National Landmark is easily one of the most breathtaking places to visit any time of the year, but with the fall foliage, this is extra true. Hike your way through maintained trails and get a true breath of fresh air.
Covering over 800 acres along the Blue Ridge Parkway, this landmark brings guests from near and far. And though it may be one of the farthest destinations on our list, it's most certainly worth the drive. 
These are just a few of our favorite things to do in the fall in the area, so it's far from a wholly inclusive list. If you're looking for more things to do that aren't necessarily tied to the changing of the seasons, don't miss our community pages, which feature fun things to do organized by town. 
Got other favorite activities that we haven't listed here? Leave them in the comments below.