With the arrival of spring, maybe you've noticed that your yard is lacking a certain wow-factor. Your yard is an extension of your home, but what can you do with it? Lots! Here are a 7 ideas to help you bring some life into your yard, and make it an enjoyable place to spend time.
Plant a wildflower garden
For an environmentally friendly way to bring some life to your yard, consider planting a wildflower garden. Wildflowers are beneficial to insects, birds, and our struggling bee population. In addition to being great for the local fauna, many wildflowers also have mild health benefits, or can be used in cooking and baking. All it takes is some research into indigenous flowers, and a trip to your local nursery for some seeds or plants.
Curious about local bees and apiaries? Check out my post about Loudoun County's Apiary Artist.
Add some bird feeders
One of my favorite things about Northern Virginia is the variety of beautiful birds that call here home. Not only is our state bird, the cardinal, a staple of the bird community, there are also many types of finches, jays, woodpeckers, and swallows here. Songbirds are often colorful, and are fun to watch. Pick up a book about local birds and identify who exactly is making a visit to your yard.
Install a fish pond
Need something to feel more zen? This addition will give you a place to meditate and a calming way to clear your mind. The water feature in the pond provides some calming white noise to drown out street traffic and stressful thoughts. Koi are a sturdy, long living species of carp that come in a variety of dazzling colors and patterns, which makes them perfect for a backyard pond.
If you'd like to learn more about what types of plants would best suit the areas around your koi pond, read my post about Northern Virginia Spring Plants.
Build a fire pit
When you're bored of hanging out in the living room watching Netflix, take your chill session outside to your very own fire pit. This is a great addition to any yard that will provide many nights of fun and relaxation. In lieu of a grill, you can also use your fire pit to cook sausages, or roast marshmallows for s'mores. Consider pitching a tent for a camping experience without having to leave home.
Create a lounge area
Adding some outdoor furniture is an easy, instantaneous way to make your backyard a relaxing place to hang out. Scope out some comfy patio furniture and set it up around a table. Couple it with some bright cushions, and you've got yourself a lounge!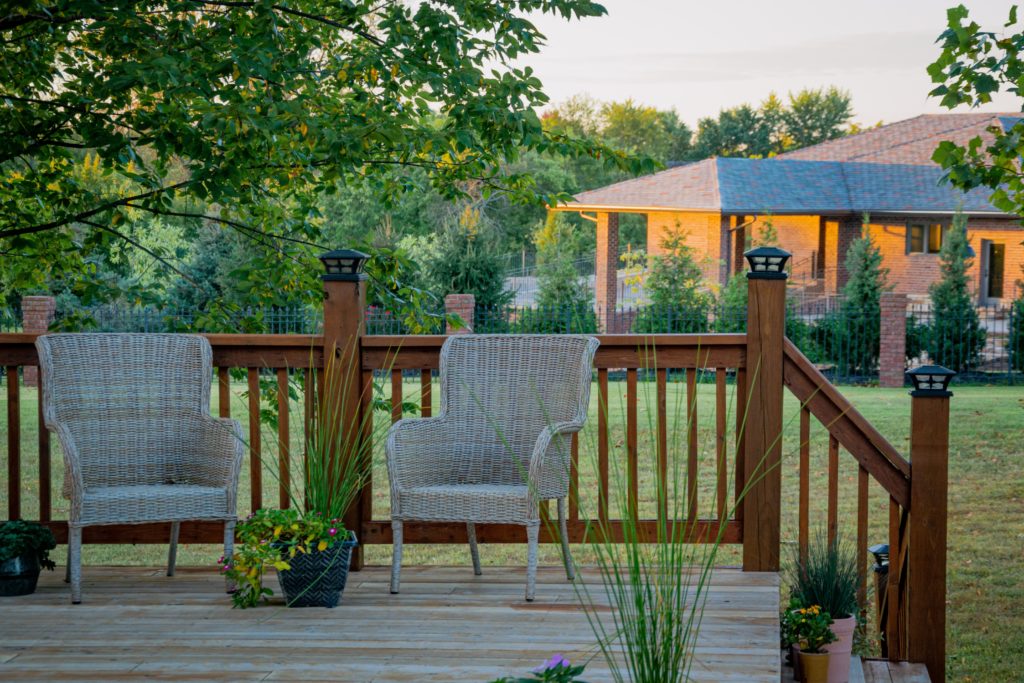 Design a grill and bar area
Summer offers a whole host of seasonal foods that can be made outdoors. If someone in your household loves to fire up the grill, then creating a designated cooking spot is a great idea. Some other ideas for the food-and-fire savvy folks include a smoker, a clay pizza oven, or a BBQ pit. What's grilled food without some iced beverages? You can also add a bar area, and of course, some places to sit while you eat.
Carve out a game corner
Some games are only good for the outdoors, so why not set up a place for your favorites? Things like horseshoes, giant Jenga, or croquet are a few of the things you could set up for use all throughout the spring and summer.
While there are many things you can do to improve your outdoor spaces, these are just a few of my favorites. Have you done something amazing that I didn't mention here? Tell me about it in the comments!
Are you looking for a new home or property? I'd be happy to help! I'm licensed to sell homes in DC, MD, VA, and WV. Contact me at sian@sianpugh.com for further information about available properties, or take a look at a few of the communities I work in.