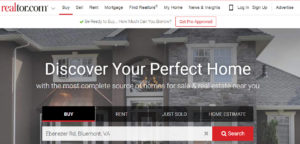 Browsing for homes online is a window shopper's Shangri-La. The elegantly decorated rooms, the sculpted gardens, the colorful front doors that just pop with those "come hither" hues.
Browser beware, though: That perfect split-level ranch? Might be too close to a loud, traffic-choked street. That handsome colonial with the light-filled photos? Might be hiding some  icky plumbing problems. That attractively priced condo? Might not be for sale.
So let's set our expectations appropriately.
Step one, fill out our REALTOR's home-buyer's worksheet. The worksheet helps you understand what you're looking for.
Step two, with that worksheet and knowledge in hand, start browsing for homes. As you do, keep in mind exactly what that tool can, and can't, do. Here's how.
You Keep Current. Your Property Site Should, Too
First things first: You wouldn't read last month's Vanity Fair for the latest cafe society gossip, right? So you shouldn't browse property sites that show old listings.
Get the latest listings from realtor.com®, which pulls its information every 15 minutes from the Ask your agent to send you automated emails from their MLS with new properties that meet your specs. Multiple Listing Service (MLS), regional databases where real estate agents post listings for sale. That means that realtor.com®'s listings are more accurate than some others, which may update less often.
The Best Properties Aren't Always the Best Looking
A picture, they say, is worth a thousand words. But what they don't say is a picture can also hide a thousand cracked floorboards, busted boilers, and leaky pipes. So while it's natural to focus on photos while browsing, make sure to also consider the property description and other key features.
Ultimately though, ask your real estate agent to help you interpret what you find. The best agents have hyper-local knowledge of the market and may even know details and histories of some properties. If a listing seems too good to be true, your agent may know why.
At the end of the day, property sites are like Cliffs Notes for a neighborhood: They show you active listings, sold properties, home prices, and sales histories. All that data will give you a working knowledge, but it won't be exhaustive.
An agent can often go beyond that and deliver the dish on specific properties  and is more likely to guide you away from homes with hidden problems, and more likely to save you the time of visiting a random listing.
Want to go deeper? Consider these sites and sources:
Just remember: You're probably not going to find that "perfect home" while browsing listings on your smartphone. Instead, consider the online shopping experience to be a good way for you to get a taste of the different types of homes that are available and a general idea of what else is out there.
Once you've spent that time online, you'll be ready to share what you've learned with an agent. Need an agent in Virginia, Maryland, or West Virginia? Contact me today.