Often people are concerned about purchasing a home rather than renting because they're afraid we'll have another housing crisis like 2009. However, even taking into account the horrible plunge in prices due to the sub-prime mortgage crisis, if you had bought even before that, you would still be better off having bought. This chart from Lawrence Yun, National Association of Realtors, shows a pretty compelling argument, I thought: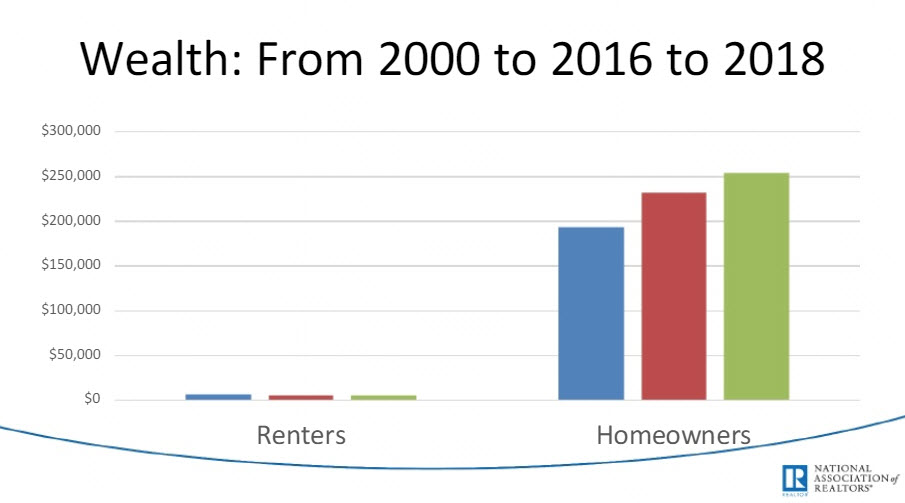 Here are the  main contributing factors to this result:
Renters do not derive any economic benefit from their monthly payments. They never build equity – often they are just paying someone else's mortgage and they are certainly building equity for their landlord!
With the current tight housing market, and fairly high rents, it may be very difficult to save enough to be able to buy a house. However, there are some very affordable programs at the moment, particularly in government-backed loan programs.
Home owners get the additional benefits of mortgage interest deductions on their taxes, which renters do not.
Home owners have the chance that their property value may also increase over time. In the case of renters, it's generally only the rent that goes up!
Obviously there are other costs involved for a homeowner such as repairs and maintenance, but overall the chart tells a pretty compelling story!
If you are in Loudoun County, the local housing market and the rising cost of rentals means that now has never been a better time to buy.