After the holidays are over, it will be time to start thinking about getting ready to list your home in February – in time for the early spring market. Here are some inexpensive ideas for staging your home: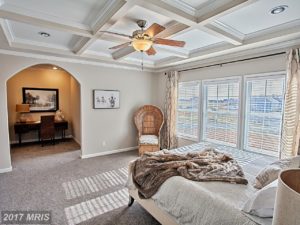 Be sure that the living room furniture is positioned for conversation as well as entertainment. Potential buyers should be able to easily envision sitting in a space where they can easily talk without having to move a chair or turn completely around.
Get rid of carpet dents – when a piece of furniture is moved, put medium-sized ice cubes in the imprints. As the ice melts, it causes the compacted carpet to expand and erase those imprints.
Place an accent by a home's feature, such as an attractive plant near a fireplace to draw the eye to it or a tall palm or two in place that directs the buyer toward another part of the home or suggests a separation of areas. This also ensures that someone often enters the home to care for it.
For empty bedrooms, arrange moving boxes into the shape of a bed, and then dress it up with nice bedding.
One surefire way to dress up a plain bedroom is to hang sheers, fabric or draperies on the wall behind the bed. It serves as a headboard, visually raising the ceilings and, particularly in a master suite, adds a sense of elegance and luxury.
Get some decorative hand towels, tie a sheer ribbon around them, and place them on towel racks in all of the bathrooms.
Close all the drains, sinks, and tubs; close all the lids on all the toilets; close all the closet doors; and let all the sun in.
Add bright, bold colors to the kitchen and bathrooms with accessories, towels, and plants. Red is a call-to-action color. A vase with red flowers can add interest to the photo when placed on a kitchen island or bar.
Replace the light bulbs in the home with higher wattage bulbs. Buyers like 'light and bright,' and the brighter light bulbs make all the difference in the world. Inexpensive and easy!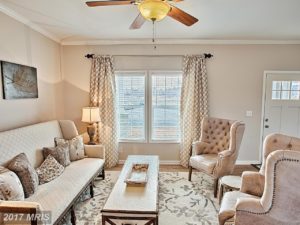 Adding decorative items in the kitchen can warm up the area and make it more 'cozy'.  Go to a thrift or resale shop and get great deals on glass items.  Use a tray (wood, silver, glass, etc.) with two coffee cups and a small package of Starbucks coffee displayed between the cups, and pretty paper or cloth napkins. Also, find a large glass—or pottery bowl—and fill it with individual candies, pre-packaged crackers, pretzels, etc. It looks nice and each buyer who comes through can grab a snack from the bowl.
One of the most overlooked areas of staging is the closet. Most people will unclutter and move boxes out of the closet but forget about the hanging clothes. I tell my clients to remove the clothes they only wear once in a while. If the closet still looks stuffed, remove more. The ideal closet will have significant space (two hangers worth) between the next hanger.
Pack everything you don't use daily and put in storage or in the garage. It neutralizes the home and allows buyers to picture their family living there. It creates a sense of cleanliness and order by having clean countertops, sparsely decorated walls and minimal furniture.
Staging a home requires that each space be defined, but that personal items and clutter be non-existent.  Potential buyers need to see a neutral pallet: Rooms that they can envision themselves living
Make sure there are no personal photos to be seen anywhere. Pack them up or put them away. Buyers tend to stop and see who lives there, which takes them away from seeing the home's attributes!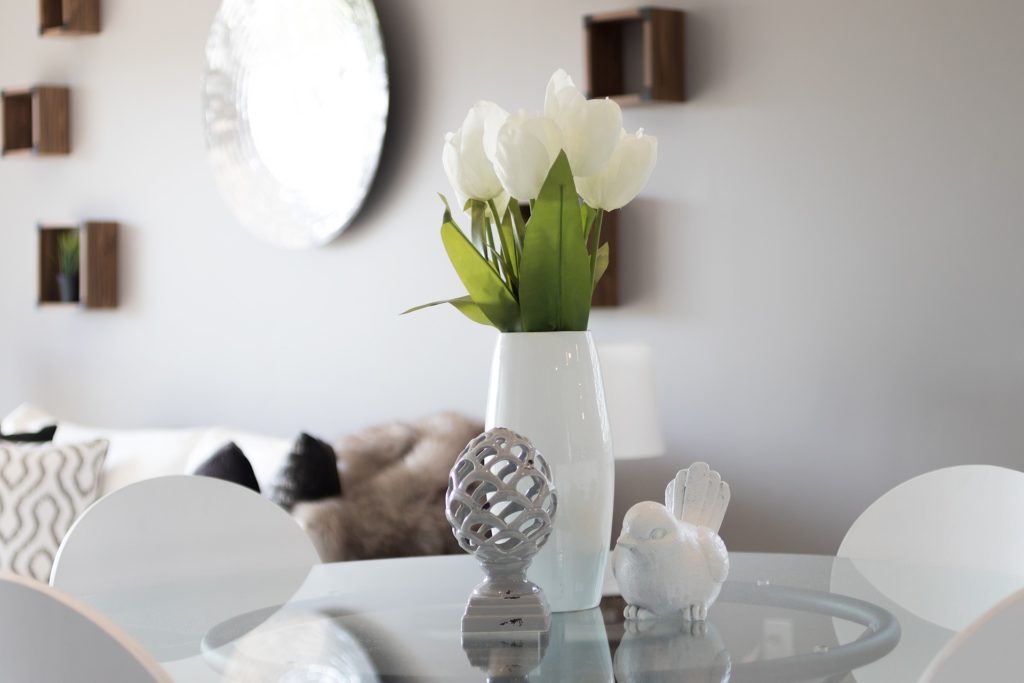 Arrange the furniture so that it does not block any of the home's features and allows for easy traffic flow. Sometimes that means removing some furniture—the more furniture in a room, the smaller the room looks.
A top item on the staging list should be curb appeal items (you can't get people in if they don't like the drive-by): Trim shrubs, fix peeling paint, and add greens or planters near the entrance.
Tighten any loose doors or cabinets and re-stain, paint, or varnish doors. Paint the trim on floors and ceilings. Also, paint outside trims and nicks on the house, especially where clients come into the house.
Freshen and consolidate pet areas. Purchase new bowls, etc., to indicate upkeep and freshness. Choose one place to house pet beds and litter boxes; the laundry or utility rooms or garage space may be appropriate.
Need more inspiration for staging your home? You may enjoy: